If you're currently struggling with creating your hostel business plan, you've just struck gold.
This guide will cover everything you need to know about how you can create your business plan and receive funding. It includes free templates for you to download and a complete example case for every step along the way.
The template itself is based on real examples of other hostel owners to ensure you're working with proven concepts.
Alrighty! Let's get to the meat!
Hostel Business Plan - Basics
At its heart, a business plan is a formal written document about HOW your hostel business works and WHY it will be successful, i.e. profitable. This is achieved through an analysis of your industry, customers, and competitors as well as the creation of an elaborate marketing and operations plan.
However, the centerpiece is the financial plan that tells you and the reader how and why your business is a profitable system. After all, the purpose of every business is – and should be – to make a profit.
Now there are two different forms of business plans depending on their respective purpose:
1) A business plan for personal planning vs.
2) A business plan to obtain funding
A business plan for your own planning is typically less comprehensive, written in informal language, less formatted, and typically comes down to a collection of notes. Obviously, you don't need a nice-looking cover page if you're the only one who's going to read your plan.
In this blog, we're solely focusing on a business plan that's written to obtain funding.
But let me be very clear. Regardless of whether you need funding or not: Building your business according to your precisely constructed business plan is an approach that is as close to assured success as can be. Hence, I highly recommend you read along and follow the outlined steps regardless of your individual funding needs.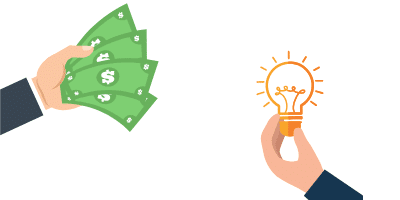 Why Is A Business Plan Important?
Imagine a stranger rings your doorbell and asks you to invest $20.000 in his new business. Would you go ahead and get your checkwbook out just like that?
Of course not.
You probably would want to know what the business is about, what qualifies him as a person to build and run a successful business and what's in it for you, right? Well, guess what, that's just what your bank or sponsor is dying to know beforehand as well.
Your business plan is a tool that helps them understand the nature of your business and is the means to winning your bank or sponsor over. After all, they'll only give you their money if they're confident that they'll receive something in return that they want.
Since a business plan forces you to think about your hostel intensively and requires several specific analyses, you'll appreciate all the groundwork you did in the long run. 
That said, the financial calculations will be assumptions when you first start out. Over time, you'll get a feeling for it and your assumptions will change into predictions.
You'll understand why, in retrospect, many hostel owners confirm that their business plan was a bunch of nonsense juiced up on steroids, especially when they look at their initial calculations. This blog will make sure you get as close to the truth as you can get.
Let's start with the basics.
How Long Should A Business Plan Be?
For the impatient: aim for 25 pages (+/- 5 pages excluding the appendix) and here's why:
The length of a business plan depends on several factors:
a) How complicated your business is
→ the more complex your business or industry, the longer your business plan

 

b)  How risky your business is
→ the more venturesome your idea, the longer your business plan

 

c) How much funding you require
→ the more dough you need, the longer your business plan
For the reasons above, some new tech companies have to write business plans that exceed 100 pages! The good news: you're not the first lodging facility that applies for a loan. There were many before you and there will be many after you.
20-30 pages have been proven to be the optimum for a hostel. It's important to note that longer might not necessarily equal better. Let me tell you what most banks won't tell you: no one reads a business plan from A-Z.
Hence, think about your reader on the other end and boil it down to the essential elements he needs to know. You furthermore give a signal that you value the other person's time.
Plus, make sure it's reader-friendly:
Use bullet points
Highlight the most important parts
Use white space and graphics
The more you get your potential bank clerk or investor interested and invested in your paper, the easier to convince him/her.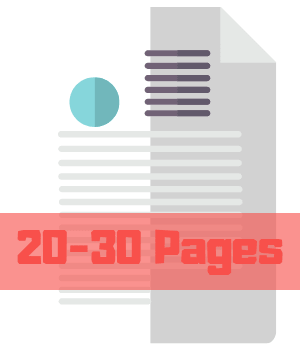 How To Write A Hostel Business Plan
To receive my master's degree in business administration and engineering back in Germany, I had to write more than 10 academic papers: The shortest being 35 pages, the longest exceeding 170 pages.
Having a very low affinity towards language and writing at that time, I had to learn to write papers through the school of hard knocks: By trial and error.
Here's my advice to you. Learn from my mistakes, apply the following basic rules and thank me later.
Following the rules will make your process a hell of a lot easier and will save you weeks if not months down the road.

Writing your first business plan can be overwhelming. Be assured that this feeling is completely normal. I even got reminded of that when I wrote this blog article about it.
So how do you eat this elephant? – The answer is: one bite at a time.
Consider every chapter as an individual project. You might even set goals to read and implement one chapter each day. That way, you focus on one thing at a time and your workload is cut up into bite-sized pieces.

Don't try to reinvent the wheel and use what's proven successful. Especially for the generic part of your hostel plan, a template will save you a lot of time. Don't worry, you can download all the templates here.
#3 Finish your writing before proofreading & editing
While writing you build momentum. Don't let proofreading and editing interfere with that. Instead, do it AFTER you've written all the different chapters.
Also, make sure you have a second person who can proofread your business plan. You'll be so deep in the tunnel that you won't recognize your own typos anymore.
Any spelling mistakes will impair the professional and respectable image you're trying to create. It's easy to lose people who are sensitive to things like that. So, be intentional with the paper you're creating and go the extra mile to ensure its above-standard.

#4 Format nicely and at the very end
Gosh, I have wasted so many hours in formatting my writings and designing beautiful-looking spreadsheets only to find out later that I won't need them.
The best format is the one that entices the readers to read as much as possible. Remember: The better they understand your business the higher the chances for approval.

#5 Create a track record of execution
Show your readers that you've done your homework! Include many stats and spend some extra time on formatting to create a nice-looking document.
Your business plan, as well as your presentation, need to create the impression that you've covered – at least – all key aspects of running a successful hostel.
#6 Make precise statements
Stay away from general wishy-washy statements like "we will use social media for marketing." This immediately suggests that you haven't actually planned how to make effective use of it.
Better: "Facebook will be our primary social media channel to build brand awareness. The implementation of a marketing calendar will ensure that we consistently update our feed with new content every second day."

#7 Write it for your reader
It's nice to know that you're passionate about hostels ever since growing up. But get real! Your investors won't give a damn. The sole purpose of your business plan is to have them take their wallets out of their pockets. Period.
Investors only care about one thing and one thing only: Will I get my money (+ a profit) back if I invest in your hostel or not.
Hence, be assured that every critical question that comes to your mind while writing your own plan will probably be asked during your presentation.
How do I know? Well, there was a time when I had my own financial consulting business. I've been in contact with various investment companies and experienced first-hand what matters to them – and what doesn't.
The best way is not to skip critical aspects. Instead, bluntly mention them in your paper, deliver an approach that takes care of the problem and demonstrate your responsible and considerate approach to business challenges.

Lastly, as basic as these rules might sound, remind yourself on a regular basis to actually use them!
Your business plan isn't just an attractive sales paper in order to twist your investors around your little finger. Be sure to follow through with the things you say and promise. Opt for the value-driven approach and show your character. That's where true leadership comes into play.
Hostel Business Plan Template (+ Download)
Here's a quick overview of how to structure your business plan. Don't be surprised to see other business plans that use other names for their chapters. There's no standard.
However, this approach has been tried and tested by many other hostel owners. Hence, I recommend you follow in their footsteps:
Breathe. We'll go over this one step at a time.
My goal is to make it as easy and convenient as possible for you to write your first business plan. Hence, I'm going to give you a quick explanation at the beginning of each chapter about what this part should include (called "content"). Below it, you'll find a written example of how this could look like (called "template").
You can download a FREE template
for all your financial calculations HERE.
Before we dive right into it… may I ask you for a favor? 
I really want to help you in the best possible way. Hence, please let me know in the comment section below
a) If any instructions are unclear
b) If you believe an important aspect is missing
c) What I can do to make it even more convenient for you to write your business plan
Thanks! That means the world to me.
Lastly, the example below is a fiction. I've chosen Cairns as the location simply because I'm currently living in Cairns. "Hostel Shark" is the name of one of my domains. This is going to be a website on which I will show you step-by-step how you can easily build your own website for less than $100.
Okay, let's go!
People judge a book by its cover and the same holds true for your business plan.
I highly recommend you create your cover with Canva. It's a free and intuitive online tool that allows you to create the nicest images within seconds. Simply use a Din A4 format and search for "business plan".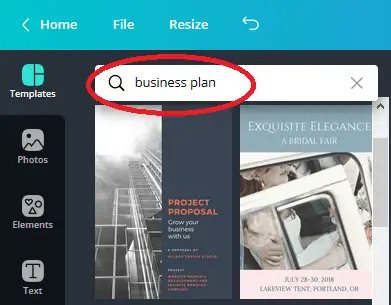 Content:
Business name
Creation date
Contact details (name, address, phone, email)
Website (if available)
Business logo (if available)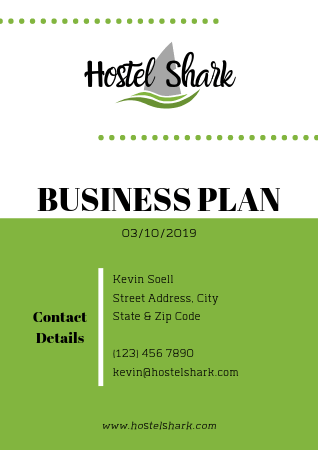 Note from Kevin: It took me about 10min to create this cover (incl. logo) with Canva.
An executive summary is an overview of your business plan. Its purpose is to summarize the key points for the respective readers. This is the most crucial part of your business plan and often the make-or-break component.
While few people will read your entire business plan, the executive summary is going to be read by everyone. It should be no longer than one page.
Write this part at the very end!
Content:
The Business: Business name, legal structure, offered services, manager and his or her credentials
Location: What makes this the "perfect" place?
Industry Analysis: Quick info about the general market
Target market: Who is buying your product or service?
Your competitive advantage: Your unique selling proposition (USP)
Financial projections: Break-even point and chart of profit/loss statement for the first 3 years.
Funding requirement: How big is the loan you're asking for?
Hostel Shark LLC is a hostel that provides low-budget accommodation for tourists in Cairns. It is owned and managed by Kevin who has 6 years of hands-on experience in various functions throughout the hospitality industry and holds a master's degree in business administration and engineering. The primary service will be the accommodation of guests.
Cairns offers great potential for additional hostels. It's mild winter temperatures and the fact that it is one of the major stops along Australia's popular east-coast-tour makes it especially attractive for hostel travelers. Other hostels in the area achieve above-average occupancy rates compared to all hostels worldwide.
Hostels have a strong business model and can clearly differentiate themselves from other lodging establishments through their unique community and social atmosphere. They are especially sustainable in crises and cost-effective due to the fact that several guests share the facilities and rooms.
They have proven to be sustainable throughout economic recessions since they offer a cost-effective guest experience in shared facilities and rooms.
The hostel aims to attract travelers between 18-30 years of age. This target market has been statistically proven to be the most profitable and resilient compared to other tourist groups. The hostel will include 16 rooms with a total of 64 beds.
The biggest competitors of Hostel Shark are other hostels. However, there's a market gap when it comes to serving tech-savvy guests. Hostel Shark will offer high-speed Wi-Fi in the entire building and additional sockets and USB plugins to close this gap. Moreover, we are going to concentrate on the social aspect of our hostel to further differentiate it from other lodging models.
Our marketing plan is based on successful and proven methods. Online travel agencies are the core driver for new bookings and will be complemented by our mobile responsive and SEO optimized website.
The business is projected to be profitable from year one and will increase its net profit over time. The break-even point is reached at an occupancy rate of 29% (1694 booked nights). The average occupancy rate of hostels in Cairns is 68%.
Funding requirement: The management is seeking to raise $200.000 for the development of the hostel.
My favorite part of a business plan 😅
Use a tool like Microsoft Word to create your table of contents automatically. This ensures your titles are linked to the content, i.e. clickable text, and readers are efficient going through your paper.
This section should give your reader a general impression of what you're doing and where.
Content:
Our Mission Statement: Company name, legal structure, goal, and how you'll achieve it
Location: What makes this location perfect for your hostel? Include statistics.
Services: What additional services do you offer besides accommodating people?
Our Mission Statement
Hostel Shark LLC's mission is to provide low-budget quality accommodation for both domestic and international tourists visiting the city of Cairns. Our company's core focus is to accommodate travelers who are traveling alone and or are unfamiliar with the city and seek an easy way to connect with other travelers.
Having a thriving community combined with a highly personal atmosphere and plenty of common areas is the key success driver in our business. We aim for a clear differentiation by developing a culture unique to Hostel Shark. This will help us gain a strong market share at the early stage of operations, and will attract more customers over time through word-of-mouth. 
To further cultivate the community aspect of our hostel, we decided to implement a loyalty program for guests who are staying with us for more than one consecutive week. In addition, there will be weekly team building activities to strengthen and expand the community.
Tourist information for local sights, events and activities will be provided as well as various snacks through two 24/7 vending machines.
Location
The location we chose for our hostel is the city of Cairns in Australia. Cairns is located in Tropical North Queensl and has a population of about 150.000 inhabitants. Around 2 million tourists are visiting Cairns each year. [1] The city is considered "the gateway to the Great Barrier Reef" and is popular for its beautiful rainforest areas, Aboriginal culture, its esplanade, and the free swimming lagoon.
In 2015, around 7.4 million tourists visited Australia. Despite the fact that Cairns contributes only 0.6% of Australia's total inhabitants, approximately 27% of all tourists did stop for a visit in Cairns. [2]
With its unique climate, Cairns is the perfect location for our hostel. Since it's located in the north of Australia, we experience mild winters with an average temperature of 20°C. Many backpackers take advantage of the Cairns climate from April up to December when it's too cold in the big cities like Sydney, Melbourne, and Perth. That's why lodging facilities around Cairns experience above-average occupancy rates even in the colder months.
Cairns is a safe bet and stopping point for people who're traveling the popular east-coast-tour in Australia. The two leading hop-on / hop-off bus companies Greyhound and Premier offer several trips from Cairns to other big cities like Brisbane, Sydney, and Melbourne. In fact, Cairns is an established starting or endpoint of travelers before they leave the country. Both contribute to a steady flow of new guests and longer average stays.
The venue we are looking into buying is located in the center of the city. All famous sights can be reached by foot. The local bus station nearby provides access to all outside sights within the region. All important premises to meet the daily necessities of our guests are located within 400m. This includes several grocery stores, cafes, restaurants, bars, night clubs, and hairdressers. 
Services
Hostel Shark LLC's core service is to accommodate guests. It will feature private rooms as well as shared rooms. We plan to provide ten dorm rooms (6x 4 beds, 4x 8 beds), two double rooms (2x 2 beds), and four private rooms (4x 1 bed). In total, we have a capacity of 64 beds across 16 rooms.
We will charge more for private rooms than for dorms and more for smaller shared dorms compared to larger ones. The double rooms and private rooms have en-suite bathrooms, the dorms will have shared bathrooms.
Besides our core service, we offer bicycle rental, towel rental, laundry service, and snacks in our vending machines. Our free services include book exchange, access to a movie library, weekly social events, Wi-Fi, two computers as well as luggage storage.
A fully equipped kitchen will be available to our patrons and includes a variety of pots, pans, dishes, basic spices, free coffee, and free tea. Our customers can bring, prepare and store their own food in there. They will be responsible for cleaning up their own dishes. 
Still with me? Let's take a look at the Industry Analysis.
BE AWARE that most bankers and other investors are unfamiliar with hostels and their industry. Hence, I recommend you don't miss out on the chance to "sell" them how awesome this industry is because – as a matter of fact – IT IS AWESOME!
Content:
State Of The Marketplace: How well the industry is developed, what's the status quo and why it is a great market to be in. You can also include location-specific statistics like you'll find in the example below.


Industry Trends: Current trends and how they impact the industry and your hostel. Tell them how you are able to cope with the new demands and how you considered them in your operation.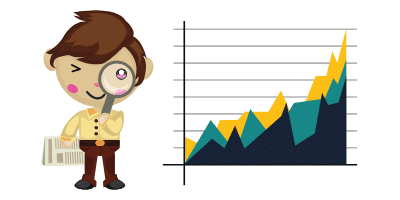 5.1 State Of The Marketplace
The hostel industry is growing rapidly across the globe. In fact, "the hostel industry is projected to grow seven to eight percent year-over-year until 2020. [3] This is a reflection of its strong business model that is based upon two factors:
Hostels have proven to be less likely affected by economic crises. Here are several examples:
The management believes there's a reason why the second paragraph on Wikipedia about hostels begins with the following sentence: "Many hostels are family-owned or run, and are often cheaper for both the operator and occupants than hotels". [8] In fact, "some cities report a higher average income per room for hostels than hotels […] due to several paying guests residing in a room." [9]
Industry experts believe this is the case due to lower expectations and the efficiency of shared facilities: "The other interesting thing about hostels is that they're a lot more financially viable […]. That's because hotel rooms need to have a certain square footage and that has to include a bathroom, there are certain expectations." [10] 
Furthermore, Australia shows great potential for hostels compared to other continents. Worldwide the average occupancy rate among hostels is 56%. Oceania and Asia are the leading continents which further strengthens our choice for the location. [11] From 2001 till 2009 total international visitors have grown by 3% per year in Australia. Over the same period, total international visitors grew by an average annual rate of 1%. [12] 
5.2 Trends In The Industry
The hostel industry has seen several changes over the last couple of years. Originally, hostels only offered dorms and no private rooms. Today, 9 out of 10 hostels provide private rooms. [13] That's why Hostel Shark will dedicate 25% of its rooms (4/16) to private rooms.
Remote working, freelancers and digital nomads grew by 140% between 2005-2018. [14] To be able to meet their needs, we'll offer multiple desks in the common areas with sockets for several devices. Multiple routers will be installed across the establishment to ensure high-speed Wi-Fi.
Female travelers are a rapidly growing target group. Security, cleanliness, and atmosphere are set to be the biggest booking influencing factors for women. [15] To meet their needs, all common facilities are going to be cleaned twice daily and there will be several security cameras as an additional safety feature across the hostel.
The latest industry report from Hostelworld shows that tomorrow's travelers are much more drawn towards hip and trendy hostels. In fact, there's a 44% increase in the importance of decor when making a choice on booking compared to a few years ago. [16] This is why we chose to work with an experienced interior designer who's responsible to make our hostel appealing in every conceivable way.
Hostels have a reputation for being just a cheap form of accommodation. In the meantime, competition has increased and other establishments can partly compete with their prices. For future hostels, it is going to be crucially important to focus on the social aspect and to deliver a unique experience rather than just a cheap bed. [17] We will further discuss this challenge in the competition analysis chapter.
Content:
Target Market: Major demographic, economic, social and cultural factors. What's unique about your target market?


Competition Analysis: Competitors, their strengths & weaknesses. If there are too many competitors in your area, describe them as a whole and limit your analysis to a few exemplary cases.


Competitive Advantage: What's your unique selling proposition (USP)? Why should travelers book your hostel?
Your competitive advantage is one of the most crucial aspects of your business plan. It basically covers the questions of why guests should stay at YOUR hostel and not at your nearest competitors. Think of it as your "reason to exist".


Government Regulations: Legal and zoning requirements and how you've taken them into consideration throughout your plan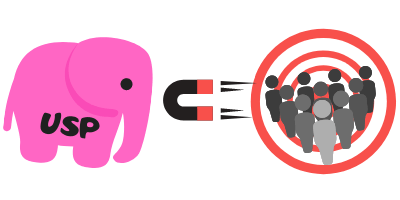 6.1 Target Market
Hostel Shark LLC aims to attract domestic and international travelers between 18-30 years of age. Hence, we'll serve mainly two generations: Millennials and Generation Z.
Millennials are people who were born between 1981 and 1996 (23-38 years old). They are tech-savvy, family-centric, and tend to have a strong craving for attention. Generation Z describes people who were born after 1996. The major difference is that they grew up in a globalized and interconnected world. Hence, they tend to be even more tech-savvy and technology is a major part of their lifestyle.[18]
The management of Hostel Shark is confident in their target market selection and based their decision on statistics: 
The youth market is of high value
Although millennial travelers have a lower than average income, they spend more money on longer trips. Many tend to be time-rich which allows them to spend more time at a destination compared to any other tourist. [19] Compared to other tourists, Australian hostel travelers spend around double the amount of money during their trip in Australia. [20] 
The youth market is resilient
When the going gets tough, young travelers keep traveling. They are relatively intrepid when it comes to economic problems, political unrest or epidemics.
Examples:
2009-2010: Although the youth market was affected by the global fiscal crisis, it declined less and recovered faster than mainstream tourism.
2011: 2/3 of Australian travelers were affected by the strong Australian dollar. Despite that, the trip length did not appear to have altered significantly.
2014: The Ebola epidemic had little impact on their travel plans. [21]
Some evidence even suggests that a poor economy stimulates young travelers to do longer trips until more job opportunities become available. [22]
Bottom line: The youth market is more profitable and less volatile than the tourism market as a whole. Since this is rather counterintuitive, the management sees great potential in the hostel sector.
6.2 Competition Analysis
In total, there are 28 hostels, 30 hotels, 306 Airbnb rooms, and several hundred apartments listed in Cairns (Sept. 2019). In this analysis, we will cover all the accommodation types that we consider direct competition of our future hostel.
The management is firmly convinced that apartments will affect our business to only a very small percentage. Most apartments in the location we've chosen cost 3-4x times the amount compared to our cheapest available room and have minimum stay requirements beginning from 2 months up to 6 months. Other hostel owners in the area confirm that only a very small percentage of "slow travelers" move into a private apartment.
Most hotels in Cairns are located at the esplanade and accommodate predominantly families, business travelers, and elderly visitors. A study about millennial travelers revealed that the price for value (#1) as well as the location (#2) and the social atmosphere (#3) are the three major reasons for young travelers to opt for hostels. [23]
6 hotels can compete with the pre-planned prices for our private room. That said, they are not nearly as centrally located as our hostel and can't keep up with the social aspect. This makes us very confident in our belief that hotels are a small peril for our hostel.
Several Airbnbs are located within 500m of our hostel. They tend to be more pricey than our cheapest available room and do not provide the desired community. Hence, our main competitors are other hostels.
The following analysis includes all well-established hostels that are situated within 500m of our hostel.
This hostel opened its doors in 2009 and is located 500m away from the city center. Palm Hostel Cairns offers a wide variety of facilities (incl. pool) and has a capacity of 35 beds. With $32 per night as their cheapest option, they belong to the most expensive hostels in Cairns. What's special about this hostel is that they don't provide bunk beds (only twin beds), offer a weekly barbeque night and have built a reputation for their tour desk. Their main target market are 25-40 years old travelers. Their overall rating on Hostelworld is 9.2 stars.
Travelers Paradise was built in 2003 and is located in the city center. It provides only basic facilities (no pool, few common areas) and can accommodate up to 102 guests. Their cheapest dorm costs $17 per night and makes them one of the cheapest available accommodations in Cairns. Furthermore, they offer free pancakes for breakfast and have a built-in pizza restaurant. Guests who've booked through Hostelworld rate this hostel with 8.2 stars. According to TripAdvisor, most guests tend to be between 18-24 years old.
This hostel is one of two existing party hostels in Cairns. Their main focus is travelers who come to Cairns to party. They are well known among young partiers for their daily ping pong championship. The location is 300m away from the city center. The Crazy Chick Hostel has an overall capacity of 56 beds and doesn't offer any private rooms. Their smallest dorm is for 4 people. The hostel is rated with 8.0 stars on Hostelworld. The facilities provided are rather basic and designed for the nightly parties. Dorm prices range from $22 to $25 per night.
6.3 Competitive Advantage
The main advantage of other hostels in the area is that they are already established and have many reviews across several online travel agencies. To overcome this hurdle we're going to offer the cheapest available price for our dorms in the first month and reward every guest with a free breakfast for every online review.
When setting up our marketing plan for our hostel, we have taken special considerations to market gaps in our area: None of the hostels offers special facilities for young tech-savvy guests. We plan to provide several sockets at each wall, inside as well as outside of the establishment. To provide optimal high-speed Wi-Fi, we'll install 5 routers across our hostel to ensure the signal is strong enough in every room to stream videos without buffering. Moreover, every bed will have its own private USB plugins.
Most hostel travelers choose hostels for their community and the opportunity to meet new friends. Our hostel will focus on a family-like vibe by offering free social activities every second day as well as common areas that are designed to facilitate interactions. We believe the social aspect is the main reason why hostels will always prosper no matter how many other accommodation forms actually do compete with our prices. Hence, this is our approach to guarantee long-term success.
Other unique advantages for staying at our hostel is that we offer free jello in the morning and free coffee + tea during the day. We also have a collaboration with a local fitness studio that allows our guests to work out for free. Since we know many business owners in the area, we will also be able to offer jobs on a regular basis. We are sure this will help us to get more long-term guests as well as a stable occupancy rate in the off-season.
6.4 Government Regulations
The management understands the importance of zoning and other legal regulations. To prevent any issues, we've already been in contact with the local zoning commission, building department, fire department, health department, and the Disability Support Queensland.
The property we intend to buy is zoned for max. 22 rooms. This allows for six additional rooms to what we've planned. Furthermore, our hostel requires a fire sprinkler system that is already installed as well as a commercial kitchen with a separate hand-washing sink.
The only major change we have to make is to add a ramp to the pre-existing steps. All renovations will be supervised by an architect and contractor who are both experienced in lodging facilities to make sure we meet all necessary requirements.
7. Sales & Marketing Plan
Content:
Advertising & Promotion: How will you attract guests and make sure you achieve your projected occupancy rate? How will you manage your availability? Which distribution channels will you use and how?


Pricing: How do you price your services & rooms?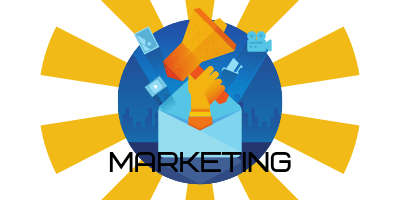 Pro-Tip: It creates an awesome impression, if you can show them that you already have a website. It immediately signals: "Hey, I'm serious about it." 
And the best part: This is WAY easier than most people think. In this step-by-step guide, I show you how you can create your own professional website within 15 minutes and for less than $100.
7.1 Advertising & Promotion
The management at Hostel Shark LLC believes in copying successful and proven methods rather than reinventing the wheel. Hence, our marketing plan is based on statistics, trends and our own extensive experience within the hostel industry.
Our primary source for bookings will be several online travel agencies (OTAs). OTAs allow our young hostel to get instant access to millions of travelers worldwide. In 2019, 70% of hostel travelers use OTAs to reserve their beds and this trend greatly increased over the last few years. [24]
For maximum efficiency, we will sign up for Hostelworld.com, Booking.com, Hostelculture.com, and Hostelclub.com. The first two OTAs account for approx. 91% of all hostel reservations. [25] Furthermore, they are the only two OTAs that are used by all of the top 41 hostels worldwide. [26] To reduce the overall commissions and attract more people who are specifically looking for hostels, we further diversify with Hostelculture.com, and Hostelsclub.com.
Over and over again, studies have proven that the presence on various OTAs increases direct bookings by 9-26%. [27] Hence, we'll provide our own hostel website which has already been created: www.hostelshark.com
We are aware of the fact that direct bookings are a declining trend in the hostel industry. To increase the effectiveness thereof, we'll set up a blog that covers several guides about the sights, attractions and general information about Cairns. To increase our monthly traffic, we will also consider free accommodations in return for blog articles on our website in the off-season.
The availability of rooms across several websites as well as all the other aspects of a reservation (e.g. collecting all necessary data, sending an automated confirmation email, etc.) will be managed through a channel manager and property management system from Cloudbeds. This will help us prevent overbookings and saves us many additional staff hours per month. Cloudbeds software is the most commonly used software among the leading hostels. [28]
Our website is optimized for SEO and offers various additional bonuses for people who're booking directly. The number of hostel travelers that book via mobile has greatly increased over the last few years. Hence, we have designed our website for best mobile responsiveness. [29] The booking engine is provided by Cloudbeds.
We will use social media as a way to build our brand and have social proof through followers, likes, and reviews. To achieve this, we focus solely on Facebook which is used by 70% of the top 41 hostels [30]. Since we know about the inefficiency of social media for new bookings in 2019, we will keep promotions for our hostel at a maximum of 10%.
Offline promotion will also play a role in our overall marketing plan, but it is not our primary focus since it's a declining trend. Among several smaller offline marketing tactics, our intention is to attract most customers by giving away rack cards to local premises as well as other hostels in nearby cities. Cairns is part of Australia's popular east-coast-tour. Hence, we'll contact hostels in neighboring cities about a joint-venture for mutual lead-generation. 
All marketing activities will be managed with a custom-designed marketing calendar to ensure consistency. That way we have a standard to measure results and improve it accordingly to the feedback we receive.
7.2 Pricing
The management is aware of the fact that prices are a critical positioning indicator and greatly affect the clientele a hostel attracts. For this reason, we do not intend to be the price leader in our area and instead aim to be within the upper range of prices.
We will also include flexible pricing since guests expect lower prices in the off-season and higher prices in the high season.

Additional services are priced as follows:
Bike rental: $15 per day
Laundry service: $4 for washing, $3 for drying
Vending machine: prices for items range from $2-$5
Note from Kevin: What feeling do you get from reading through this? Would you invest in Hostel Shark? – If it's a "goddamn, this dude knows what he's talking about", then your investors will probably think the same. If not, focus more on "selling" and yourself and your hostel!
8. Operations Plan & Human Resources
Content:
Organizational Structure: Organizational chart of your hostel


Job Description & Responsibilities: Information about your relevant experiences. It's also highly recommended to add a full CV in the appendix. Include a list of all key employees, their tasks, and responsibilities. What background and experience should they have? 


Action Plan & Timetable: What are the milestones until you're welcoming your first guest? Always include a security buffer for unforeseen occurrences.
8.1 Organizational Structure
Hostel Shark LLC will have a flat organizational structure. The short communication ways allow us to be flexible and act quickly in case of emergencies.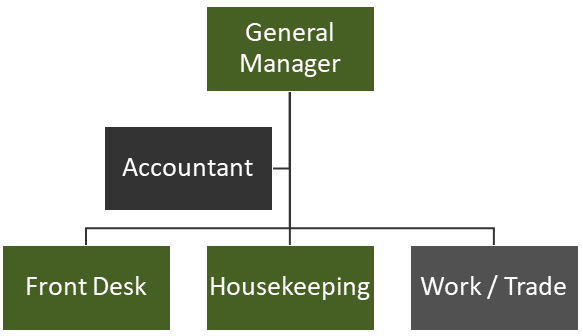 8.2 Job Description & Responsibilities

General Manager
Our General Manager will be the owner himself. He holds a master's degree in business administration and engineering and has been working within the hospitality industry for more than 6 years.
While operating a successful consulting business, he developed excellent verbal and written communication skills. In combination with his analytical background as a former engineer, he's confident in his skills in operating the new hostel.
Further information including a CV of the manager can be found in the appendix section A3.
Responsibilities:
Hiring and managing staff including external service provider
Organizing and coordinating current operations
Executing the marketing plan
Measuring and analyzing key metrics on a weekly and monthly basis
Creating systems through checklists and manuals
Bookkeeping in cooperation with an accountant and the use of an accounting software called "Quickbooks" 
Maintaining an excellent standard of customer service
Identifying customer needs and responding proactively to meet them
To ensure that all operations run smoothly, the manager will be actively involved in all aspects of running the hostel for the first few weeks. Moreover, weekly meetings with all staff members will take place to speed up the feedback cycle.
Accountant
To ensure regular bookkeeping as well as the consideration of all other legal requirements, the management is going to hire an accountant. The accountant has to be familiar with the requirements of the lodging industry and has to have an appropriate track record. He also has to be familiar with our software "Quickbooks".
Quarterly meetings will ensure that we take advantage of all the financial opportunities available. All in all, the management believes that this expense will increase the overall profit and considers it to be an investment.
Front Desk
The management knows about the importance of the first impression as well as the impact of staff on overall customer satisfaction. Hence, all applicants have to go through a 3-step procedure before we hire any staff. The front desk has to be very familiar and knowledgeable about the city and its sights to be able to serve our customers better. They also need to be above-average friendly, patient and be able to create a warm and welcoming atmosphere. 
Responsibilities:
Welcoming guests
Checking in guests
Managing and receiving bookings via phone, email and in-person
Providing guests with directions and information about all important premises
Balancing cash at the end of the shift
Contacting the manager when a problem is reported
Doing the laundry 
Front desk staff is not allowed to live in the hostel but have to live close-by. The management believes that maximum focus and commitment can only be achieved when there's a change in the work environment. Two people will be employed full-time and one person part-time. Their payment will be the statutory minimum wage plus 10%. Wage raises are optional depending on their measured performance over time.
Housekeeper
At Hostel Shark, we separate customer service from cleaning the facilities. We want our front desk staff to be 100% focused on our guests' satisfaction. Hence, we will make use of an external cleaning company to keep our facilities in great condition. The hostel will be deep-cleaned 3x per week in high season and 2x per week in the off-season. Bathrooms and the kitchen will be cleaned twice a day; all other facilities will be cleaned on a daily basis.
Responsibilities:
Sweeping, scrubbing, mopping and polishing floors
Vacuuming 
Cleaning metal fixtures and fittings
Tidying up rooms
Cleaning wash basins, mirrors, and showers
Cleaning the kitchen and washing the dishes
Changing bed sheets
Monitoring and reporting necessary repairs and replacements
Work/Trade
Occasionally, the hostel will make use of work/trade employees for specific work and never longer than one week. The management has experienced first-hand how hard it is to motivate people in the long run without a monetary payment. Hence, all work/trade agreements will be made on a daily basis and exclusively in the off-season. 
Tasks may include cutting the lawn, easy paint works, and blogging for our website.
8.3 Action Plan & Timetable
We plan to welcome our first guests on April 30th, 2020. All necessary renovations have been discussed with our architect and contractor and will probably take 55 working days. Since we have experience with similar projects in the past, we added one additional month to guarantee the completion of our hostel.
More information about the necessary renovations and the floor plan can be found in the appendix A4.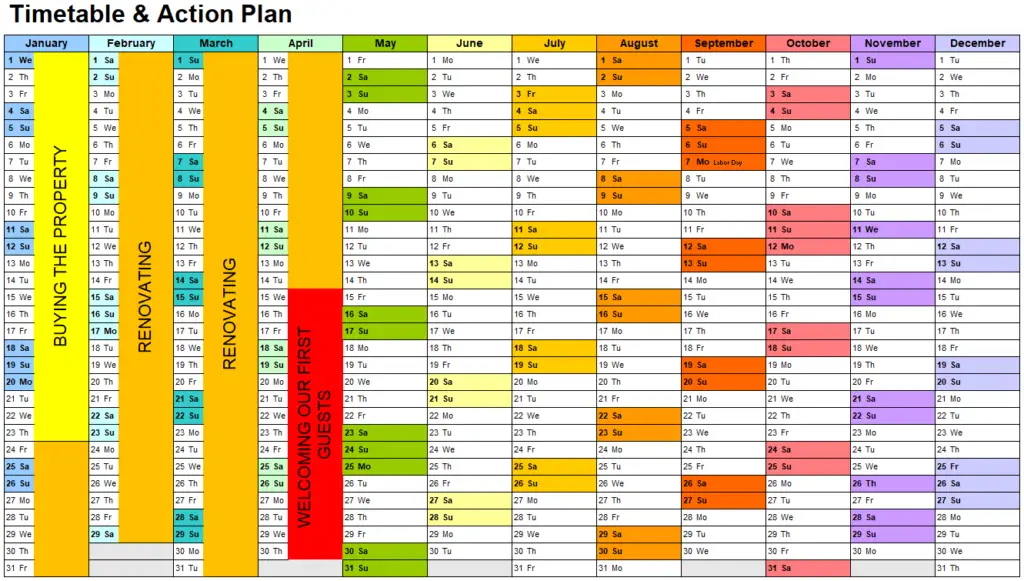 The financial plan is the centerpiece of your business plan. No matter how nice your business plan is looking, if your hostel isn't profitable, you won't get funding. Period.
Content:
Start-Up Costs: The more detailed you can calculate your start-up costs the better! Also, include 6-12 months to cover operating costs (called "working capital"). The bank will want to see that you've accounted for that!
Funding Requirement: How much money are you asking for? How fast are you going to pay it back?
Profit/Loss Statement: A detailed breakdown of all revenue, expenses and net profit. Typically, your bank will want to have a monthly calculation for the first year and a 3-year statement. However, every bank has different requirements. Some might even want a 10-year breakdown. Ask them in advance.
Break-Even Point: At what occupancy rate is your hostel profitable? There are different ways to calculate that. The easiest and fastest is to use your spreadsheet and play with your numbers. However, be sure to have proper reasoning prepared in your presentation!
It takes time to establish your hostel. Between 50-66% of the average occupancy rate is a standard recommendation for your first year. On average, it takes around 3 years to match the average occupancy rate of your competition.
If you exceed this mark in your second year, you're doing really well! Thanks to OTAs, this process can be massively accelerated!
The profit or loss can be calculated as follows:
Profit or Loss = Revenue – Expenses – Taxes
Revenue = Average Room Rate x Number Of Rooms x Number Of Operating Days x Occupancy Rate
Expenses = Total Operational Costs + Loan Payment
Ideally, your hostel should generate a profit of about 120% of the debt service after all expenses.
Click here to download all the following templates for free.
Don't worry. All tables including easy explanations on how to do the calculation can be found in the spreadsheets. You don't have to be a math whiz. I made it super easy for you.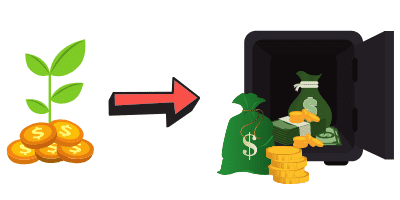 9.1 Start-Up Costs
The total start-up costs for Hostel Shark LLC are $240.000.
Here's a break-down of all the costs: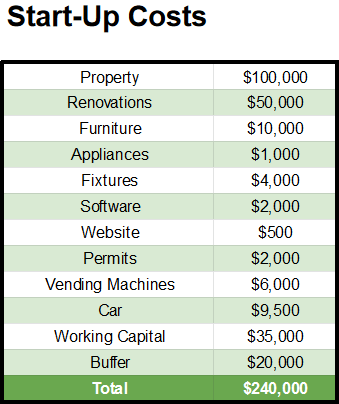 9.2 Funding Requirement
Kevin is seeking to raise $200.000 from Westpac Bank Cairns Central in order to launch the operation of Hostel Shark LCC. $40.000 are covered by equity capital. The exact terms, interest rates, and conditions are to be determined during negotiation. This business plan assumes a 10-year loan with a 9.5% interest rate on the outstanding balance.
The financing will be used to buy the planned property, renovation works and financing the first six months of operations.
The expected payment plan is:
Note from Kevin: There's a calculator in the spreadsheets you can download for free here.
9.3 Profit/Loss Statement
In order to calculate the net profit of our hostel, we had to make several assumptions. The average occupancy rate in Cairns for hostels is 68%. For the first year, we assumed an occupancy rate of 50% of the average occupancy rate (34%). Since we do have several years of experience in marketing, we are confident that we will achieve the average occupancy rate in the second year (68%) and exceed it by 5% in the third year (73%).
We wouldn't start a new hostel if we weren't absolutely sure to be better than the average hostel.
Utility costs are based on data from other lodging facilities in the area. We did not consider additional income streams from our bike rental and vending machines in our calculations. Furthermore, we took the prices for the shoulder season as an average price for our beds.
Profit / Loss Statement (First Year)
Profit / Loss Statement (3 Years)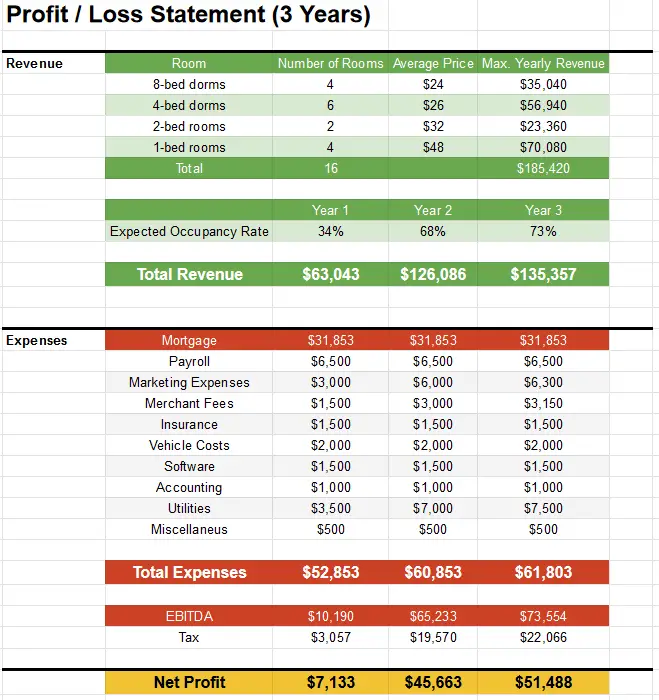 9.4 Break-Even Point
Our hostel has to exceed an occupancy rate of 29% to be profitable. In absolute numbers that's 1694 booked nights per year.
There's no standard rule on what documents you can add in your appendix. Only provide relevant information here. Don't clutter your business plan with too many or unnecessary details. That said, the following documents have been useful for other hostel owners:
Floor plan of your hostel: how do you intend to structure your hostel?
CV of you and all other principals
Copy of the purchase agreement for the building
Copy of the architect's or contractor's plan
Et voilà, you're ready to go! 🙂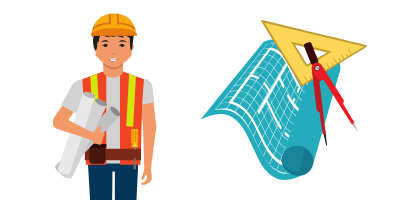 STOP! 🤚 I need your help.
Before you leave: Answer this quick question and help our community.
How can I make this template better for you?
What would you change/add? 
I want to continually update and improve this template to ensure starting out as a new hostel owner becomes as easy as possible. Hence, if you're willing to share your business plan with me after you've finished yours – that'd be greatly appreciated!
P.S. People who read this article were also interested in: