56% of all hostel managers swear by one company when it comes to channel managers. Do you know which one?
But let's start a bit earlier in the process: Is a channel manager really worth its salt? And if so, how do you find the best among 32 software providers for your hostel?
If you're currently asking yourself these questions, you've struck gold. In this guide, you'll learn everything you need to know about channel managers.
Without further ado, let's dig in!
What Is A Channel Manager?
A channel manager is a tool that allows you to automatically synchronize inventory across all your distribution channels. 
That way you have one centralized platform to easily manage all your channels, instead of updating your available rooms and rates manually on each and every channel.
"Channels" refers to distribution channels such as online travel agencies, social media, your website, meta-search engines etc. The process of managing them is called "channel management" – hence the name "channel manager".
A channel manager is one of 3 key software solutions that are common among lodging facilities and go hand-in-hand. 
#1 Channel Manager (CM): used to manage your inventory across all your distribution channels
#3 Property Management System (PMS): needed in order to manage guest details and front desk activities, human resource management, payrolls, point of sale, etc.
Sometimes all three components are combined in one software solution. These kinds of tools often have a generic name like "hostel management software". But they are also offered as a single piece and are typically compatible with other providers.
Let's look at an example to see how they work together:
Let's say you received a new booking through a walk-in. You then enter the reservation details in your property management system.
Your integrated channel manager instantly communicates to all your distribution channels (mainly online travel agencies) that your available rooms have shrunk by 1 for the duration of the booking.
Hence, the person who tries to book the same room one minute later on your website's booking engine will get a notification that the room is already taken.
While using a PMS for a hostel is still a controversial topic among hostel owners, almost all agree that a channel manager is a must-have tool for various reasons.
Benefits Of Using A Channel Manager
20 years earlier, big lodging facilities had to spend endless hours updating all their channels with multiple logins. Experiencing overbookings on a regular basis was the standard rather than the exception.
The development of a channel manager was a game changer in the hospitality industry.
Here are the 3 main benefits of using this tool:
Who else feels an immediate sensation of unease when the word "overbooking" comes up?
No matter how good your systems are, by using a channel manager you can greatly reduce the chance of overbookings. It's human to make mistakes. Even in the most sophisticated assembly lines, the failure rate is never zero. 
A good channel manager synchronizes your inventory in real-time. Hence, when two people try to book the same room on different websites at the same time, it will only allow for one reservation.
In other words, the sold room gets instantly removed from your available inventory across all your distribution channels.
A channel manager is not only handy, it's also a sanity-saving tool!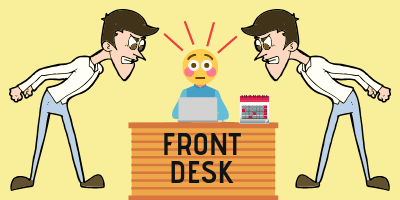 In fact, I know several innkeepers who are afraid of overbookings to the point that they split their inventory across several different channels to try to avoid them (e.g. 50% of their beds are on Hostelworld, 50% on Booking.com instead of 100% on both websites).
However, this strategy leads systematically to a lower occupancy rate. Potential guests who're looking for an accommodation on Hostelworld won't visit other websites when your hostel is booked out – even though you might have some more rooms on Booking.com available. 
Without a channel manager, you have to login to all the different extranets one by one to update your inventory.
If you only have one room across two channels, that might not be a big issue. However, managing 100 beds across 17 channels is a huge and extremely time-consuming task.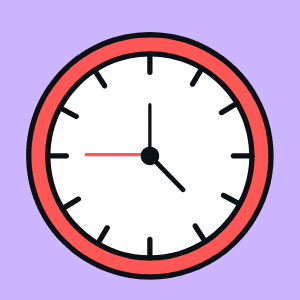 Example:
Let's pretend you have 10 rooms across 5 channels. Over the course of one year, you will have to maintain the availability and prices of 18.250 listings!
Whenever changes appear (e.g. a new booking, a cancellation, a change of reservation, etc.) you will have to manually update all other channels.
A channel manager can save you thousands of hours in the long run up to the point that you need less staff to run your hostel.
Furthermore, imagine you had your own systems in place to reduce the failure rate to 0.5%. This still means you'll have 91 booking mistakes per year! 
This hassle-free tool frees up mental space and allows you to spend your time more wisely.
#3 More Bookings & Revenue
What might sound illogical is actually a reality: using a channel manager can lead to more bookings, i.e. revenue, in various ways.
Due to the huge time investment needed to manage availability and rates manually, many innkeepers limit themselves to only a few channels.
However, the more visible you are online, the higher the likelihood of receiving bookings – indirectly as well as directly! This effect is called "billboard effect".
A study from Cornell University in 2017 showed an increase in direct bookings ranging between 9-26% by using online travel agencies. [Source]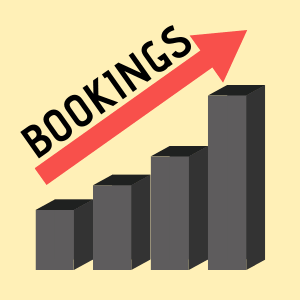 Furthermore, it turns testing new marketing strategies into a breeze:
You're unsure if Airbnb is really worth it? – Within a few minutes, you're in the game.
Dynamic pricing seems to be superior? – You're just a few clicks away.
2 or 3 days minimum length of stay? – Let's set it up using split-testing.
By reducing overbookings, you are also able to increase your overall rating which directly influences the number of bookings you receive.
In fact, travelers are willing to pay 35% more for a hotel with a 4.4 rating over one with 3.9 stars. [Source] If you want to see more awesome stats, check out my blog about the 6 reasons why online reviews are crucial for your hostel.
Okay, gotcha. But what are the drawbacks of using a channel manager?
Disadvantages Of Using A Channel Manager
Of course, this service comes with a price tag. 
Depending on the functionality and complexity of the software and the size of your hostel, a channel manager typically costs between $25 and $350 per month.
Don't worry, there are several awesome low-budget opportunities available.
That said, I advocate you look at your hostel holistically and through your business glasses: If a $25 investment can bring you $100 more in revenue and reduce your staff's time by 15 hours, it's well worth its salt, right?
One additional booking per month has the potential to redeem the full price. This is probably one of THE best investments a hostel owner can ever make. Period.
Why do I want to reiterate that so much? – It's because of my survey results. 
I recently surveyed hostel managers. One of the questions was: "Do you use a channel manager?"
Here's the result among 91 hostel owners:
Yes, you read that right. Only around 55% of hostel managers use a channel manager as per October 2019.
Phew!
I was paralyzed from shock.
I can only think of one single scenario in which no channel manager could be an option: you only use ONE single distribution channel to receive bookings for your hostel (e.g. solely walk-in traffic).
However, I don't know any successful hostel that works like that. Hence, this is for the ones among you who belong to the 45% group:
"The question is not IF you should use a channel manager, it's WHICH ONE you should use."


- TheHostelHelper
That said, there are a few things to look out for when choosing your channel manager. Let's dig a bit deeper.
How To Choose The Best Channel Manager For Your Hostel
There are 6 key factors you want to look at when doing your research.
Let's start with a no-brainer.
If you're getting the most bookings through Hostelworld.com, your channel manager should be compatible with this OTA, right?
However, if you're just starting out and you're not sure yet which online travel agency is going to be the best distribution channels for your hostel, you definitely want to check out my complete guide about OTAs.
I've analyzed the top 41 hostels worldwide to see which OTAs they're using to get bookings. In total, they use 18 different websites, but only a few are used by all of them. Hence, make sure your channel manager includes as many as possible of the most common OTAs for hostels. 
Many channel managers focus on hotels. Hence, they might not include all hostel-specific OTAs like Hostelculture.com, Dorms.com, Hostelsclub.com, etc.
Don't get dazzled by "free" or abnormally low price tags. The last thing you want to do is to enter a "free" subscription contract with many hidden fees.
Hence, spend some time analyzing the pricing model:
Is there a setup fee?
Are the prices fixed or do they vary depending on the number of sales or your inventory ("pay as you go")?
Can you quit monthly?
Do you have to pay extra for every additional channel you add?
Do you have free access to support? Or does it come with costs?
You typically get this information by going to their individual website and the category "pricing". However, some websites have mastered the art of hiding their fees.
The level of support is typically what separates the low-price options from the more expensive ones.
If your channel manager is down, your bookings may stop. Even though this is typically not an issue when you choose a good provider, good support can save you from losing thousands in missed revenue.
The optimal solution is a 24/7 support to make sure any issues can be solved as quickly as possible.
If you opt for a property management system (PMS), you need to make sure that your channel managers offers a two-way connection to your PMS. Otherwise, you'll still have to manually copy-paste or type in reservation details.
I also recommend you stick to a popular brand that seamlessly connects with heaps of other providers in case you want to change your PMS down the road
Since your staff is probably going to use the channel manager as well, it's worth choosing an easy and intuitive tool. It shouldn't take longer than 15min to get the hang of it.
Hence, make sure it's available in your language and has a simple and clutter-free interface.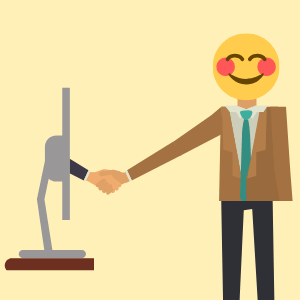 Pooled inventory: This feature allows your channel manager to show all your available rooms on every single channel instead of having to split up your inventory. This has become the standard in great channel managers.
Booking engine: Some channel managers come with an integrated booking engine or booking widget that allows travelers to book your hostel directly on your website. It's typically a simple HTML code that you can copy-paste on your website within a few seconds.
Dynamic pricing: If you're an established hostel with a stable and proven business model, you might be interested in pricing strategies like dynamic pricing to further increase your occupancy rate. However, I do not recommend this at the very beginning of starting a hostel.
Payment methods: The availability of different payment methods has been an issue in the early stages of channel managers. In the meantime, a good tool should offer all common transaction methods.
Free trial: I am personally very skeptical when a software provider doesn't offer a free trial. The costs of offering such a service are almost zero to them.
Hence, those who do not offer this premium are often companies whose software is "too weak" to convince you to buy. Of course, there are exceptions to this rule but the low number of exceptions confirm the rule.
If you're reading through this list thinking "Goddammit, that sounds like a lot of work", I've got you covered. The following analysis will answer all your questions.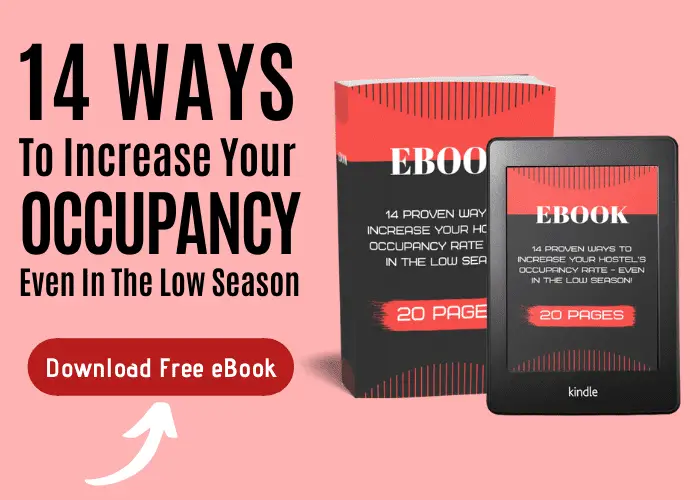 Channel Manager Recommendations For Hostels
My job at TheHostelHelper is to make your life as easy as humanly possible. Hence, I've compared all the available channel managers for hostels – from the whacky to the downright awesome.
I've studied their features & pricing and went through their free trial (if available) to create a ranking for you.
To further help you navigate through these tricky waters, I've conducted another survey among hostel managers in which I've asked which channel manager they use. 
Let's start with the latter before we get to my actual recommendation.
The Most Common Channel Managers Among Hostels
Here are the survey results among the 51 hostel managers that use a channel manager.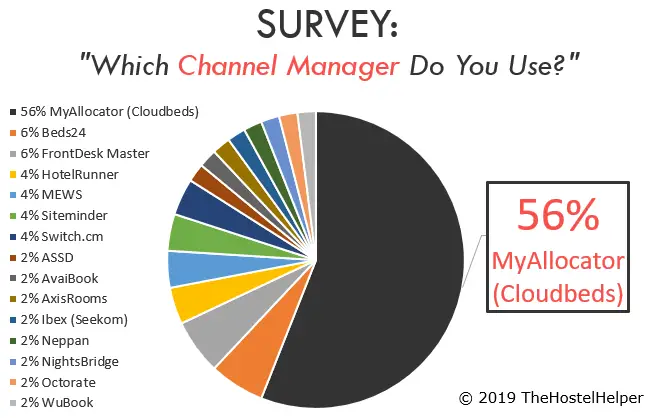 Boom!
In point of fact, a total of 56% of hostel managers use "MyAllocator" by Cloudbeds.
To be honest, I actually expected this number to be even higher. Almost every single hostel that I visit relies on MyAllocator.
Best Hostel Channel Manager
TheHostelHelper is all about using successful concepts and proven tools rather than reinventing the wheel.
I've ranked the channel manager "MyAllocator" from Cloudbeds on place one.
Here are the primary reasons why I'm confident telling you that this is literally THE best – a statement that you almost never see on this website:
MyAllocator can seamlessly connect to more than 300 channels (including the most important OTAs for hostels).
Furthermore, if new channels are coming up (which happens several times a month), you can be sure that Cloudbeds is already trying to add this new channel and will be one of the very first adopters. They are BEYOND proactive when it comes to embracing change.
Cloudbeds offers a "free" 24/7 support, i.e. you do not pay any extra money for it.
I've been in contact with them several times and all I can say is that they answer within a short time and I'm talking to real humans instead of robots. Their claim "we are crazy about our customer support" is true!
Cloudbeds service knows no limit when it comes to generosity: In addition to a free 30 days trial you can also sign up for a free consultation.
Even if you're currently using another channel manager, I encourage you to make a go of this free demo to experience the magic of MyAllocator first-hand.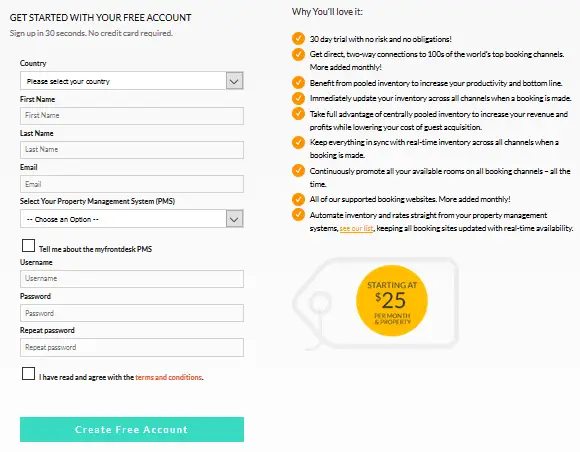 Typically the more functionalities a channel manager offers the higher its costs. Well, MyAllocator is an exception to this rule.
They still belong to the cheapest channel managers available:
NO setup costs
NO extra costs for adding additional channels
NO commission
NO variable hidden fees
ONLY a fixed monthly price depending on your hostel size & number of properties – starting at $25 per month
Furthermore, you can cancel anytime (no long-term contract). Again, we're talking about costs that are covered with the revenue of ONE single booking per month!
I literally talked to the market manager of Cloudbeds for half an hour attempting to organize a special deal for you if you opt for MyAllocator but my efforts were fruitless.
He said that they try to keep the overheads of MyAllocator as low as possible in order to be able to offer one of the industry's lowest prices. And I respect their decision.
Hence, they really can't afford any special deals. That's the bad news.
Now the good news: I was successful when negotiating  a deal for Cloudbeds property management system which includes their channel manager FOR FREE!
I'm happy and proud to announce that TheHostelHelper is now an affiliate of Cloudsbeds' property management system. This means that I will earn a commission, at no extra cost to you, if you use the following link to make a purchase.
By using this link, you'll get a starter credit of $50 and a 10% lifetime discount for their PMS – which is an exclusive TheHostelHelper deal. That means you will not find this offer anywhere else other than on my website.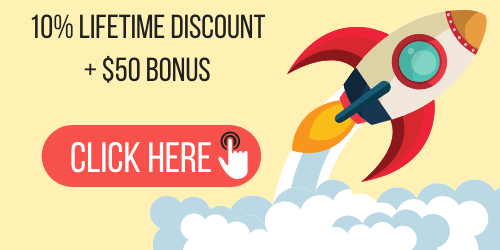 #4 Integrates With All Common PMS
No matter if you're using Bananadesk, Loventis, Sirvoy, HappyBooking, WebRezPro, Mancloud, Inngenius, etc., this channel manager is compatible. You can see the full list of compatible PMS here.
This is a major difference compared to most other channel managers. By choosing MyAllocator you're able to switch to other PMS down the road without changing your channel manager.
That said, I highly recommend you choose the right PMS from day one! Hence, I recommend to sign up for your PMS and channel manager at the same time.
By the way: If you opt for Cloudbeds property management software "MyFrontDesk", this channel manager is already included!
#5 "User-Friendly" Is An Understatement
MyAllocator is cloud-based. Hence, you don't have to install any software and can manage your availability from anywhere and anytime. 
To get started you simply choose the room types you offer including their rates, add the distribution channels you'd like to use and boom – you're ready to go!
It's really that simple.
By the way: If you use Cloudbeds property management system, you won't have to deal with the interface of MyAllocator. The channel manager is integrated in the background so that you only have to login to ONE tool to manage everything.
In addition to all that, MyAllocator comes with a free "BookNow" widget for your website and your Facebook page.
That means you're able to use the billboard effect to your advantage and are able to receive more direct bookings.
Lastly, if you've been following TheHostelHelper for a longer time, you've probably noticed that I'm a fan of copying successful and proven concepts.
My own survey among hostel owners showed that more than 50% of hostel owners associate MyAllocator with a system they truly trust. The results couldn't be clearer.
In addition to that, Cloudbeds channel manager ranks #1 among 32 channel managers on Hoteltech Report. [Source] It's also responsible for a sales volume of more than $3 Billion per year and shows an uptime of 99.9% (which is as high as Google's uptime!)
Bottom line: With MyAllocator you'll get all the functions you need for just a few bucks. What makes me confident in my recommendation is the fact that I've already ranked it on place one BEFORE I saw my survey results.
Also note that I do NOT participate in any way if you opt solely for their channel manager. At TheHostelHelper, your interests are my priority #1.
Let's see what other hostel managers say: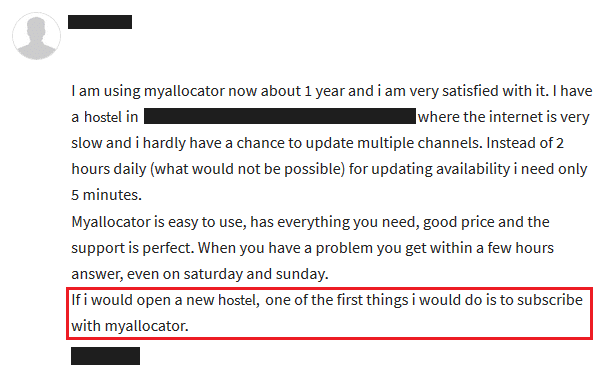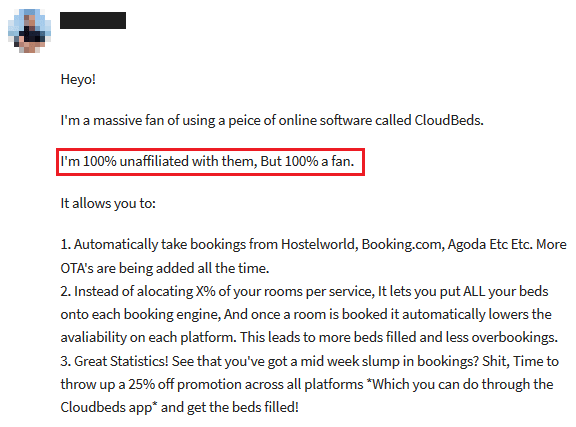 Other Hostel Channel Managers
In case you want to try different channel managers, I'd go with the two most-used channel managers that line up right after MyAllocator:
6% of hostels use this channel manager (Rank #2).
Costs: start at $15 USD depending on your hostels size
→ you can calculate your costs here
30 day free trial
Complete PMS incl. channel manager and booking engine available
→ Channel manager is ONLY compatible to their own PMS!
Out of the 18 most commonly used OTAs, it does NOT directly connect to:
Ostrovok
TripAdvisor
Hostelz
Traveloka
Hostelculture
Gomio
Ostrovok*
Ctrip*
BedandBreakfast.eu*
HRS*
*they can connect to it with a third party app
6% of hostels use this channel manager (Rank #2).
Costs: start at 2€ (~2.2 USD) depending on how many channels you add
→ you can calculate your costs here
30 day free trial
Complete PMS incl. channel manager and booking engine available
→ Channel manager is ONLY compatible to their own PMS!
STOP! 🤚
Before you leave: Answer this quick question and help our community.
Which channel manager are you using for your hostel and why?
Share your opinion in the comment section below!