More than 90% of hostel owners underestimate the value of a good name. Are you one of them?
A well-chosen name
a) can save you thousands in advertising costs and
b) can make you thousands in new bookings.
No worries, this is no rocket science. Others have done it before and so can you.

Your name determines the VERY first impression you make on potential guests.
And let's be honest here, we've all seen a first date that went terribly wrong just because first impression expectations weren't met.
Think of it this way: Your name is a Google ad that runs 365 days a year.
Because that's what it basically is.
I encourage you to read that again. It could be worth a fortune.
Yet what I experience is that many hostel owners spend many hours designing the perfect advertisement, but when it comes to their name, they don't give it a split-second of thought.
You might be thinking – My name's been there forever, seems like way too much trouble to rethink this.
My straight forward question for you is: Are you in it 100%? Are you seeing the results you want and making the profits you deserve? No? Keep reading.
If you have a naming problem, you have a marketing problem.
It is especially all the older hostels, which were well established before the rise of the World Wide Web that suffer the most.
To avoid this and to let your name work FOR you – rather than against you – I've created this guideline.
The following proven rules and principles are the result of studying the most successful hostels worldwide.
Let's dive right into the MUST know for you as an owner.
7 Tips On How To Choose A Name For Your Hostel
Without a bullet-proof, eye-catching name, that tells people WHO you are and WHAT you do, you're not just a nobody, but you're starting from behind.
This is the essence that you will find in one of the chapters of my favorite business book: The 1-Page Marketing Plan from Allan Dib.
In his book, Allan tells the story of the many naming discussions he's been through.
He further explains that he usually begins with people telling him a name, followed by an explanation of its meaning and why it was chosen.
Although the situation changes in each case, his response is typically the same:
"If you need to explain the name, to me, that's an automatic fail."
Triggered by his uncommon answer, the conversation finally ends up with people shaking their heads incredulously, mentioning all the big brands like Apple, Google, and Amazon.
I mean… he must be missing something by giving such trivial advice, right?
Wrong.
The point is that all these big companies mentioned above invest millions in advertising to inform people about WHO they are and WHAT they do. How much money are you willing to spend on your hostel?
And we're not even talking about "traditional" marketing that can bring you bookings, in other words, money.  We're talking about educating people. Can you think of a greater waste of money?
Luckily, all you need to do is to give your hostel a name that explains what you are doing.
You are offering a hostel in Sydney at the beach? → Sydney Beach Hostel
You are hiring out ski in your hostel in Whistler? → Ski Hostel Whistler
It may not sound as elegant as your creative "Sydostel" (Sydney Hostel). But the truth is, very few people will think about the meaning and origin of your name.
"Always choose clarity over cleverness. [Because] if you confuse them, you lose them."

- Allan Dib
Therefore, do not settle for a similar domain name that has hyphens or underscores.
If you're just starting out and you're confused by this fancy-sounding heading – don't worry. I've got your back.
Let's make this simple.
First of all, what are keywords?
Keywords are the words that potential guests use when searching for information online (e.g. an accommodation). By using keywords, you help search engines (e.g. Google, Yahoo, etc.) to find out if the information you offer is relevant for this search, or not.
Example:
Your Sydney Beach Hostel might not be relevant for the online search "best hot dog Paris".
But when using this name, chances are high that you show up on the first page for "Hostel Sydney".
So, the KEY question for you: What are the most important keywords for hostels? And how do you find them?
The 3 Categories Of Keywords:
1. Accommodation type: hostel, backpacker, bed & breakfast, etc.
2. Location: Sydney, Paris, New York, etc.
3. Unique Selling Proposition (USP): beach, surf, wellness, etc. 
An easy, yet effective way to achieve the best SEO results is to combine 2-3 strong keywords of the categories above.
Let's take a closer look at each group.
1. Accommodation type:
A tool I love to use for finding keywords is Keywords Everywhere.
This free Firefox and Chrome browser addon shows you the monthly search volume whenever you make a Google search.
Example: 

The screenshot reveals that on average, 14.500 people search for "Hostel Sydney" on a monthly basis.
If you look at the names of existing hostels, you'll notice that there are many synonyms used for "hostel". Below you find a list with the most common names for Sydney:
Hostel: 14:400 per month
Backpackers: 3.600 per month
Youth hostel: 2.400 per month
House: 2.400 per month
Resort: 1.000 per month
Bed and breakfast: 880 per month
Lodge: 720 per month
Guesthouse: 260 per month
Loft: 170 per month
Inn: 20 per month

The most searched name for a hostel is – surprise – "hostel"!
The second most common name in Sydney is "backpackers".
While the numbers change for each location, the bottom line remains the same:
To achieve the best SEO results, call your hostel a "hostel". Period.
There's a reason why the biggest Online Travel Agency (OTA) "Hostelworld.com" is called "HOSTEL world" and not "BACKPACKERS world".
Since your hostel should and will attract international travelers, avoid the temptations to use native names for hostel (e.g. Casa, Jugendherberge, etc.).
Let's have a quick look at the statistics of my survey to see how many of you comply with this KEY rule.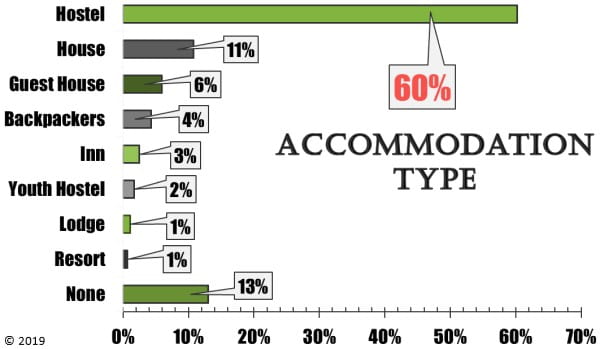 In other words: Call your hostel a "hostel" and you've already overtaken 40% of all hostels when it comes to naming.
BOOM. 40% !!
Imagine how many more bookings you can get by applying this rule without spending a single dime.
Lastly, why not use a more general name like "accommodation" instead?
In fact, "Sydney accommodation" has a search volume of 49.500 per month!
That's about 3.5 times as much as "hostel"!
Here's why:
1) Accommodation is a much bigger space, so you'll be competing with many other great types of hosting to be on the front page. This will make your marketing efforts as effective as a kid peeing in the ocean.
2) You don't target your preferred guests; people who only want to stay in hostels! When people book a hostel, they expect a hostel. When people book an accommodation, many expect more of a hotel-like, is that something you want?
2. Location
Including your location in your hostel name can be a good decision. Sometimes not.
Generally speaking, it's a bad decision when the name of your location is:
a) toooooooooooooo long
E.g. "Taumatawhakatangi­hangakoauauotamatea­turipukakapikimaunga­horonukupokaiwhen­uakitanatahu"  – this is an actual place in New Zealand. And no, I am not kidding 😂
b) hard to remember, spell, pronounce or challenging to remember

However, including the location is especially useful if
a) you plan to open a hostel chain
E.g. Beach Hostel Sydney + Beach Hostel Melbourne
b) the name is short, memorable, easy to spell and easy to pronounce.
3. Unique Selling Proposition (USP)
Sounds fancy, huh? I promise I'll make this term easily understandable even for the dropouts among you.
What makes you special, what makes you stand out from your competition? Where would you prefer to stay a night: in the "Blue Hostel" or the "Rooftop Pool Hostel"? I assume it's the last one.
But how do you find your specialty?
Here are 3 different methods:
1) Look INside your hostel: Why should potential guests book YOUR hostel?
– Are you the only eco hostel? → Eco-Hostel
– Do you have wellness facilities in your hostel? → Wellness Hostel
2) Look OUTside your hostel: Is there something special in your area? What makes your region so damn attractive that travellers come to you?
– Are you closest to the Opera House in Sydney? -> Opera House Hostel
– Is your hostel surrounded by palms and located at the beach? → Palm Beach Hostel
3) Look for Keywords: what are people searching in your area? Just use the free browser addon Keywords Everywhere and type in the name of your location on Google. This reveals also the search volume for the most popular searches.
Example: Sydney
The screenshot above shows that 201.000 people search for "Sydney Opera House" on a monthly basis. Imagine you have THESE two keywords in your name – BOOM! That's a game changer for your hostel marketing.
Bottom line for best SEO results:
"Hostel" + Location and/or your Specialty
For more tips about SEO check out my guide about 21 Tips For A Hostel Website.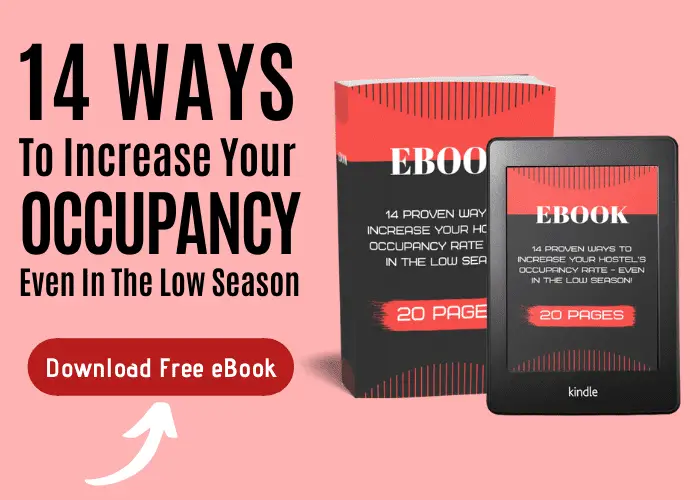 #3 Evoke Positive Emotions
It might sound obvious, but the last thing you want to achieve with your name is to arouse negative associations.
That said, trust me, I wouldn't mention it if I hadn't experienced this no-go hundreds of times.
Here are some real examples:
Small Room Hostel
The Rotten Apple
Ugly Hostel
Nope, I shit you not. These are REAL examples. 😱
That's like shooting yourself in the foot before you participate in a marathon.
What you want to do instead is to push the positive emotional buttons.
How do you feel when you read the following names?
Good Karma Hostel
Happy Hostel
Good Mood Hostel
Relax Hostel
Let me guess: a warm, fuzzy feeling, right?
Even if it affects your mood just slightly, this could mean the difference between a bed booked or not.
By the way: these are real examples of existing hostels.
#4 Never Include Your Own Name
With your own name, I mean your first name or your surname. But why not?
Even if you have no intention to sell your hostel yet, there will come a time when you are either too old to manage it or you decide to follow another passion.
When – not if – that situation comes, you are much more likely to find a buyer if your name is not included.
Renaming involves many costs. Therefore, most investors try to keep the original name and are not willing to buy a business that includes your name. More on renaming later.
#5 Choose The Right Domain Name
Your domain name is the part after "www." of your website address.
          Example: happyhostel.com 
A whole website address (incl. www.) is called "URL" and can also point to a specific location of your website.
          Example: www.happyhostel.com/blog/ 
To buy a domain, you need to go to a domain registrar. A registrar keeps track of domain ownership to prevent two people from having the same ones. Just like two people can't have the same phone number.
Here are the three most typical mistakes when it comes to choosing the right domain.
1. Choosing the wrong extensions
Your primary domain should end with ".com".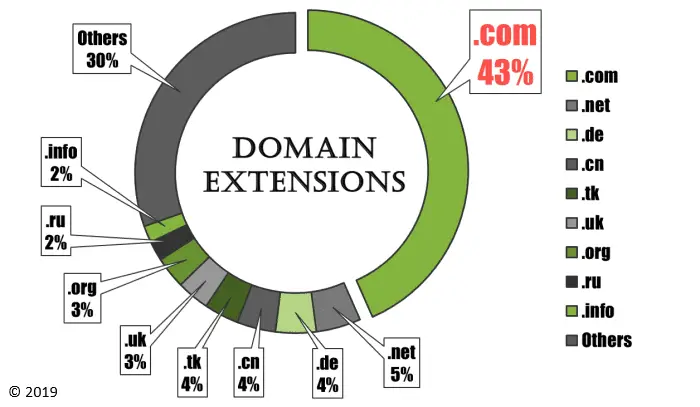 As you can see in the pie chart above, ".com" is by far the most popular domain extension worldwide. Therefore, it enjoys the highest level of awareness and trust.
Think about it.
How often have you heard somebody say "XYZ.com"?
Pretty often, huh?
If the ".com" extension is already taken and it's not for sale, I encourage you to look out for another name.
2. No protection
Apart from the ".com" extension, you should also buy AT LEAST your national domain extension (e.g. .de / .jp / etc.) to protect you hostel. Otherwise, another person (e.g. your biggest competitor) could use this name and create a website that damages your reputation.
And yes, this stuff happens.
If you have a word in your name that can be written in different ways (e.g. color / colour), make sure to buy both domains.
Also avoid the temptations to use one of the new and fancy extensions that are available: .life / .guru / .rocks / etc.
Many online marketing experts even suggest buying the extensions ".info" and ".net" as well as misspelled versions (e.g. Sidney) to further protect your brand.
In my personal opinion, this is nice to have, but not an absolute must-have for your hostel.
So, where can you buy a domain?
Regardless of where you end up buying your domains, ALWAYS use an established, legitimate domain registrar.
My favorite and also the world's most popular website to buy domains is GoDaddy.com. This is where I've bought all my domains for my websites. It's easy to use, cheap and most importantly – it's safe.
With this link, you get access to an exclusive TheHostelHelper offer to buy a domain for LESS THAN 7 BUCKS (!) per year.
No matter how many domains you decide to buy, make sure that you've set all your domains, except your .com, as secondary names. Otherwise, search engines may think you're trying to cheat with multiple listings and penalize your website.
If it's your first website, check out my step-by-step guide to create a hostel website.
Pro-Tip: Activate the option to automatically renew your domain name. That way you don't have to think about it every year.
3. Hostel name ≠ domain name
Your domain name should be your hostel name without blanks.
If this domain is already taken and it's not for sale, I encourage you to look out for another name.
I have found several times when I researched hostels, that when I clicked "back" a domain was opened that was different from the name of the hostel. Why? Because I thought I clicked the wrong link.
That's the last thing you want to achieve with your domain.
To check if your name is already taken, visit GoDaddy.com and type your wished name in.
4. Using hyphen or underscore
Many hostel owners who realize that their favorite domain name is already taken, tend to use the same name and include hyphens and underscores.
If you do that, chances are high that you'll end up helping to promote another hostel.
#6 Apply The Answering Machine Test
The goal of your hostel name is to master the answering machine test:
Tell your name on your answering machine ONCE and at NORMAL speed. The listener should instantly know how to spell your name and can remember it easily.
A simple way to test this is to record a message on your smartphone and play it in front of others:
"Hi, this is [your first name] from the [your hostel name],
unfortunately, I cannot take your call right now,…"
Don't worry. This is easier to achieve than you might think if you apply the following principles.
1. Avoid all kinds of special characters: &-#_@!
Apart from the fact that most of them can't be used in your domain name, these characters inevitably lead to confusion.
Example: When you say "5", do you mean the number "5" or the written form "five"?
Let's take another glance at the stats: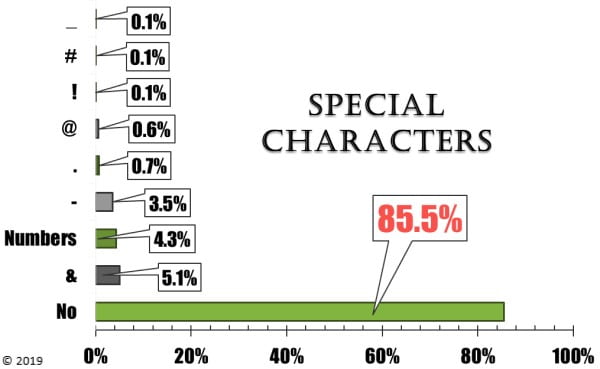 In other words: By applying this simple principle, you've already overtaken 15% of all hostels when it comes to naming!
Combine that with calling your hostel a "Hostel" and you've overtaken 65% of ALL hostels!
2. Avoid double characters: aa, bb, cc…
Double letters lead inevitably to confusion and misspelling.
Just try the answering machine test with the real hostel "Heyyyy Bangkok".
Pretty hard, huh?
Furthermore, don't look only at the individual words in your name, but also at the result of the combination of your words.
Example: hightecHHostel.com, HosteLLondon.com
3. Avoid words that provoke spelling mistakes
Several words have a different spelling depending on where you are located.
Example: harbor vs. harbour, traveler vs traveller, color vs. colour,…
If you decide to include such words, make sure you buy both domain names.
4. Use existing and common words
Non-existing words tend to be misspelled and uncommon words are often unheard by international travellers.
Examples: express vs. xpress, beautiful vs. aesthetic
5. Keep it short
While it's useful to have keywords in your name, resist the temptation to go overboard.
Your "Beach Pool Hostel Sydney At Opera House" might get slightly better search results, but it fails the answering machine test.
As a rule of thumb: the shorter the better.
The average name of a hostel contains 19 characters (median = 18) – blanks included.
Just to give you an example of an average length: Hostel One Budapest
The following two names are real hostels that seem to have a very different view of the length of the names:
"Lum" (3 characters) vs. "Nanjing Chaotian Palace International Youth Hostel" (50 characters)
So, what is a "good" name length?
The following scale will help you out.
You might wonder why a name containing less than 7 characters is considered "bad". This is because you want to make sure that you have the #1 keyword of your industry ("hostel") in your name. (see rule #2)
However, don't let this scale discourage you.
There's no right or wrong.
However, I encourage you to stay below the limit of 19 characters to enjoy maximum benefits.
Remember: The primary goal is to master the answering machine test.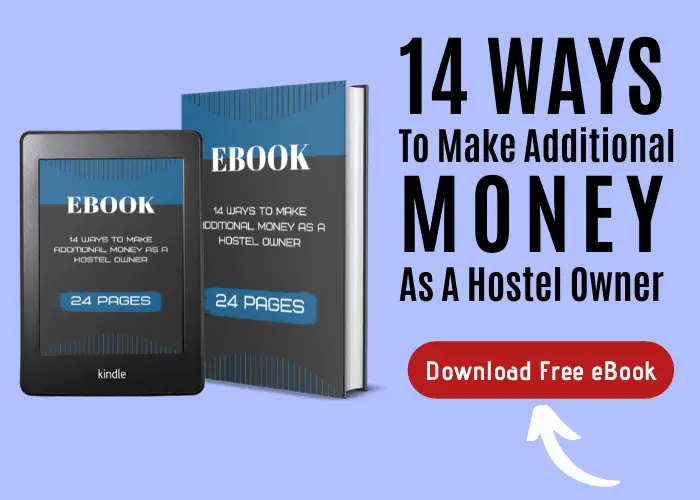 This section is dedicated to some general rules and tips for choosing the right name for your hostel.
Get feedback, but DON'T ask family and friends about your name
– Of course, they will praise your name, but it's unlikely to be truly helpful. Rather, get feedback from objective people like potential guests. Using social media or making a quick survey has helped many hostel owners before you.
Research the meaning of your name
– Unless you want to join the list of the Top 12 Company Names That Have Hilarious Double-Meanings, be sure that your name doesn't mean something negative in another language
Use the same name everywhere
– I'm shocked by how many hostels I've encountered that are called differently on each website. Example: On Booking.com it's called "hotel" and on Hostelworld.com it's a "hostel". Remember to always choose clarity over cleverness.
Check the availability of your hostel name on social media
– Social media plays a role in your marketing. Therefore, make sure Facebook, Instagram, YouTube, and Twitter name is still available.
Check if a hostel with this name already exists
– The availability of your domain name doesn't guarantee that there isn't already a hostel with your favorite name somewhere else. Check Google to see if something pops up. Otherwise, you could end up like the "Oasis Hostel" that exists in Costa Rica, Croatia, Mexico, and Morocco.
Avoid legal issues
– Make sure you don't hurt any copyrights, trademarks or patents of other companies. One common way to verify your desired name is a simple research on Google. Disclaimer: I am not a lawyer, and this is not legal advice.
Use free tools to help you in the process
– While many online marketers still recommend using the thesaurus to find a suitable name, I prefer to embrace the opportunities we have nowadays.
– My absolute favorite tool is LeanDomainSearch. With this free tool, you can type in the word or words you want to have in your name, and it comes up with SEVERAL THOUSAND ideas!
– This genius tool, which belongs to WordPress producers, also ensures that you only get to see domains that are still available. Boom.
Example: You decided to have "Hostel Sydney" in your name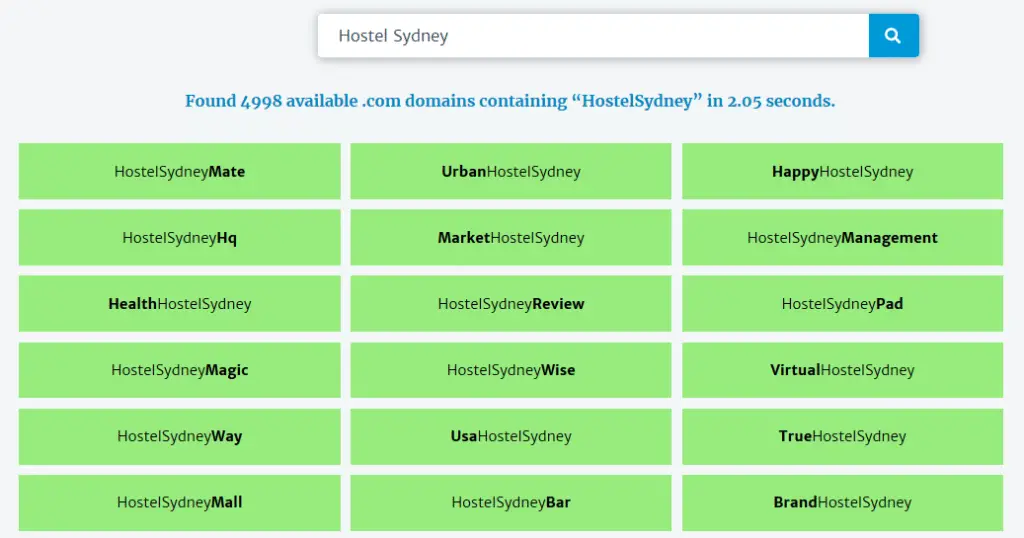 Unfortunately, it can be difficult and expensive to change your name down the road.
However, in some cases, it can mean the difference between a thriving business and one that's struggling.
When To Consider Renaming
Changing management: you've bought a hostel and want to change its current brand
Your guests have already mentioned that they couldn't find your name or website online
You're new: Your hostel is pretty new, and your name violates some rules of the checklist below
Your hostel is getting more and more unprofitable and you'll likely have to rebrand your hostel to keep up
You already have a hostel, but no website yet and the domain with your current hostel name is already taken
Your current name violates several rules of the checklist below
When NOT To Consider Renaming
You're an established, profitable hostel with a thriving future perspective and have a website that's been online for several years.
Background: The longer your website is online, the higher and more frequently search engines will show it when potential guests search for similar keywords. As a consequence, changing your domain puts you back to square one in terms of establishing your site on search engines.
How To Choose A Hostel Name

STOP! 🤚
Before you leave: Answer this quick question and help our community.
Which domain extensions (.com / etc.)  are you currently protecting or planning to protect? 
What do you think is best?
Share your opinion in the comment section below!