If you're looking for an in-depth guide about online travel agencies, you've come to the right place.
It will cover everything you need to know starting with "what is an online travel agency" all the way to "where should you sign up and how?".
Let's go!
What Is An Online Travel Agency (OTA)?
What an OTA can do for you differs – depending upon whether you are a traveler or a property owner. We'll take a close look at both.

Traveler's Perspective:
OTAs provide an easy and convenient way for travelers around the world to plan and make reservations for parts of their trip. This includes accommodations (e.g. hostels), flights, activities, car rentals, or a combination of the afore-mentioned.
They facilitate and shorten the time travelers otherwise would have to spend doing their own research comparing rates, reviews, and availability. Plus, the booking process only takes a couple of clicks.
So, it comes as no surprise that travel agencies are the most popular purchase channel for hostel travelers. In fact, OTA share of total hostel bookings are expected to rise from 44% in 2014 to 54% by 2020. [1]
Hostel Owner's Perspective:
OTAs provide hostel owners with the opportunity to be seen and found by travelers around the world. These platforms now offer access to travel markets and regions that were previously beyond the reach of small hostel owners.
Since OTAs don't own the properties themselves they act as third parties and overtake the marketing on your behalf in exchange for a fee. The costs vary for each OTA and you typically find them to be a fixed commission between 10-15% of the gross. This is also known as an "agency business model".
How an agency business model works:
Globetrotter Josh sees your hostel on Hostelworld.com and books a 3-night stay for $100 through their booking engine. Hostelworld keeps 15%, in this case $15, and you receive the remaining $85.
However, some OTAs use a "merchant business model". In this case, they buy rooms very early in bulk to get a cheap price and often bundle them with flights, rental cars or other trips to make special deals for travelers.
How a merchant business model works:
Expedia wants to offer a 2-night New Year's vacation special for couples in Sydney. The OTA then contacts your hostel and asks to buy 40 rooms at $50 instead of your list price of $100. In the meantime, they contact airlines and make 80 seat reservations for a round-trip to Sydney for $100 each. The package is offered to guests at $350.
Results:
Expedia is happy because they make $50 per sale
Guests are happy because they save $50
You are happy because you now have a 100% occupancy
What looks like a win-win-win solution in theory doesn't always turn out that way in practice.
Oftentimes these big OTAs use their position of power to include return clauses in case they're unable to sell the trips. Many OTAs even use both the agency and the merchant business model.
Typical examples of OTAs are:
Booking.com
Hostelworld
Expedia
OTAs are often mixed up with meta-search websites and global distribution systems (GDS).
OTAs vs. Meta-Search Engines
While OTAs compare different hostels, meta-search engines compare different OTAs and are therefore often seen as their direct competitors. They achieve this through – surprise – a meta-search. That's why meta-search websites can display different rates for the same date for the same room.
Typical examples of meta-search websites are:
Some meta-search engines charge a commission, some have the option to use a pay-per-click (PPC) model where you or the OTA pay a fixed amount per click, and others do both.
Oftentimes you can add a link to your hostel homepage and will be charged a fee if a visitor makes a booking through their website. 
The main difference for travelers between OTAs and meta-search engines used to be that they cannot reserve a room from a meta-search engine. However, this has changed in the last few years since TripAdvisor and Google now offer instant booking features.
OTAs vs. Global Distribution Systems (GDS)
If OTAs are the sharks among individual hostels, global distribution systems (GDS) are the behemoths of the online travel world. So, how come many hostel owners don't even know what they are?
GDS are rather costly distribution channels that mainly allow bookings for larger quantities or huge companies. Hence, they are usually not on the radar of most hostels and vice versa.
Typical examples of GDS are:
Worldwide, there are more than 400 OTAs, meta-search websites and GDS.
At TheHostelHelper I like to keep things simple. Therefore, when I say "OTA" I'm usually also referring to websites that compare different OTAs (meta-search engines) and websites that only allow bookings for large quantities (GDS).
Lastly, it's important to note that many hostel owners have mixed feelings when it comes to OTAs. And there are certainly reasons for that.
Let's explore them together – and when reading through the next paragraph, keep in mind that it's written from a hostel owner's perspective.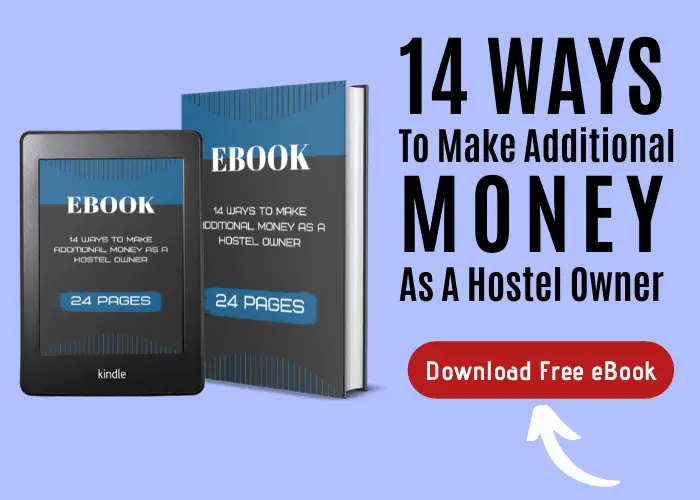 Shifting relationship: OTAs spend millions to build strong brand loyalty. Given the large sums invested, it gets increasingly more challenging for small hostels to consolidate their guest's loyalty on their own.
Predator behavior: OTAs have a marketing budget of millions and will easily outbid you on your own name on Google AdWords and other distribution channels.
Rate parity: When working with OTAs you often have to agree to freeze your rates across ALL distribution channels. This is called "rate parity". Simply put, you cannot compete with OTAs by listing a lower price on your website.
Even though it's a declining trend, for some regions it's still a big issue. That doesn't mean you can't change your rates regularly, it just means that you have a legal obligation to change them throughout ALL your distribution channels (direct AND indirect) if you do so.
To make bookings on your own website more attractive, you get to be creative. Incentives like a free welcome drink or free breakfast are ways to keep your cash register ringing.
Restrictive terms and conditions: Depending on the OTA, there are restrictive terms and conditions imposed that limit your freedom in setting your own policies (e.g. guest cancellation terms)
Channel Manager: managing room availability and rates across a range of OTAs, your website, and your front desk is time-consuming and labor-intensive. To invest your time more effectively, there's no real solution around buying additional software – in this case – a hostel channel manager.
This software solution automates or at the very least greatly facilitates these tasks and makes it unnecessary to login to every single extranet to make changes. Unsurprisingly, this privilege comes with a price tag.
However, the good news is that the best property management software for hostels already comes with a free channel manager. For more information, read my guide about hostel PMS.
Commissions: There's no such thing as a completely free OTA for hostels. On average, OTAs cut 12.9% of your gross for each booking. This is the average of all commissions from the 18 most common OTAs for hostels.
While there are many attempts of new OTAs to offer a cheaper model, they typically get smashed by the marketing efforts of giants – and for a logical reason: the ones that charge more are the ones with the biggest marketing budget. Call it a vicious cycle.
Facilitate unrealistic expectations: Most OTAs not only list hostels on their website but also other accommodations like hotels, B&Bs, vacation rentals, camping grounds, and others. There's nothing wrong with that.
However, it greatly facilitates the possibility of attracting guests who expect hotel-like service at hostel-price. In fact, my survey about the #1 challenge of hostel owners revealed that this is the #1 challenge for 8.2% of seasoned hostel owners.
Another issue is that potential guests often focus much more on the price and the reviews instead of what the hostel has to offer in their description – at least compared to a visit on their website.
4% of the respondents emphasized this as their #1 challenge when it comes to running their hostel. Lack of knowledge about the official hostel description inevitably leads to unrealistic expectations.
Guest information: Depending on the OTA, email address and phone number may only go to the OTA and don't get passed on to you. This prevents you from building your own customer base to build loyalty, promote additional services and become overall more self-sufficient.
Tracking difficulty: OTA reports are inconsistent, which makes it almost impossible to create a comprehensive report that accurately compiles data from all OTAs. For example, Hostelworld takes its commissions upfront, but Booking.com claims it afterward – you can't just compile them in one format for your own tracking.
Sounds pretty tough, huh? You might even think "why even fight this running battle with OTAs if they entail so many disadvantages?"
I'm glad you asked. There are very good reasons to do so. Let's explore what they are!
Instant access: Especially for aspiring hostel owners OTAs are a blessing! You can set up your listing in a matter of minutes and receive your first new reservation within 24 hours.
Greater access: OTAs give you instant access to thousands of potential guests all over the world that were once unattainable. These consolidated marketing budgets of OTAs open up the doors to mass marketing for you.
That means they can satisfy multiple media channels over a long period of time and thus are able to reach millions of people – something a small hostel could NEVER do.
More direct bookings: What might sound counterintuitive is actually a reality. Being listed on OTAs increases your visibility and hence lead to more direct bookings from guests who research your website for further information. This effect is called the "billboard effect".
A study from Cornell University in 2017 showed an increase in direct bookings ranging from 9-26%. [2] And if you're still in doubt, an identical study was conducted in 2009 and showed an increase between 7.5-26%. [3]
Saves Time: If executed correctly, OTAs are a great tool to leverage your marketing efforts. By using an OTA, you can greatly reduce the time of own marketing campaigns. Moreover, you save staff time since many OTAs offer excellent customer service for all kinds of queries.
Saves Money: "Heck, what?!" – I hear you say. Yes, you read that right. Imagine you'd want to reach out to the same pool of potential guests without the help of OTAs – that's not just unrealistic, that's impossible.
You'd run out of money in a matter of days. Another huge advantage is that marketing through an OTA is almost risk-free. You don't have the risk of a failing marketing campaign, because you only pay your fee for successful bookings.
After all, let's not forget that the travel industry is a hyper-competitive market, especially in the off-season where every property owner tries to attract guests. Now imagine all OTAs would shut down tomorrow morning. Would that hurt you?
Suddenly all hostels and other accommodations would start advertising like hell. It'd become a market where the ones with the loudest voice win – not the best – but certainly the ones with the biggest marketing budget.
And if you'd sum up all the costs from your own campaigns, booking costs, website costs, marketing management costs, and – most importantly – opportunity costs through your own invested time, most hostel owners would end up way worse than they are now when paying 15% in commissions.
Easy & convenient: Even a fledgling hostel owner who dropped out of college can set up his listing in a matter of minutes. OTAs make the setup incredibly easy.
TheHostelHelper's Opinion About OTAs
I know for a fact that OTAs are a highly controversial and emotional topic for many seasoned hostel owners. Many complain about the increasing costs – I get it.
Others complain about the increasing dependence – again, I can relate a 100%! That's why you find you find so many gurus out there who are in the business of helping you increase direct bookings.
However, I strongly advocate you look at the big picture and see OTAs for what they CAN DO instead of what problems they bring. No matter how challenging this thought pattern might feel, a big part of being a successful hostel owner is – and will always be – to embrace change rather than to fight it.
Now, don't get me wrong.
I'm not saying that you should solely rely on OTAs as a distribution channel – far from it! It's all about building a solid foundation that includes various online and offline channels.
Especially for the outstanding hostel owners among you, OTAs are a great way to show potential guests how awesome you are because guests see your reviews in comparison to your competition.
In my personal opinion, OTAs are not only beneficial but an ESSENTIAL part of your marketing. After all, show me a highly successful hostel and I'll show you one that uses many different OTAs to leverage their marketing.
In fact, the top 41 hostels worldwide
use an average of 9.8 OTAs to do that.
Lastly, if you think commissions of 15% are outrageously high, the following stats are for you. From my past career in the financial industry, I know first-hand how F R E A K I N G expensive customer acquisition can be.
The following chart shows customer acquisition costs for different industries. [4] Let that sink in for a bit.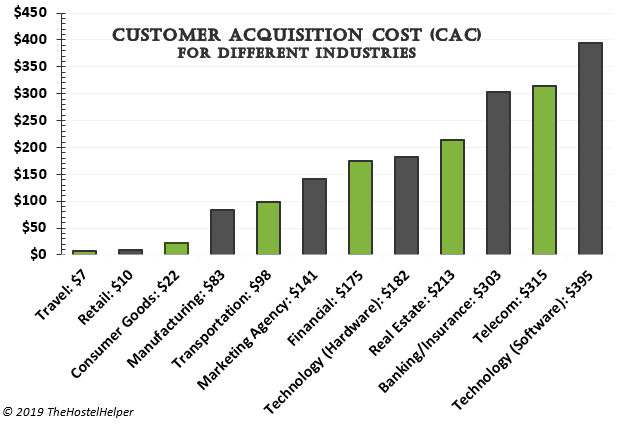 But before we dive right into the list of OTAs, let's take a quick glance at the difference between two key figures that will help you understand the following charts. Takes no longer than 30 seconds, promise.
The median is the middle point of a number set, in which half the numbers are above the median and half are below. In our example, the median is 9.2:
3.1 | 8.5 | 9.2 | 9.4 | 9.8
Medians reflect more accurately what most hostels do because they neglect the exceptions and hence are the better choice for this analysis.
The mean is the sum of all the numbers (40) divided by the amount of numbers in the set (5) = 8.
Rating 1 = 8.5
Rating 2 = 9.4
Rating 3 = 9.2
Rating 4 = 9.8
Rating 5 = 3.1
However, as you can see in the example, the result is skewed by the low rating. Most hostels have a way better rating.
In a nutshell: To analyze the reviews I use medians since they neglect the exceptionally high and low values that distort our numbers.
Okay, enough geek-speech. Let's dive into it!
Indicators To Assess OTAs
Since there are more than 400 OTAs worldwide, the following list will cover the ones that are TRULY relevant for you as a hostel owner.
At TheHostelHelper, I focus on proven methods and strategies. Therefore, I've analyzed all OTAs that are currently in use by the top 41 hostels worldwide to leverage their marketing. This list includes all "Hoscar winners" from Hostelworld in 2019 – except the ones for each country.
Smaller countries with just a handful of hostels are not part of the analysis regardless of whether you find a random award winner among them. We'll focus on information that brings you forward without getting caught up in details.
So, what concrete indicators should you be looking at when choosing your OTAs?
1) Success-Proof - "Should you even bother?"
How many hostels of the top 41 are actually using the OTA you are looking at?
At TheHostelHelper, I believe in copying successful concepts rather than reinventing the wheel.
This score tells you how many of the top 41 hostels use this OTA.
E.g. 43% of the top 41 hostels use this OTA = 4.3 stars out of 10

2) Effectiveness - "Is it worth your effort?"
The list will show you…
A) Median reviews of the top 41 hostels
Indicates if travelers really use that OTA to book their stay
B) Median rating of that the top 41 hostels
The median rating tells you if the OTA attracts people with the "right" expectations and hence facilitates rather good or bad reviews
C) Global reach
Tells you which countries or continents you're targeting with this OTA and how big the potential market is
D) Total listing of properties
Tells you how well established the OTA is throughout the travel industry
The Effectiveness Score is based on all 4 factors and displayed on a scale of 1-10.
3) Costs - "What does it cost you?"
How high are the commissions?
Are there additional fees like sign-up costs?
The score is calculated with the following model:
1 star = 20% commission

10 stars = 0% commission
These are the indicators to focus your attention on. Frankly, everything else is secondary.
List Of Online Travel Agencies For Hostels
Here's an overview of all common OTAs among the top 41 hostels worldwide.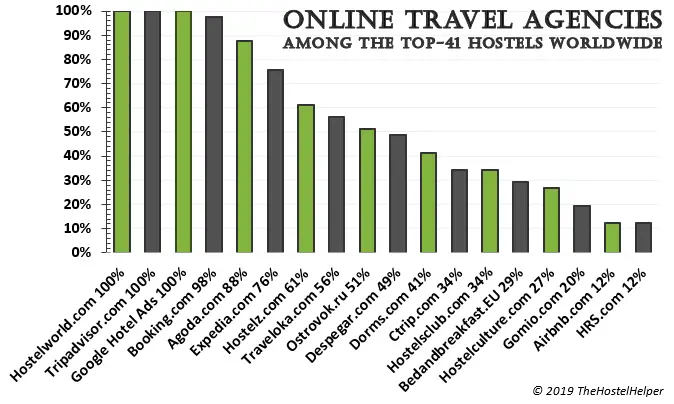 The following list is arranged in the same order – beginning with the OTAs that most hostels use.
For a better overview, I've separated the list of OTAs from this guide. Simply click on the button below to get to the list.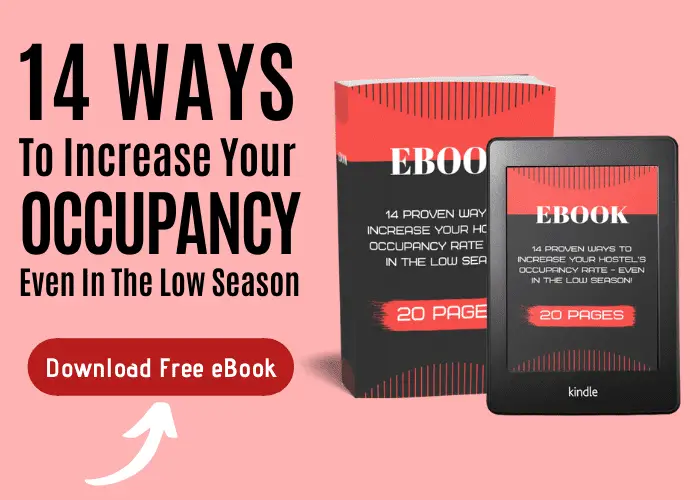 My Learnings From This Analysis
Even though I knew quite a lot about OTAs long before I started this analysis, I've gotten to know several new aspects.
I'd like to share two of my key learnings with you:
1. Commissions Of Online Travel Agencies
What I've already assumed proved to be true:
The bigger the OTA the higher the commissions.
This is a generalization that applies to most cases. The exceptions confirm the rule as you can see in the following chart.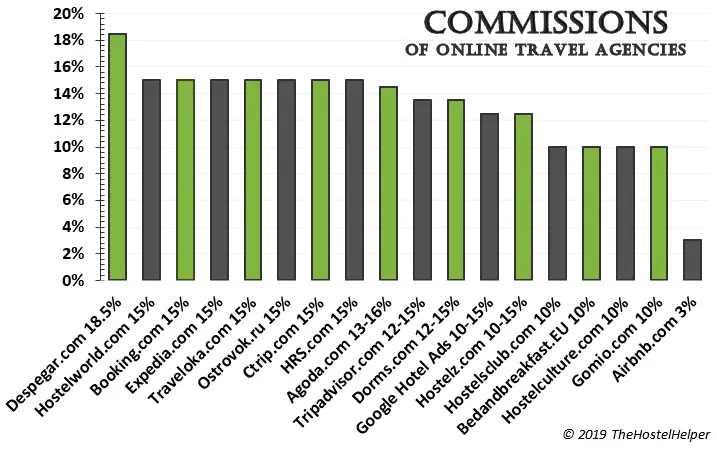 The average commission of the most commonly used OTAs is 12.9%.
Don't even get me started on all the hoops I had to jump through to get information about the commission structure. The smaller the OTA, the more frequently you see this kind of information accessible to the general public.
2. Reviews Of Online Travel Agencies
What many of you have probably been wondering about is: "Are hostel-only OTAs better for my reviews?" In point of fact, yes.
OTAs that only list hostels facilitate better reviews.
And here are some examples to prove the above statement.
If you've read until here, you already know more about online travel agencies than 98% of all established hostel owners. Just one last puzzle piece is missing: The implementation of your newly gained knowledge.
Where should you list your hostel?
How many OTAs should you choose?
And how can you join?
Let's fix that. Here's the hands-on information that you're craving.
Implementation Of New Knowledge
How Many OTAs Should You Choose?
The average hostel among the top 41 worldwide uses 9.8 OTAs to promote their hostel. Now, does that mean you need to do likewise? Nope.
This decision is largely dependent upon 4 factors:
1) How well established are you when it comes to direct bookings?
The better your own infrastructure to generate direct bookings, the less OTAs you need.
2) How big is your hostel?
As a general rule: the bigger your hostel, the more distribution channels are needed. While a hostel with around 20 rooms can achieve an occupancy level of 80% by signing up to 2-5 OTAs, a hostel with 100 rooms might need 10-15 OTAs.
3) How do you manage bookings?
If you use a channel manager, you can seamlessly integrate and manage a whole bunch of OTAs. Whereas if you manage them manually, you might want to stick to as few as possible to limit the administration-time and the chances of overbookings.
4) What's the season?
If you lack occupancy especially in the off-season, you might want to add a few extra OTAs specifically for that season.
Which OTAs Should You Choose?
To quote the favorite answer of one of my law professors: "It depends."
I'd love to give you a list with the top X OTAs for your hostel, but there's no such thing as a one size fits all solution. Hence, I aim to educate you to the point where you're able to pick your own winners.
Here are some characteristics you want to consider when making your own decisions:
Do you use a channel manager?
If not, stick to a few big players that bring the most bookings
If yes, which OTAs can you integrate? – Ask your provider for a list
Does the OTA customer base match your idea of an ideal guest?
All other things being equal, websites that list hostels only are a better choice because they facilitate better expectations and reviews and cause fewer headaches while running your hostel.
Where are you located?
If you're located in Australia, you might want to skip the OTA that uses its budget solely for the country of Greenland and pick an OTA that covers your region.
That said, in the end, it's about keeping the process running: build, measure, learn, repeat. No list with benefits can beat your own experiences EVER.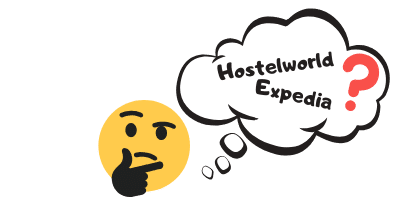 There are two ways to do that:
1) Simply click on the links below
2) Visit the website and search in the footer for something like "Property Sign Up"

Disclaimer: While I have taken every precaution to insure that the content on this site is both current and accurate, errors can occur. TheHostelHelper assumes no responsibility or liability for any errors or omissions in the content of this site. The information contained in this site is provided on an "as is" basis with no guarantees of completeness, accuracy, usefulness, suitability, timelessness or validity and without any warranties of any kind whatsoever, expressed or implied. For more information, click here.
STOP! 🤚
Before you leave: Answer this quick question and help our community.
Which OTAs work best for your hostel and why?
Share your opinion in the comment section below!