Are dorms dying? What bunk beds and mattresses are the best for hostels? And should you prepare the beds for your guests? – If you ever asked yourself these questions, you've struck gold.
In this guide, you'll learn the nuts and bolts to create your hostel bedrooms that will make your guests and your wallet happy.
Let's get right to the meat.
When planning your hostel rooms, one of the very first decisions you have to make is how you allocate all the available rooms between dormitory and private rooms.
In the past 10-15 years, many hostel owners noticed a trend towards a higher demand for private rooms. You might be one of them raising the question: "Are dorms dying?"
Well, our economy works on one simple concept: supply and demand. Hence, the underlying question is: Is there a future demand for dorms?
And the answer is a clear YES!
So, why is it that I am so confident in predicting future demand?
1) Our global population is still in the growth-stage
According to the United Nations, we'll have around 9.7 billion people by 2050 and more than 11 billion by 2100. Right now, our earth has a population of around 7.7 billion. [Source]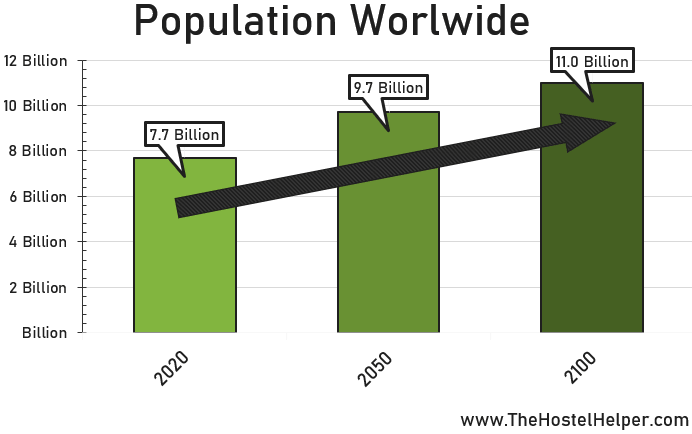 However, every growth is limited and so is the number of our population.
In 2018, I visited an event in Berlin, Germany, where a futurologist showed interesting statistics about our population. According to him, our earth will at some point have about 50 billion people before our growth naturally AND artificially takes a typical U-turn.
Now, it's not about whether this number is accurate or not, but it shows that the demand per space will multiply in the future. And as a general rule:
The higher the demand per space the more dorms are economically needed!
A real-life example of this is Sydney. It now has become the standard in flats to share rooms with strangers!
The concept originated in Asia and spread fast since the growth of the city is limited due to the surrounding water. As a consequence, private rooms just became too expensive for the majority of people.
2) The number of digital nomads & solo travelers is increasing
In case you're wondering: Digital nomads are people like me, who're able to work remotely with their laptop while traveling. They are often "slow-travelers", i.e. they stay 1-6 months in one place before they move.
Researchers estimate the number of digital nomads will grow to one billion people by 2035. [Source] Right now, there are about 5 million digital nomads worldwide. [Source] Hence, we're talking about a 200-fold increase within 15 years!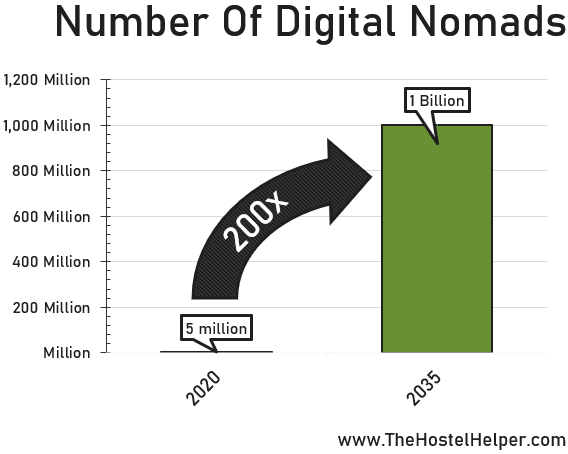 And guess where digital nomads typically stay for the first few weeks? – Hostels.
But not only will there be more digital nomads, but also solo travelers in general. Decades ago, it sounded like (and was) a REAL adventure to say "I am traveling the world on my own". However, in many countries, it has become a standard to do a gap year.
That said, for most solo-travelers, it's too costly to stay in private rooms. While private rooms might be more comfortable, dorms are a great budget solution.
By the way: Did I already mention the hostel industry's bright future and how overlooked this market is…? The opportunities are incredible.
3) Declining demand for dorms is only a local thing
In many countries, the exact opposite is happening: Dorms are fully booked and private rooms remain empty. Areas include large parts of Asia as well as South America.
Airbnb and Uber are getting more popular every year. Many companies even start to share their workspace (e.g. "WeWork"). So why should the accommodation business be any different?
5) Dorms are not the sole defining character of hostels
The key differentiator to other forms of accommodations are not dorms, but the social aspect including its common areas.
I'd even argue that a hostel that offers solely dorms but no common areas and self-catering facilities to enable a community feeling is less a hostel than the opposite.
After all, hostels allow us to travel the world without feeling the least lonely. No other lodging facility can provide that. Full stop.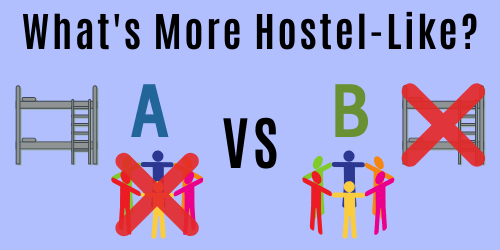 Bottom line: The question is not whether or not you should have dorms, but how many!
In fact, my analysis of the top 30 hostels worldwide showed: 100% of them offer both – private rooms AND dorms.
Hence, I recommend you start with a typical ratio of 30% private beds and 70% dorm beds and adjust based on the actual demand.
Your job as a business owner is NOT to create the market but to respond to it.
Mixed Dorms Or Separated Ones?
If your hostel is big enough, I recommend BOTH with a focus on mixed dorms.
Some women expect female-only dorms. While there are also some men that ask for men-only dorms, they are rather rare. Hence, I recommend having at least one female-only room.
However, don't offer too many separated dorms as this can decrease your overall occupancy rate.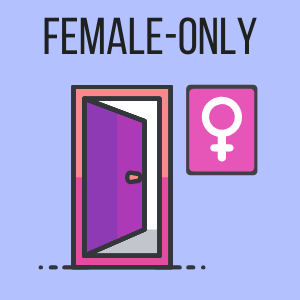 Dorm Size - Does It Matter?
According to most hostel owners, dorm size doesn't really matter as long as you organize them in the right way.
Example:
A well organized 36-bed dorm with high ceilings, dividers, and privacy curtains can feel more private than a too narrowly arranged 4-bed dorm.
However, if you decide to go big, make sure to have some rules in place when it comes to light and noise in the later hours.
What matters much more is how many dorm types you offer. Why is that?
Studies have shown that too much choice can prevent sales because people fear to make a suboptimal decision. The sweet spot seems to be 2-3 dorm types.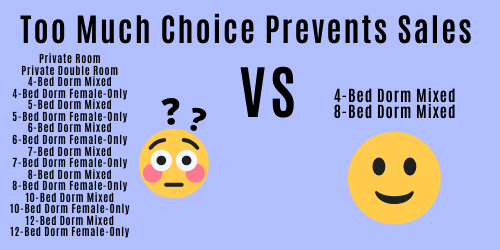 For further details, check out my guide about hostel pricing strategies. It will show you 13 hacks to improve your occupancy rate WITHOUT lowering your rates!
Make sure you check out numbers 7, 8 and 11 as those will affect you the most.
The next step is to figure out how much space you'll need in order to create your dorms respectively how many bunks you can put into a given room.
Obviously, the exact number depends upon the arrangement of your doors, windows, and the general layout.
However, here's a rule of thumb to get started:
Plan 110 square feet (~10 square meters) for the very first bunk
Add 55 square feet (~5 square meters) for every additional one
Example:
If you want to create a 6-bed dorm, plan 220 square feet (~20 square meters).
(110 + 55 + 55)
Furthermore, you might want to consider cultural factors in your calculations: Travelers from Asia are typically used to smaller rooms whereas guests from Europe have grown accustomed to bigger rooms.
Most hostel owners don't construct their own hostel building but rather buy or lease existing ones. Hence, it often occurs that some rooms don't come with the perfect conditions when planning your layout.
Some rooms might not even have a window… but can you really offer a windowless room?
Well, first you'll have to check the building codes for your area. In some cities or even entire countries, it's illegal to do so.
If it's allowed, you can absofreakinlutely offer rooms without windows.
However, first, consider the possibility of installing a window. If that's not possible, you might be able to remove a wall to convert the windowless room into a bigger dorm with a window. Just talk to the owner and architect.
If both options are not possible, make sure to follow these two key rules:
#1 Advertise them as windowless
Do NOT hide the fact that the rooms don't have a window and let your guests unmistakable know that. Otherwise, the chances of disappointing reviews are SUPER high.
#2 Go all out when it comes to interior design
Make sure your rooms look appealing by providing warm lights to reduce the cave-like feeling of such a room.
A hostel that does a great job at this is the "Jakarta Backpackers Hostel" in Indonesia. I personally wouldn't feel the least bit uncomfortable sleeping in this room.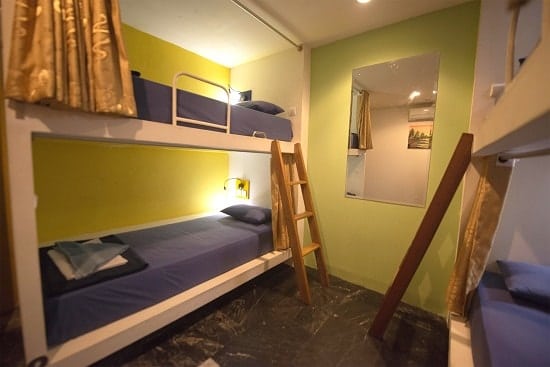 Bedroom Furniture & Equipment
There are 4 basic things your bedrooms need:
Beds
Lockers
Mattresses
Bedding
Let's start with the former.
Among others, there are two primary factors to look out for when choosing your beds:
#1 Choose commercial bunk beds
Domestic bunks are less durable, much noisier, and are just not built for hostel usage.
It's one of the most common mistakes of aspiring hostel owners trying to save money by choosing the cheapest IKEA bunk beds only to replace them after 2 years.
#2 Choose metal instead of wood
Even though wooden beds often look more appealing, bed bugs love them. It's just a matter of time when the wood will get crevices that are the ideal place for the critters to lay their eggs in.
Did you know that bed bugs are the fastest growing pest control emergency in the developed world?
For further information, check out my guide that includes three easy & cost-effective ways to prevent bed bugs altogether. It also includes statistics of what kind of beds the top 40 hostels worldwide use.
So, where can you buy your bunks?
The most recommended bunk bed supplier among hostel owners is called "Sleeptite" and is located in Ireland. Their beds are incredibly durable and come at a relatively low price. No matter where you're located, they ship their beds worldwide.
For private rooms, the standard is queen-sized beds. As long as you pick metal, there's not much you can do wrong.
If you've been traveling through Asia, you might have come across this new trend called "pod-style beds". It's basically a separate cabin that you enter on the short side.
This trend started in Japan and spread quickly. From a traveler's perspective, they are awesome. They provide a great level of privacy and come with own power sockets.
This is what the beds at "Yim Bangkok Hostel" look like: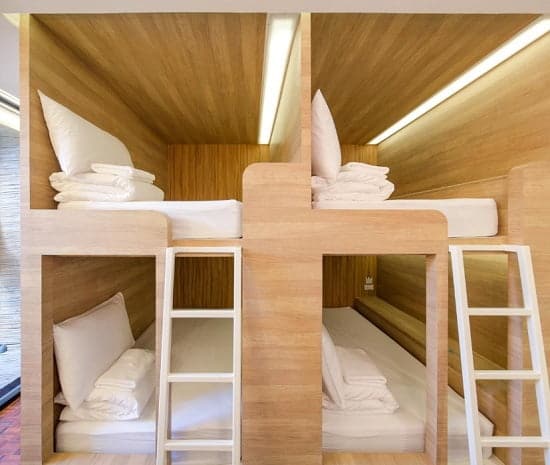 Capsules can have different forms and sizes. The main difference is that they are typically not stapled on top of each other.
Here's a cool example of the "Clock Inn Kandy" hostel: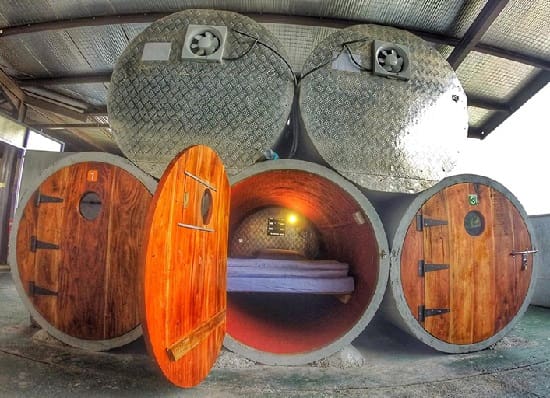 Obviously, if you have a carpenter at hand, there are no limits when it comes to the actual design of your bunks.
The following shows the designer bunks of the "Sunset Destination Hostel".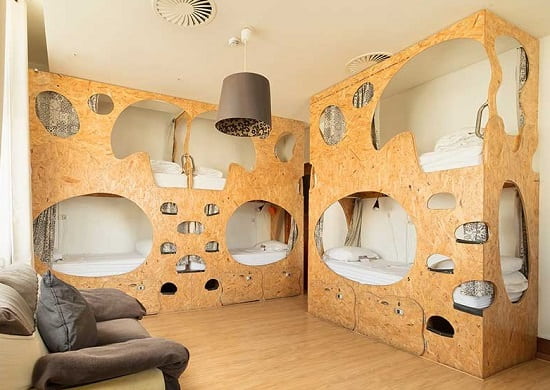 While they all look amazing, they also typically come with a much juicier price tag attached.
Lockers & Under-Bed Lockers
Every room should provide a locker that is big enough to safely store all the valuables of guests.
The item that typically requires the most space is their laptop. The biggest one you're ever likely to come across has a screen size of 17.3 inches (~44 cm).
How do I know? – I have such a beast and I've never seen someone with a bigger laptop during ALL my travels 😅
If you can provide lockers measuring a width of 17 inches (43 cm) and 11 inches (28 cm) depth, it should be big enough to store all valuables.
While writing this, I'm sitting in the "Travellers Oasis" hostel in Cairns which won the Hoscar for best hostel in Australia during the last five years. Every room comes with a small electronic safe under each bed that is attached to the floor.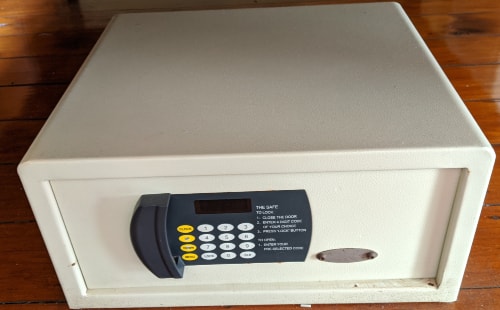 My laptop fit perfectly in their safe. It's as if they were made for this size. In my opinion, that's genius. I never felt so comfortable leaving my stuff in my room.
And they are way cheaper than I expected. Just have a look yourself.
Now, if security is an issue in your area, you might want to provide lockers that are big enough to store an entire backpack or suitcase.
A great alternative to standard lockers is to use under-bed lockers. If you have wooden beds, you might want to ask a local carpenter to build customized boxes.
If you followed my recommendation to choose metal bunk beds from Sleeptite, you can include perfectly fitting metal lockers: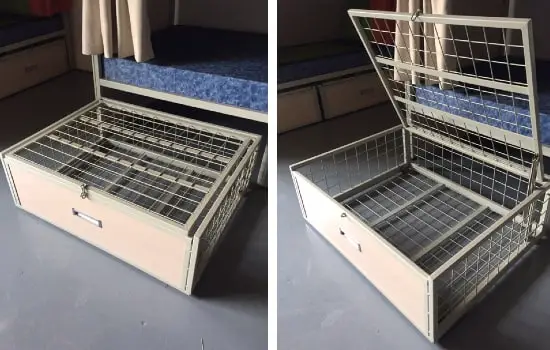 The big advantage of these cage lockers is that they don't need to be cleaned, are durable, and more silent.
From a guest's perspective, these are the most convenient locking systems (in descending order):
If your lockers require a padlock, be sure to sell them either at your reception or include them in your vending machine.
By now you've probably planned the layout and the bed model for your rooms. The next step is to choose the appropriate mattresses.
I've already written a complete guide on what to look out for when buying your hostel mattresses. However, here's the executive summary of the essentials:
Use foam mattresses instead of spring mattresses
They hold longer and are typically more silent.
Stick to medium-firm to firm mattresses
As a general rule: The firmer your mattresses the longer their durability. However, at some point "too firm" feels uncomfortable.
Hence, on a scale of 1 (= extra soft) to 10 (= extra firm), aim for a firmness of 6-8.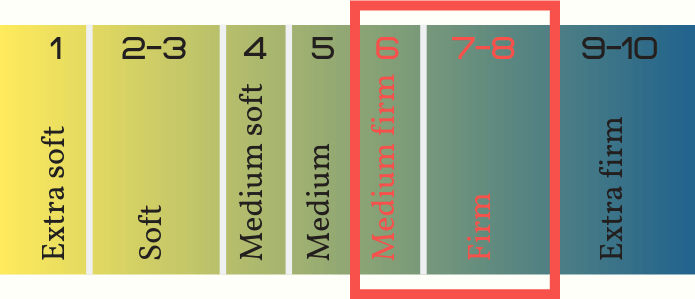 Opt for a mattress between 6-10 inches (~15-25cm) of thickness
The higher the prices of your individual rooms, the more comfort your guests expect. As a consequence, I suggest you rather aim for 10 inches (~25cm) for private rooms and 6 inches (~15cm) for your dorms.
Last but not least: A waterproof mattress cover is one of the smartest investments you can make to dramatically prolong the durability of your mattresses.
It protects spills, bedwetting, and other "accidents". But even more importantly: it prevents your beds from bed bugs!
Since mattresses have a direct influence on your guests' well-being, I recommend you choose the ones that have been proven to be great. Hence, stick to mattresses with many awesome reviews on Amazon instead of buying the some that "look good" at your local shop.
THIS is the mattress I recommend FOR BUNK BEDS (dormitory rooms).
HERE is my recommendation FOR QUEEN BEDS (private rooms).
And HERE you can find the proper MATTRESS COVERS.
According to the reviews, they all offer incredible quality for a low price. Just have a look yourself.
Compared to bunk beds and mattresses, bedding definitely plays a secondary role.
That said, choosing the right bedding will not only improve your guest's experience but also save you plenty of money in the long run.
The most important aspect is to choose white sheets! After all, there's a reason why it has become the industry standard:
White is timeless, the most durable color, and easiest to maintain. Furthermore, studies have shown that white linens significantly improve guests' perception of cleanliness. [Source]
If you're still in doubt, check out my article about 7 tips for hostel bedding. It gives you plenty of more insights and includes surprising studies!
Furthermore, opt for pure cotton with a minimum thread count of 300 OR choose microfiber sheets.
Three sets per bed seem to be the sweet spot between "too many" and "too few".
Click HERE to see the sheets I recommend. Just have a look at the reviews… In my opinion, they come with an almost guaranteed satisfaction.
By the way: If you're operating a hostel with more than 50 beds, it might be worth outsourcing your laundry. Just get some quotes and do the math.
In my opinion, privacy curtains are one of the most underrated investments you can make. The value they provide is huge compared to the costs of installing them.
Have you ever noticed how many hostel travelers use their towels or extra linens to build their own curtains? – I can't think of a CLEARER SIGN for the demand!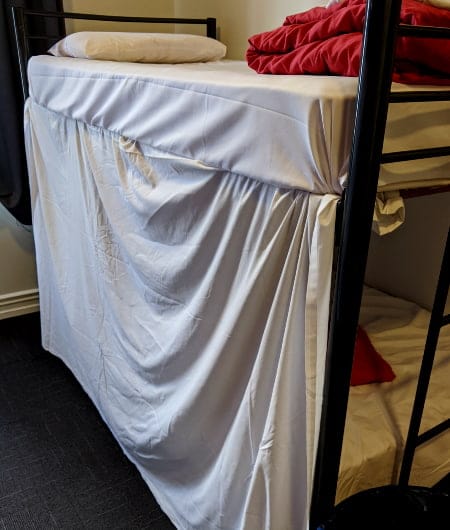 Especially when you're located in or accommodate many people from the US, I'd argue they are almost a must-have. Why is that? – Americans tend to be more sensitive when it comes to sharing a room.
Learn more in my article about why hostels are not yet embraced by the US.
So, where can you buy privacy curtains?
Unfortunately, there are only a handful of suppliers online. You can either ask your bed supplier or visit a local sewer to get tailored curtains.
However, a few bunk beds offered by Sleeptite have privacy curtains included!
What About Additional Furniture?
In hotels, it's typical to provide a small table with 1-2 chairs. However, hostels are different.
Since hostels are all about creating a social atmosphere, I recommend limiting the furniture to beds and lockers. That way, people are typically more open to relax in the common areas instead of hiding in their rooms.
A table to sit prompts people to eat in their room which will increase the overall cleaning demand. Furthermore, every additional furniture is another great opportunity for bed bugs to hide.
Hence, I recommend you apply the same principle as for hostel insurances:
Opt for as much as needed and as little as possible.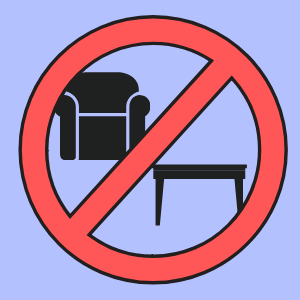 Additional Hostel Room Considerations
The following is a list of related topics.
This is a controversial topic among hostel owners when it comes to dormitory rooms: Should you prepare the beds?
That said, it's not an issue for private rooms. The mere fact that these guests are paying more justifies the costs and makes sure that their higher expectations are met.
Let's have a look at the advantages and drawbacks of preparing the beds:
Guests can inspect the linens and their cleanliness: Apparently, some think hostels don't wash them.
Simplifies cleaning: It's easier to spot available beds if the beds are not done.
Time-consuming: Even for professionals, it takes an average of 2-3min per bed to make them.
Can disturb other guests: Making a bed is noisy and demands light. Hence, if someone arrives in the middle of the night, chances are high that he or she will wake up everyone else.
Can look used: Some guests might sit on the bed so that it doesn't look fresh anymore.
Mattresses don't get stained: Some guests don't bother to sleep on the bare mattress – especially when they are tired or arrive in the middle of the night.
Creates a better first impression: After all, you're working in the hospitality industry which stands for taking care of other people.
Leaves a better & cleaner impression in general: Looking at a naked mattress doesn't look nice especially when they are stained. And whose mattresses are truly clean?
Guests appreciate it: However, it's typically not something they complain about.
Can prevent confusion: Some guests who are not familiar with hostels might find it weird to be asked to make their own beds.
Sign of professionalism: A neatly made bed looks professional. Period.
Reduced likelihood of getting bed bugs: Due to guests who use their own bedding.
Lower probability of damage: Naked mattresses are often used as a shelf for luggage which can damage or stain the mattress. Made beds are typically left alone.
More time-effective: Skilled housekeepers are way faster in making beds than your guests are.
In my opinion, the advantages of preparing beds outweigh the drawbacks from both perspectives: From the view of a guest (obviously) as well as from a hostel owner's perspective.
That said, the beauty of running your own business is that you're the one who makes the rules 🙂
If you decide to let your guests make the beds, here are a few recommendations:
Leave the linens on their beds instead of providing them at check-in
Guests typically already bring plenty of luggage. Having to take additional sheets to the room is often impractical.
Always make the bottom sheet to prevent any damage or stains
Let your guests do the rest: Top sheet, duvet cover, and pillowcase.
Last but not least: Stripping the beds is widely accepted by hostel travelers and doesn't create such a high inconvenience compared to making a bed. It's also a great way to spot beds that should get cleaned.
Change Bedding After Certain Time?
Some hotels change the bedding of their guests every single night. Hence, some hostel owners might wonder if they should do the same after a certain period of time.
First and foremost: If a guest asks to get new sheets, you should provide them with new sheets – no matter how long he or she used the old ones.
Depending on the individual culture, people tend to change their sheets every 2-4 weeks at home. To meet the needs of all your guests, I recommend changing the bedding every 5-7 days.
After this time, you could just ask them if they want their beds changed. If they say yes, kindly ask them to have their beds cleared the next morning.
"Assigning beds" is the process of linking a specific bed number (e.g. 4B) to a guest. Obviously, this is only an issue for dorms since private rooms are per definition already assigned.
Let's have a look at the advantages and drawbacks.
Simplifies Cleaning: Easier for cleaning staff to figure out which bed has to be cleaned if they aren't already stripped.
You know who is in each bed: in case they request something or cause damage, you know where they are and can leave a note.
Fairer: First come first serve (FIFO) – it's fairer to let them pick their own beds.
Can get ignored: Many guests ignore the assigned bed if they find another free one that they like more.
Hard to maintain: Some guests switch from the top bunks to the bottom ones as soon as they are free.
Not every guest prefers the bottom bunk: Hence, you don't know if you do them a favor by placing them in there.
Irresponsible: You're not responsible if they didn't get their preferred bed.
As you see in the list above, the drawbacks outweigh the advantages by far. That's probably the reason why it's NOT the standard among hostels to assign beds. I've heard managers even call this a "silly" practice.
However, if you decide to assign your beds, here are some recommendations:
Have a big & visible number on each bed
Show each guest their specific bed at check-in to prevent confusion
Tell them that they need to tell the reception if they change the beds
Use a property management software to easily drag and drop the reservations from one bed to another if they switch
Should You Provide Air Conditioning?
Obviously, that's a decision based upon your local climate.
However, think about if a ceiling fan might be sufficient. If yes, that will not only save you money when buying them but will also dramatically reduce your operating costs.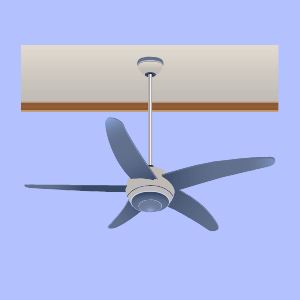 If not, here are 2 key rules when providing aircon:
Be the boss: Don't let your guests choose their preferred temperature
Not only will this save costs, but it will also prevent having a bunch of sick guests. The truth is that many travelers are not used to having aircon at home. Hence, they tend to turn it too cold and wake up congested or sick the next morning.
Furthermore, you prevent guests from fighting with each other because everyone has his or her own favorite temperature.
To achieve this, lock the control. Or better, don't even show them anywhere (if possible).
This handy tool will make sure that the aircon is only running during the important times (e.g. before going to bed).
Shared Or Ensuite Bathrooms?
Ensuite bathrooms are bathrooms that are integrated into the bedroom itself. The alternative is shared bathrooms with a separate entry. But what is best?
Well, that's a topic I cover in my article about 11 tips for your hostel bathrooms. Check it out!
STOP! 🤚
Before you leave: Answer this quick question and help our community.
What do YOU think is key when it comes to bedroom design?
Share your opinion in the comment section below!