It's hard enough to buy a good mattress for your bed at home but which one should you use for your hostel?
As I researched the internet, I was confused and somewhat discouraged by how few genuinely relevant information I could find about hostel mattresses. I felt like most of the websites are built to sell you an $800 mattress so that they earn a juicy commission.
Well, I knew then and there that I needed to fix this shortage of information right away. So here it is – your honest guide to finding the right mattress that has your interests at heart.
In this guide, you'll learn everything you need to know to make the right choice about your hostel mattresses. You'll learn whether foam or spring mattresses are better, how firmness comes into play and additional first-hand insights from other hostel owners.
All the information is provided with one goal in mind: To enable you to choose the best mattresses for your hostel that are comfortable and last long without spending a fortune!
How To Choose The Best Mattress For Your Hostel
The first thing you'll notice when you're looking for a suitable mattress is that there are two general models: Foam and spring mattresses.
But which one is the better choice for your hostel?
Let's dive right into it!

Spring mattresses are often considered the "tradition mattresses". They consist of many metal coils that allow a certain bounciness of the mattress. Furthermore, spring mattresses are the standard among most hotels.
Tend to be cheaper than foam mattresses
There are special mattresses for the lodging industry that have built-up edge springs to account for excessive sitting on the bed
The coil system loses bounciness over time. In fact, it loses about 16% in support in its first year [1]
Can become squeaky over time
Lower durability → around 5 years of regular use (depending on quality & thickness)
Foam mattresses, on the other hand, don't have springs and get their bounciness through trapped air. Most foam mattresses consist of 3 or more layers with each layer being different in their nature and impact.
High durability: 7-10 years (up to 20 years depending on firmness and thickness). Some companies even give a 25 years warranty which proofs their durability
Silent
Usually delivered in a compressed roll → you can keep a few extras on hand that take up little space
Its soft & smooth material is closer to the body → can lead to more sweating on hot days due to less air circulation
Tend to be pricier than spring mattresses
Hybrid mattresses are, as the name implies, a mixture of springs and foam.
By design, both models have advantages and drawbacks. So which mattress should you choose for your hostel?
Before we dive into my recommendation, let me set the record straight: There's no right or wrong. There's only the option that fits best for YOU and YOUR hostel.
TheHostelHelper's Recommendation
I recommend choosing foam mattresses for beds in dorms (typically bunk beds and twin beds) and spring mattresses for private rooms (typically queen and king beds).
Since hostel guests sit a lot on the edges of bunk beds, it's just a matter of time until the outer springs sag. Even if you turn the mattress every few months (which I recommend), you'll have to replace them much earlier than foam mattresses. Especially when dorms are used for social gatherings and several people sit on the edges.
Bigger beds in private rooms are typically less commonly used for social gatherings and offer additional furnishings to sit down. Therefore, spring beds are a good choice.
Okay, now you know which model to choose. But what is better: firm or soft?
Let's start by busting the most common myth among mattresses: It's not a question of firm or soft – the firmness or softness is rather a spectrum!
It's like we'd discuss between a white and a black car when in reality, there are thousands of different colors in between.
Now the bad news: there's no international standard when it comes to determining the firmness of a mattress. However, most popular manufacturers measure it on a scale from 1 to 10.
Let's have a look at the pros and cons of both ends of the spectrum.
Firm mattress:

Higher durability since mattress loses firmness over time
Typically cheaper
Best for hot temperatures because body sinks in less which allows for more air circulation → less sweating
Muscles can relax → less tension on muscles
Can be uncomfortable for certain people
Better for cold temperatures because body sinks in more which leads to less air circulation
Lower durability
Can cause back pain due to lacking support for the lower back
Typically more expensive
"Too soft" can give guests a feeling that it has been used for years even if it's new
The right firmness of a mattress for an individual person depends upon two factors:
1) Sleep position
Firm mattresses are best for back sleepers and stomach sleepers because they prevent sagging in
Soft mattresses are best for side sleepers because they allow the shoulder to sag in which leads to a more neutral spine position
2) Bodyweight
The higher your bodyweight the harder your mattress should be to prevent excessive sagging
Now that we've covered the basics, let's get back to the original question: What is best for your hostel?
TheHostelHelper's Recommendation
I recommend you aim for a 6-8 on the firmness scale (medium-firm to firm). That seems to be the sweet spot between comfortability and durability to accommodate lots of different people in your hostel.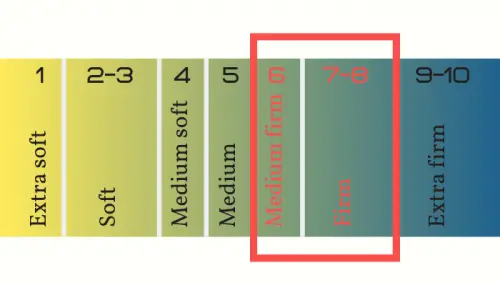 No matter what you decide for your hostel, stay away from extra firm and extra soft.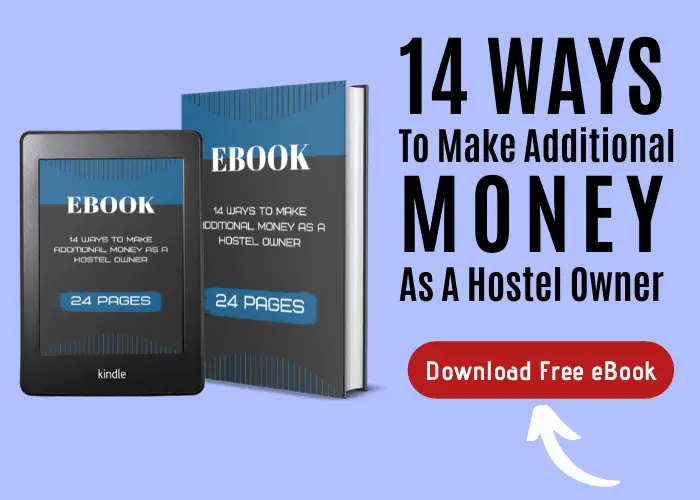 Last but not least, how thick should your mattress be?
The standard thickness for mattresses for private homes is 6-10 inches (~15-25 cm). Thicker mattresses tend to stay comfortable for a longer time but come with a higher price tag.
What "thick enough" is depends upon your body weight: the heavier you are the thicker your mattress should be.

TheHostelHelper's Recommendation
Choose a minimum thickness of 6 inches (~15 cm) for bunk bed mattresses and single beds in dorms. That way it's still comfortable and it's not too high so that people can still sit upright on the bottom bunk bed (given a proper bed frame).
For private rooms, I recommend you aim for at least 8, better 10 inches. Since these guests pay way more money, they'll also expect – and deserve – more comfort.
Waterproof Mattress Cover
In my opinion, a waterproof mattress protector is a must-have for every hostel owner.
A waterproof mattress cover protects against spills and leaks of any nature like sweating, bedwetting and menstrual accidents, avoids foul odor, and prevents mold. Most importantly, it prevents uninvited guests like bed bugs, dust mites, and the like.
Overall, it can dramatically affect the durability of your hostel mattresses. Spoiler alert for hostel novices: you will be surprised by how many adults still wet the bed.
The costs of a waterproof mattress cover are around 20-40 USD (excl. VAT). That's an investment you'll be thankful for.
If you decide to buy a mattress cover, make sure it has a zipper that encases the mattress entirely. In case the supplier of your choice only offers a plastic cover that makes sounds when you move on it, think about adding a washable non-plastic pad that covers the top.
Click here to see the mattress covers I recommend.

Here's a collection of proven tips that I received interviewing successful hostel owners:
Avoid big gaps between bed slats. The bigger the gaps the more uneven the support of the mattress which leads to lower durability.


Double-check the measurements to make sure the mattresses fit your existing beds. The same goes for your bedsheets.


Turn your mattress every 6 months. Swap the top and the bottom mattresses on the bunk beds every 12 months. Draw numbers on the side of the mattress to know which side was already "at the front". Make sure guests can't see these numbers through the sheets.


Write the date of purchase on the mattress. Depending on the occupancy of specific rooms, some mattresses will last longer than others before you have to replace them. This easy trick can save you several thousand bucks

Don't forget to look at the thickness of the mattress when buying online. I've once ordered a mattress without looking at the thickness. In the end, I had to buy another one because it was just too thin.


Always have some extra mattresses incl. covers on hand in case of accidents. Thank me later for this one.
If you don't use waterproof mattress covers, here are some proven tips to freshen up a mattress:
Lightly mist the mattress with white vinegar and water (1:4 ratio) and let it dry. Sprinkle baking soda on the mattress and let it sit for several hours before you vacuum it off.


Rub your mattress with a detergent and a small amount of water and let it dry in the sun.


If your mattress smells like mold, replace the mattress. Mold spray won't help when mold is spreading on the inside.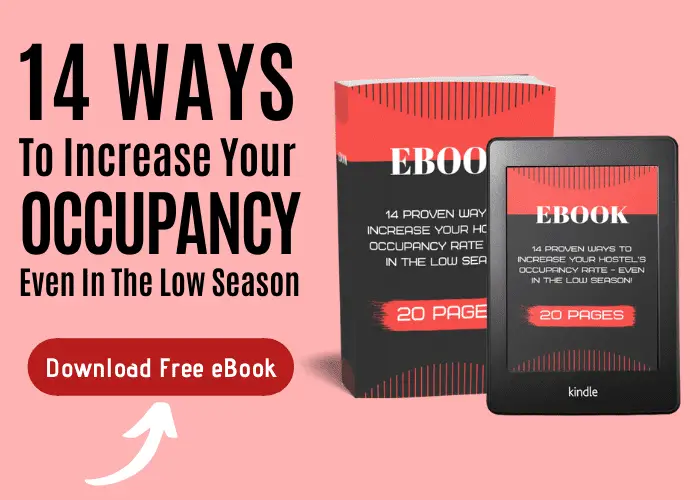 If you're starting a new hostel, I recommend you stay close to the following price levels for your mattresses:
~ 100 USD per twin mattress (excl. VAT)
~ 200 USD per queen/king mattress (excl. VAT)
In contrast to bunk bed frames, mattresses don't have to meet certain laws and regulations. Therefore, I'd rather buy a solid bed frame and go with slightly cheaper mattresses. They'll do the job.
Sometimes, it's cheapest to visit your local mattress company. Simply tell them what you're looking for and also have a fixed price range in mind to make sure you don't end up with 800 dollar mattresses.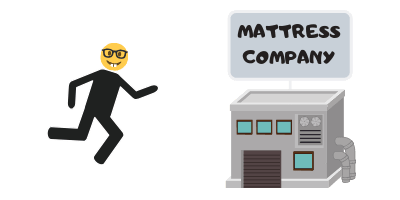 That said, I prefer to buy such items online and based on other people's reviews. That way, you can GREATLY reduce the risk of being disappointed.
Here are some of my favorite websites to get maximum bang for your buck:
On Amazon, you have the advantage to read through thousands of reviews
Over the 10 years, Amazon has developed into a respected store for all sorts of things – even mattresses!
This is the mattress I recommend FOR BUNK BEDS.
This is the mattress I recommend FOR QUEEN BEDS (private rooms).
And HERE you can find the proper mattress protectors for your mattresses.
AliExpress with its corresponding B2C platform Alibaba.com offer quantities below 1000
Especially useful if Amazon isn't that popular in your country
Some hostel owners bought their mattresses at IKEA. In my opinion, IKEA is absolutely awesome when it comes to cheap decoration and private furniture for your home. You can definitely buy great cutlery and dishes for your hostel there, too.
However, I personally would stay away from IKEA furniture and mattresses for your hostel. These mattresses are just not made for the needs of a hostel and tend to be much less durable.
What about eBay? You definitely can be lucky on eBay. I personally don't like that you can't see any reviews (besides some random fake reviews). Hence, I'd rather stick to Amazon.
If you prefer to buy higher quality commercial mattresses, get a quote at one of the following recommended bunk bed manufacturers. They all offer worldwide delivery and the mattresses often come in waterproof covers.
There are many more commercial mattress manufacturers. These are the ones where I personally know hostel owners who bought their mattresses there and were 100% satisfied.
Just keep in mind that some suppliers have minimum purchase requirements.
STOP! 🤚
Before you leave: Answer this quick question and help our community.
Which mattress model did you decide upon for your hostel and why?
Share your opinion in the comment section below!