Did you know that one out of five hostels does not have a website in 2019? – Especially if you're one of them, this is for you.
I was shocked when I analyzed a total of 9,996 hostels across the world: A staggering 1,924 hostels (19.2%) do not have a website in 2019: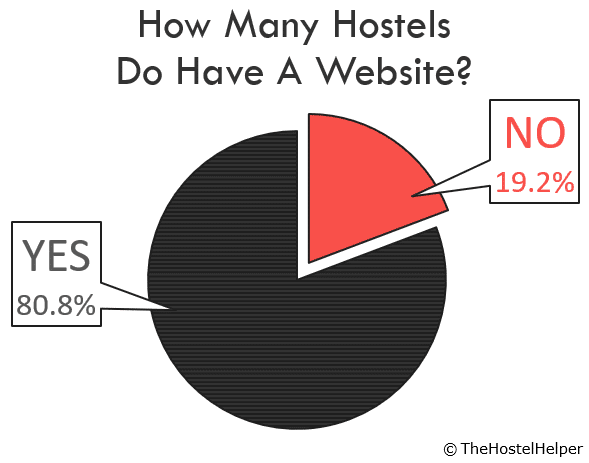 I came across similar stats when I analyzed hundreds of hotels and B&Bs. But why is that?
So, I literally wrote hundreds of emails and asked for the reason behind it. Among others, two main bottlenecks have been mentioned over and over again:
When running a lodging facility, the daily duties can be very time-consuming – especially in the early stages of running a hostel.
While guests won't complain about a missing website, they'll instantly let you know when the bathroom isn't properly cleaned. Hence, many hostel owners delay building their website.
The second reason that has been mentioned was money. Some hostel owners fear that a professional-looking website will cost them thousands of dollars and they need to hire a professional web developer to do so.
What if I tell you that you can do it by yourself and

within fewer than 15 minutes?

What if I tell you that it will

cost less than $100

to get a top-notch website?
This step-by-step guide will show you how.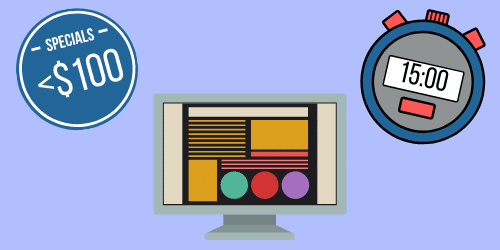 In fact, it has never been easier to create your own website than it is today: You don't need any previous experience. You don't need to code a single line. These days are gone.
But before we get right into the nuts and bolts, let's start with why a website is absolutely essential for your hostel.
Advantages Of Having A Hostel Website
Your website is the face of your hostel on the internet. Furthermore, it allows travelers to book your hostel directly without having to pay juicy commissions to online travel agencies (OTAs). 
Even without advertising your website, you'll get direct bookings on a regular basis. The reason for this is called the "billboard effect". Simply put, by listing your hostel on OTAs, some guests will want to read more information about it.
Hence, they search for your website and if they like what they see, they'll make their reservation right then and there.
In fact, two separate studies from Cornell University found an increase in direct bookings of up to 26%. [Source]
Let's have a look at an example:
Josh owns a hostel with 100 beds. His yearly occupancy rate is 60%, i.e. he receives on average 60 reservations per day. Let's pretend he gets only 5% of his bookings directly through his new website. That's 3 direct bookings per day.
His average rate is $25. If he received these bookings through Hostelworld, he'd have to pay 15% in commissions, i.e. $11.25 per day. That's $337 per month or $4,106 per year!
And we're just talking about 5% direct bookings!!
Your hostel is smaller or larger? – The following chart will help you out.
Say you're operating a hostel with 50 beds… do you really want to transfer $2,000 every year to Hostelworld? Or do you want to invest less than $100 only once to create your own website?
Imagine what would happen if you'd reinvest all this money in additional marketing! Over the years, you'd have an unfair advantage over all your competitors who don't have a website.
The bottom line: A website is a must-have for your hostel if you play for keeps.
Step-By-Step Guide To Create A Hostel Website
Simply follow these 5 steps and you can't do any wrong.
A web host is a company that enables your website to be online around the clock.
In theory, you could store your website on your local computer. However, in order to make it available 24/7, you'd have to guarantee that your computer is constantly online and has a stable internet connection. That's the reason why 99.9% of all websites use a web host that overtakes this part (and more).
There are literally hundreds of web hosting services online. However, my all-time favorite is Bluehost and it's where I store all my websites.
Here's what I love about them: 
24/7 world-class support

FREE domain name

Super cheap

FREE SSL Certificate

30-day money-back guarantee

FREE business email address
I stopped counting how often I've used Bluehost's 24/7 live chat. You can ask them anything and anytime and they'll help you out – no matter what! They truly make building a website a flawless matter – even for newbies.
With this link, you'll get access to the exclusive TheHostelHelper deal which enables you to start a website for as little as USD 3.95 per month!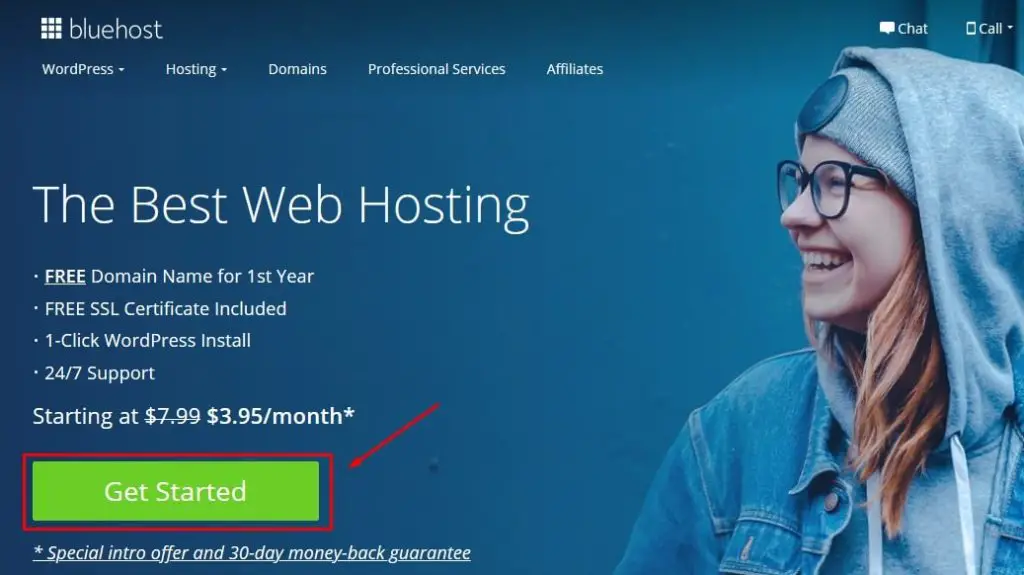 The link above is an affiliate link. This means I will earn a commission, at no extra cost to you, if you use that link to make a purchase.
#2 Sign-up For Your Web Hosting
Once you've clicked on the "Get Started" button you can choose between four different service packages.
In my opinion, the "Basic Package" is more than enough for your hostel website. You can also update anytime.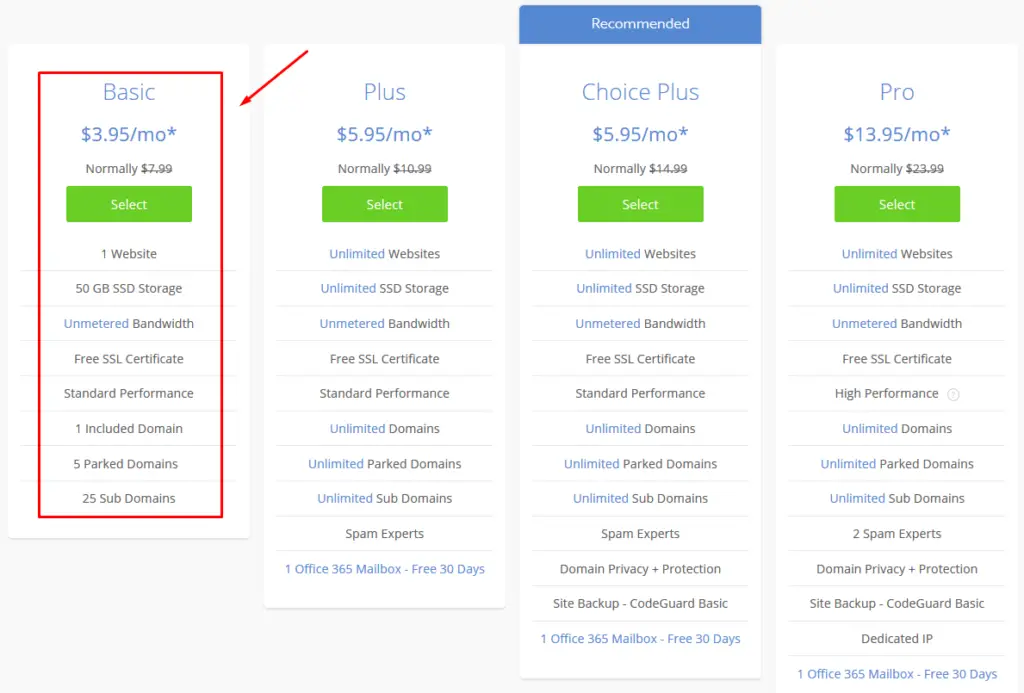 Once you've clicked on the right package, you are forwarded to a new page where you get to pick your domain name.
Your domain name is your online address that allows people to find you. It's the name you type into your browser in order to visit a website, for example: Amazon.com
A) If you already have a domain name, enter your name on the right.
B) If you don't have a domain yet, but you already have a hostel name, simply enter your hostel's name without blanks:

Example: City Hostel Paris → cityhostelparis.com

C) If you haven't decided upon your name yet, scroll to the bottom and click "I'll create my domain later".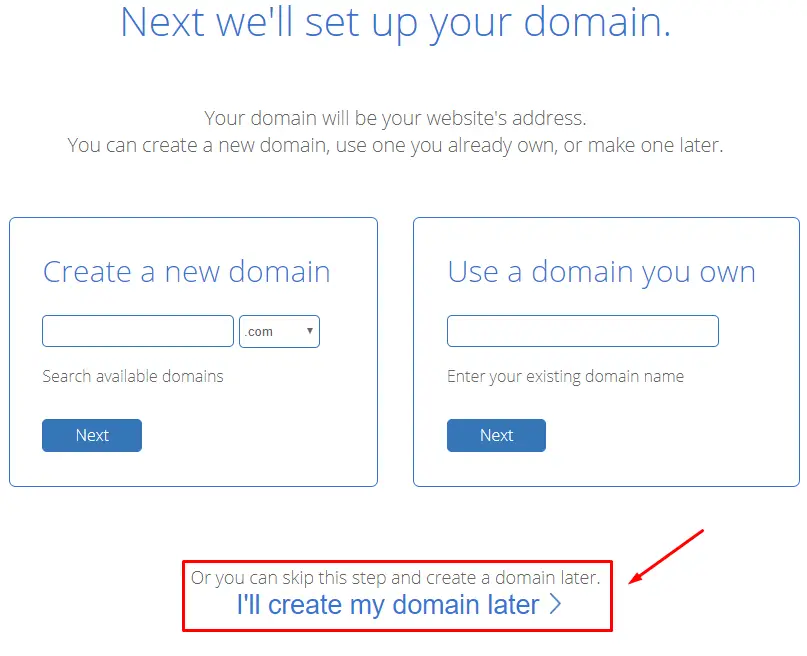 On the next page, you'll have to enter your personal information.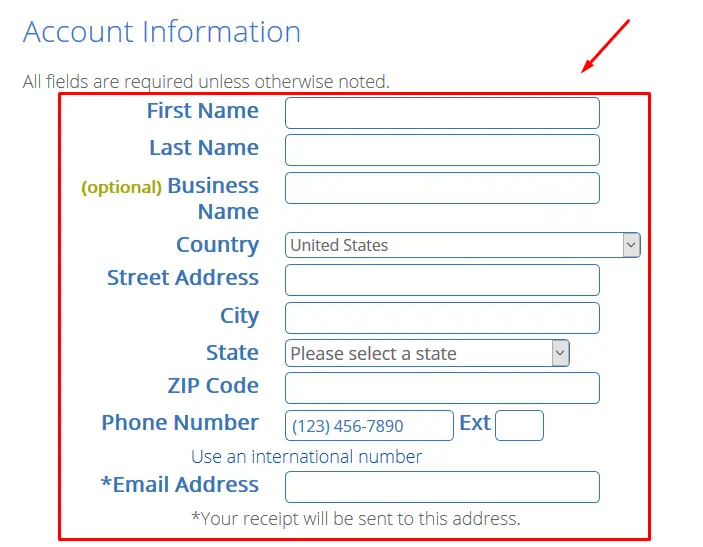 Further down, you'll have to choose additional options. Here are my recommendations:
1) Choose the

36-month payment option

to save money

2) Only choose

"Domain Privacy Protection"

from the "Package Extras"
This extra option hides your personal information such as your email address that would otherwise be available online. On my very first website, I skipped this option and received hundreds of spam emails.
Bottom line: The $0.99 per month is well worth its salt.
All other options are – in my humble opinion – not really necessary for your website. And again: you can update any time later on.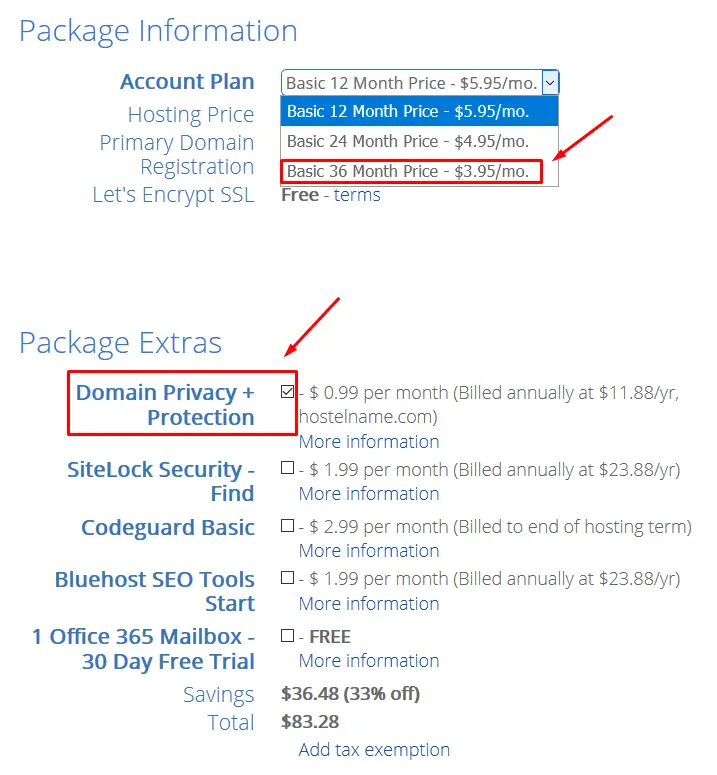 Once the sign-up is finished, you should receive a confirmation email with a link to your website: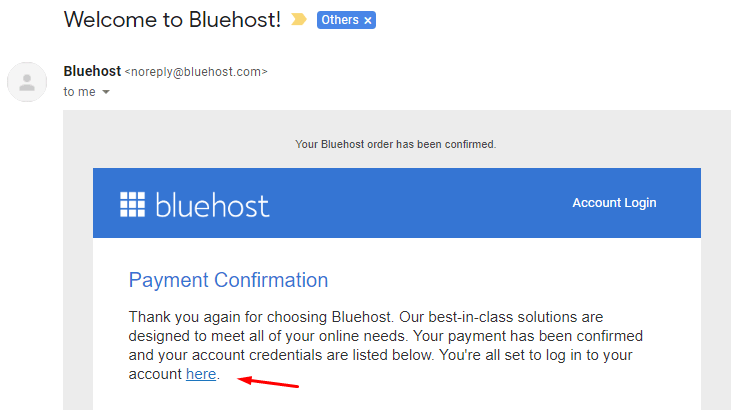 Congratulations, you now have your own website!
And the best part: you can now make use of Bluehost's 24/7 live chat. If you have any difficulties, this is your time to drill them with your questions.
Lastly, if you've skipped the domain name in your signup and you don't have a hostel name yet, this article should be your priority read: 7 tips to choose the right hostel name. Once you've chosen your name, simply log in to your Bluehost account and claim your domain.
If you have any issues or questions, simply contact Bluehost's support.
#3 Log In To Your Website
Bluehost has already preinstalled WordPress for you. 
WordPress is the easiest and most popular tool to create a website. In fact, a whole 35% of all websites worldwide use this tool. [Source]
Simply put, WordPress transforms your "actions" into code. Hence, instead of having to code the website yourself (like it was required a few years back), you can simply press a few buttons and insert some text elements to build your hostel website.
To log in, you can either use the links in the mail or enter the following in your browser:
www.[yourdomainname]/wp-admin/
Example: www.thehostelhelper.com/wp-admin/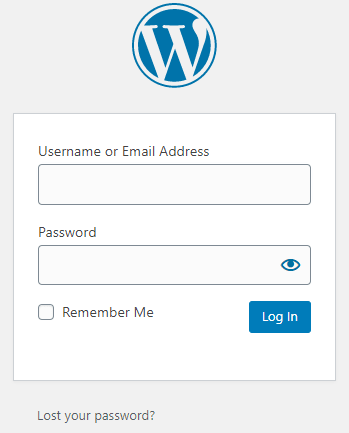 Once you're logged in, it should look like this: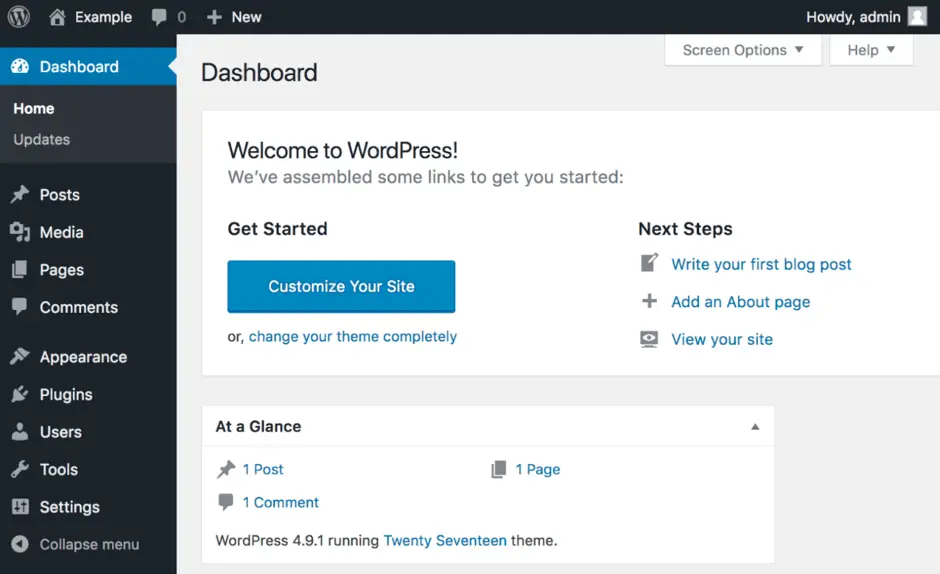 In the beginning, this interface might appear overwhelming. However, you'll quickly get the hang of it once you've clicked through your sidebar.
#4 Choose & Activate A Theme
A theme is basically a template that determines the design of your website. To find the right theme, visit wordpress.org. 
I highly recommend searching for themes that are made for lodging facilities such as hotels. It's best to choose a theme that fits your needs and doesn't require customization.
Colors, text, and pictures are easy to change. However, the position of elements and how the navigation works require significantly more effort. Hence, make sure you pick one that fits all of your requirements.
By the way: You can change your theme anytime. It's not set in stone.
Say, for example, you chose the theme "VW Hotel".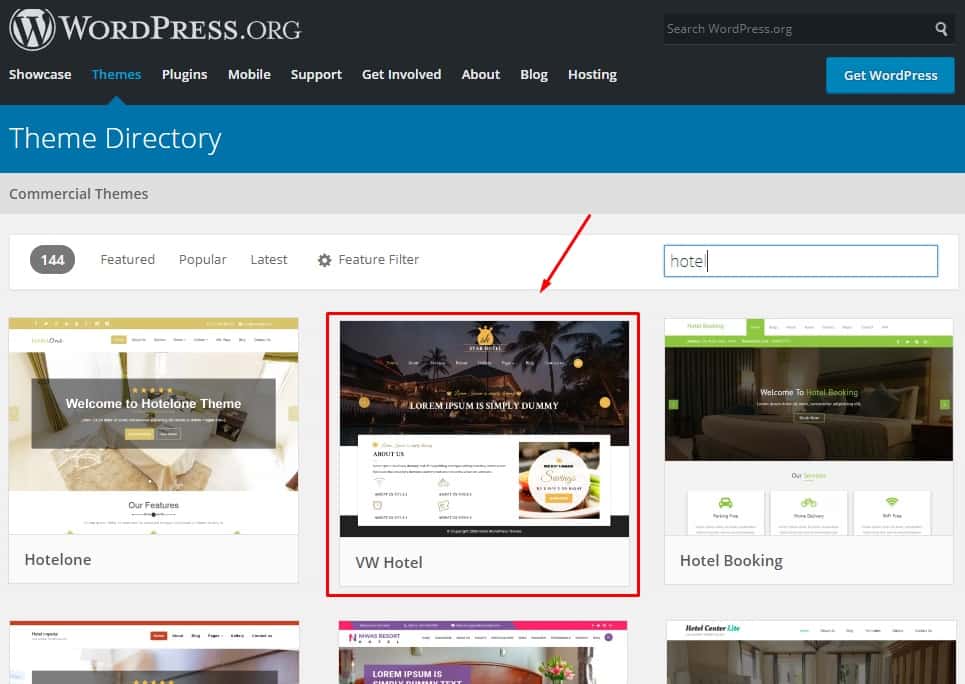 To activate it, click on  "Appearance" and then "Themes".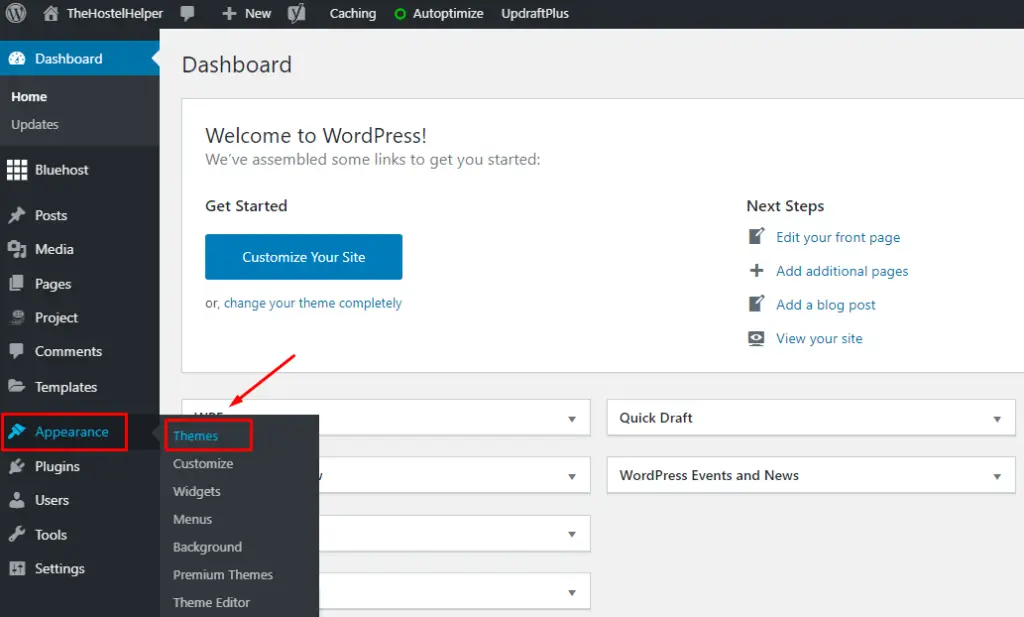 Then click on "Add New Theme":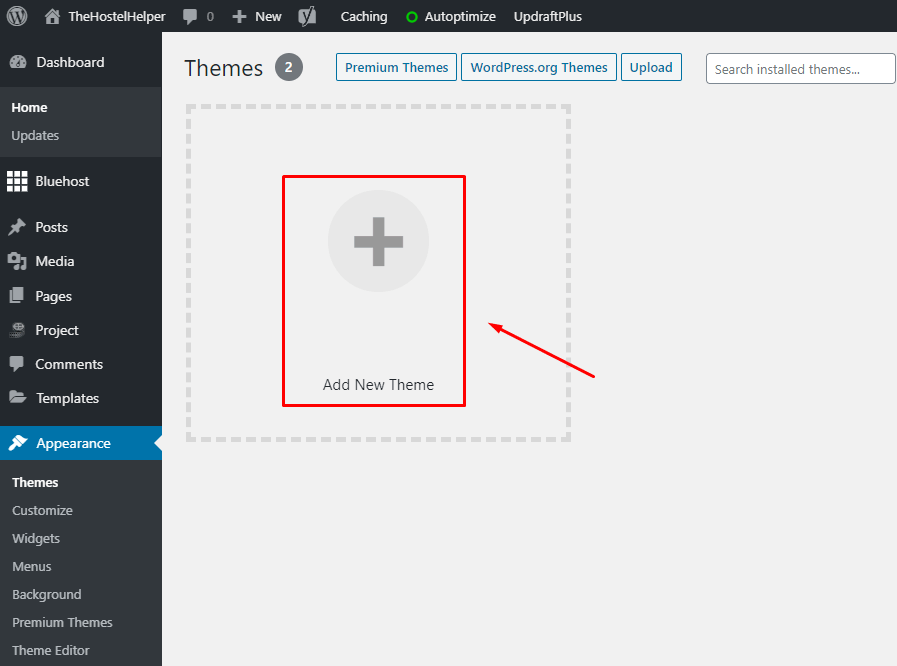 Enter the name of the theme you've chosen on the top right (e.g. VW Hotel):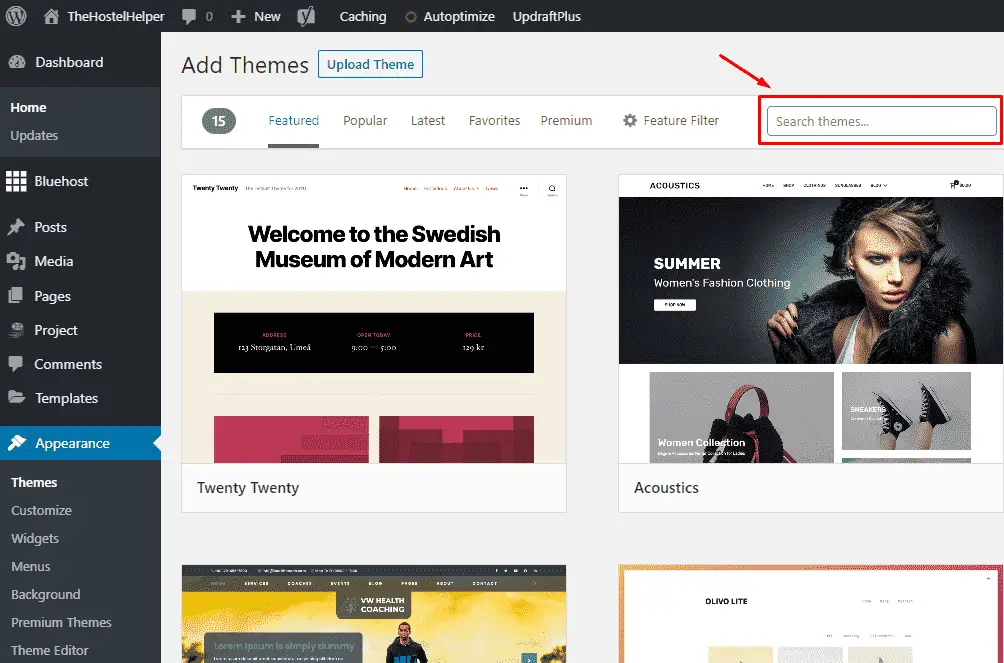 Once you've found it, simply click on "Install".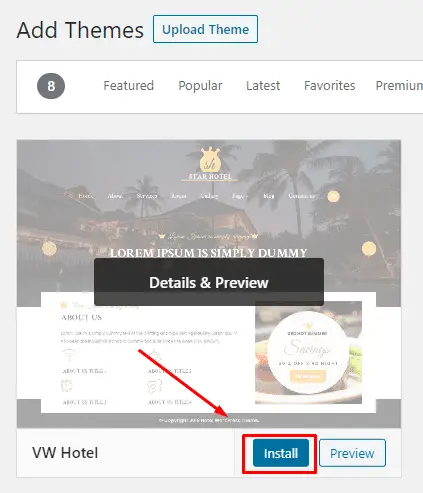 Once installed, your website should look pretty awesome already! 🙂
#5 Create & Customize Your Pages
Now it's time to customize your website by entering your individual text and images.
To create a new page (e.g. contact page), simply click on "Pages" and "Add New".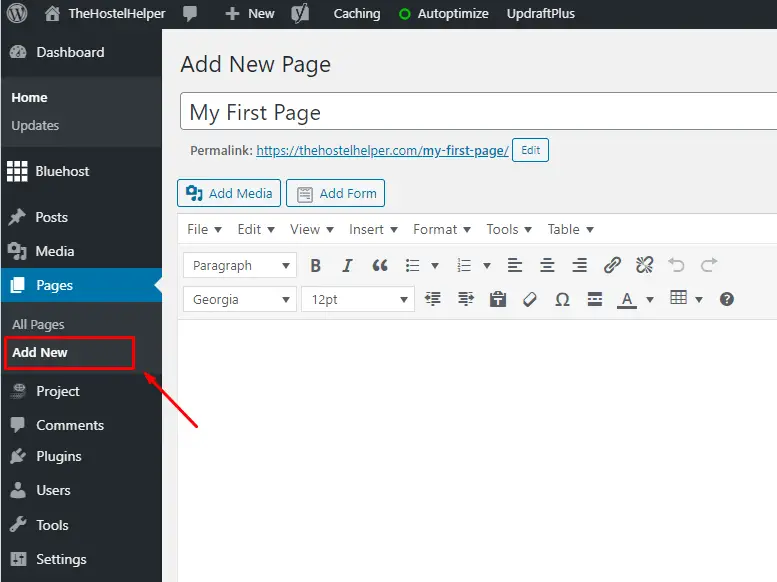 Now it's time to create all the pages you want your website to have.
P.S. For more advanced and in-depth advice, read my article about 21 tips for your hostel website.
For further assistance in building your website, I highly recommend THIS online course.
STOP! 🤚
Before you leave: Answer this quick question and help our community.
What questions do you have about creating your own website?
I'm here to help.
Share your opinion in the comment section below!