Have you ever wondered what you can do to make your social media more effective?
Social media is by no means rocket science. However, there are a few tricks that can greatly reduce your time and effort and increase the effectiveness at the same time.
If you're sick of blog posts full of common-sense advice like "be consistent" or "be creative", you've come to the right place. Here you'll find a list of best practices specifically for hostel owners.
Let's dive right into it!
9 Tips For Hostel Social Media Marketing
#1 Skip Twitter, Pinterest, Snapchat, and YouTube
What?! Yes, you read that right.
As you might have seen in my analysis of the top 41 hostels worldwide, Facebook and Instagram are the two social media platforms that most successful hostels actively use.
In case you missed it, here's what I'm talking about.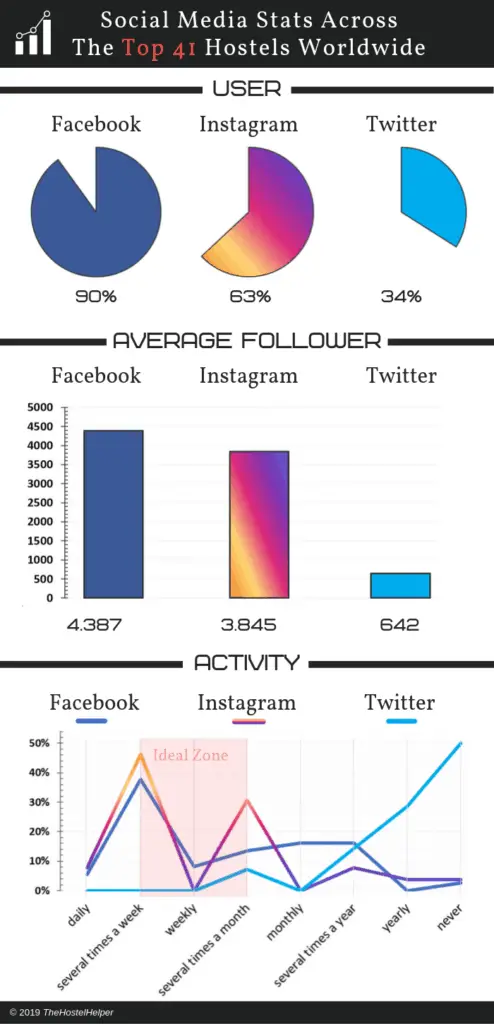 Facebook is used by 90% of the top 41 hostels. On Facebook, they achieved the highest amount of followers compared to all other social media websites.
Instagram has a similar number of followers and ranks second place: 63% of the top 41 hostels actively use it.
Twitter placed third with 34% of the top 41 hostels that use it. However, they also get significantly fewer followers on this platform.
None of the top 41 hostels actively operate YouTube, Snapchat, or Pinterest.
Since I'm a fan of using proven concepts, I recommend you shamelessly imitate what works for them instead of reinventing the wheel. In other words: Stick to Facebook and/or Instagram.
As a business owner myself, I advocate you're very conscious about where you spend your precious time. Focusing on doing a few things exceedingly well instead of doing many things half-heartedly inevitably pays off in the long run.
That said, do not expect too much from your social media efforts. Just ask 14-year old kids what they think about Facebook and you'll know what it's future is going to be. They are already using new channels most of us haven't even heard of.
If you're curious about whether social media is really worth your time, you definitely want to check out my blog: The Truth About Social Media Marketing For Hostels.
In contrast to what most self-proclaimed social media gurus want you to believe, this article gives you an in-depth understanding of what social media CAN and CANNOT do for you and your hostel.
It drives me CRaZy 🤪 when I see hostel owners still uploading every single post manually in this day and age. That's like writing a book on a typewriter! Sure it works, but… GOSH! – do you really want to waste all this valuable time?!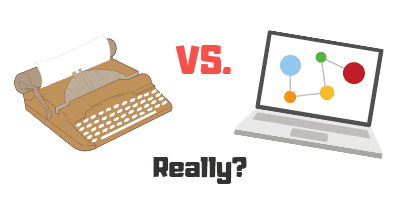 If you still belong to this group, listen carefully. This section will help you save hundreds of hours in the long run. And yes, I accept PayPal and credit cards as payment options for this information… Nah, just kidding 😉
Buffer is a free tool that allows you to create and schedule posts across several social media channels within a few clicks.
Here's a simple step-by-step guide on how to use it. There's NO excuse for not following this advice. Period.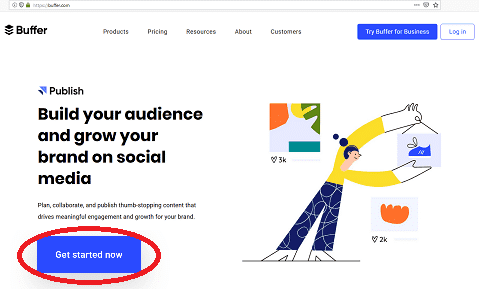 2) Connect your social media accounts (max. 3)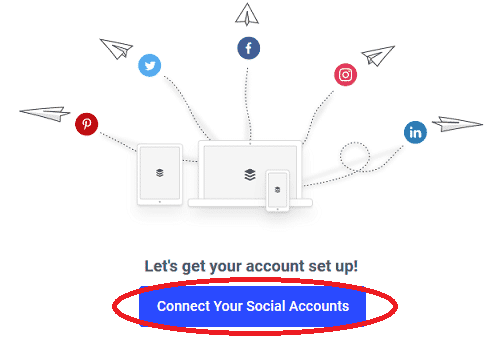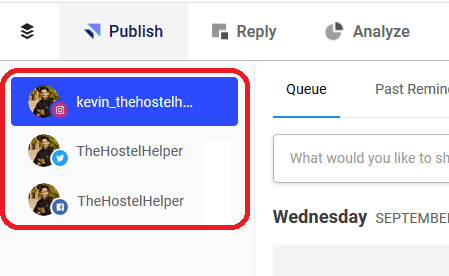 3) Create a post: Upload your media and add a description

Choose all social media profiles at the top. That step ensures that your post will be shared on all social media platforms automatically.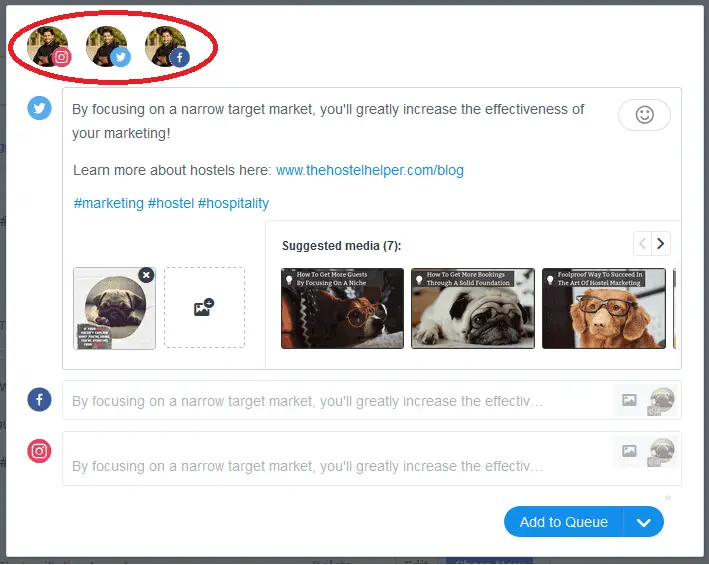 4) Create up to 10 posts and schedule them accordingly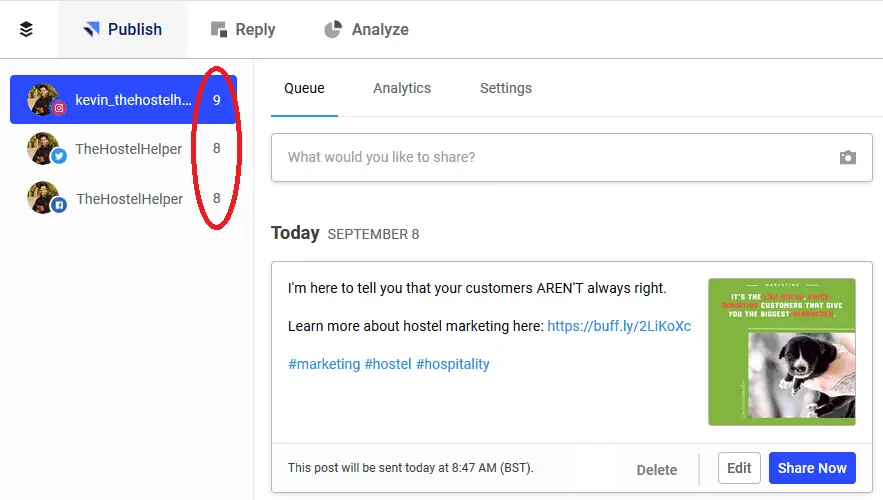 Since the top 41 hostels predominantly post at least several times a month up to several times a week, I recommend you schedule your posts every third day.
That means you only have to do the whole process once a month and the biggest part of your social media presence is already done.
How awesome is that?!
5) Relax and celebrate your "pizza-day"!
Make it a habit to schedule all your posts once a month. I call this day the "pizza-day" because I believe you deserve your slice of pizza after handling this as a reward 🙂
Let me know in the comment section below when you scheduled your first "pizza-day"! And hey, you might want to invite your staff as well. Anyways, I'd love to hear about it.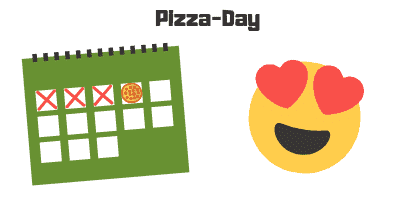 Additional tips:
I recommend you stick to the free version of buffer which allows for max. 10 posts and max. 3 connected social media accounts. In my opinion, social media is the wrong place to invest money as a hostel owner.


Stick to buffer. There are tons of other social media tools like Hootsuite, Sprout Social, etc. However, they either don't offer a free version OR their free version is very restricted.
#3 Unleash The Power Of Canva
You have a hard time coming up with content and your imagination could use a little fertilizer? I hear you. I felt the same until I discovered the magic of Canva.
Canva is a website that allows you to create awesome pictures within a few clicks. It's super intuitive, has all the options you need and can be used completely free of charge!
With THIS online course, you can easily become a professional designer within one hour.
What I love most about it, is that it comes with hundreds of templates that make it dead easy to create awesome images!
For example, I've created the following image within 34 seconds using an existing template.
Just search the internet for "Traveler Quotes" and you'll find enough inspiration to create your images.
Examples:
"Who else needs vitamin SEA?"
"I need 6 months of vacation, twice a year."
"Me: I would like to travel more.
Bank account: Like to the park?"
While Canva has its own image gallery that you're allowed to use, I'd stick to your own pictures whenever possible. They typically create a much more personal feeling than standard stock photos.
If you ever run out of images, Unsplash will help you out. This is my #1 favorite website to search for images and it's completely free to use. That means you can use the pictures for commercial and noncommercial purposes and you do not need to ask permission from or provide credit to the photographer.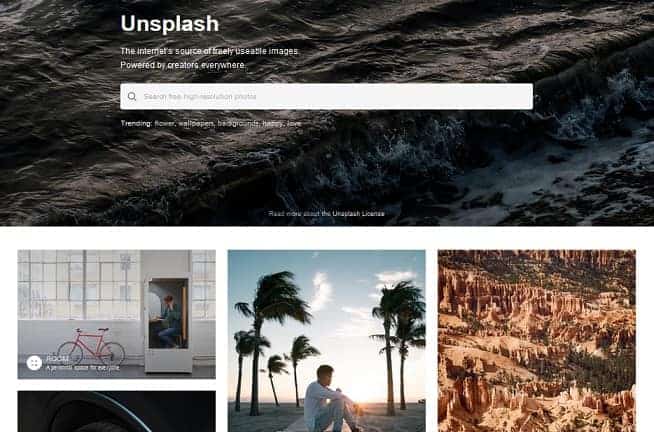 And if you still lack pictures, simply ask your guests to send you some of their favorite photos! Most will feel honored when you share their images on your page and link to their profile!
Again, social media is the wrong place to spend money. Stick to the free tools. They'll do the job. That said, I'm using the premium version of Canva because I create pretty much all my images on this website on my own and like to have a bigger variety of available options.
P.S. For more awesome FREE tools, visit my resources page.
In short: Be personal and be social. No other accommodation form can compete with you on these two topics. Therefore, make sure you use it to your full advantage!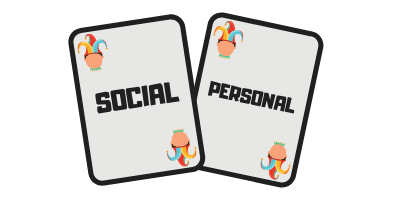 The last thing you want to achieve with your social media account is to be perceived as a faceless big hotel. So what can you do about it?
Share personal pictures of you and your hostel


Show people. We are hard-wired to be interested in people and their stories. That's why you see real people hosting the news channel instead of animated videos that could give you much more information in a more efficient manner – we just love to see people!


Answer comments and reviews personally


Share your passions: Why did you start a hostel? What do you love about it? What else do you like?


Show pictures of your guests. Simply ask Peter for a selfie!


What core values do you have? And how do they influence your hostel? Let people know.


Let your followers know how much you care about them and why you decided to offer free sunscreen in the pool area.


Share pictures and stories of your staff. Jenny is now 6 months aboard? That's awesome!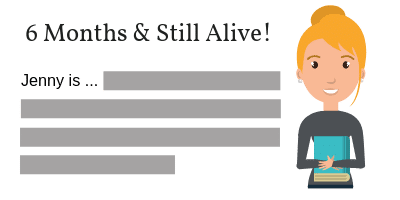 You got the point, right?
Just don't try to be "professional" because it's your business page. Use conversational language and avoid any kind of corporate jargon. People love to buy from people. Period.
#5 Limit Advertising To Max. 10%
As we've already covered in my previous blog, social media is not the ideal environment for sales. Furthermore, it remains a controversial topic whether or not social media leads to new bookings at all.
Social media is much more like a social gathering. People come together to have fun, be entertained and learn something. Hence, I advocate you do exactly that: Entertain and educate!
Of course, you can post a promotion every now and then. Just be aware you're competing with funny cat videos. So your chances of standing out are pretty small. Therefore, I recommend you stick to a ratio of 10% promotion or sales posts and have the remaining 90% be entertaining and educating.
So what are young travelers interested in?
What's the craziest story that happened in your hostel?
What's your #1 tip when traveling through your area?
What was the weirdest request you ever received?
…
#6 Use Facebook… The Right Way!
There's a difference between a Facebook profile and a Facebook page. Many hostel owners seem to mix that up. Let's fix that.
A Facebook profile is for individual people and allows you to send and receive friend requests.
A Facebook page is for your business. You can only create and edit a Facebook page if you have a personal profile. It allows you to add a link to your website, includes all contact details and you can insert a "Book Now"-Button. Moreover, you receive "likes" and "followers" instead of friend requests.
Bottom line: Use a Facebook business page your hostel.
(Quick shoutout to my flatmate Marco who let me make these screenshots from his Facebook profile because I don't have an account anymore. Read more here.)
Also, make sure you take some time and set it up right from the start. Fill out all the contact details and search or create awesome pictures for your profile and cover. Canva has templates ready for you.
Let's talk numbers.
Your cover photo should be 820 x 312 pixels.
Your profile picture should be at least 180 x 180 pixels (1:1) – I recommend 360 x 360. 
That's the first thing people see when they visit your page. Therefore, make sure you meet or exceed the expectations and deliver an awesome first impression! Aim for a "wow" that leaves a memorable impression.
The optimal size for shared images is 1200 x 630 pixels.
However, Facebook's algorithm also scales to 1:1 (e.g. 630 x 630). If you're using Buffer and you want to share the same picture on various platforms, I recommend you only use square images. 
If you only use Facebook, feel free to skip that part. Hashtags only play a major role when using Instagram and Twitter.
Hashtags allow people to find you. They're used like keywords – the terms people search for.
For example: You want to see what kind of people are going to a particular gym? Simply search for #gymname and you'll see all the people who've used this hashtag.
So, how can you use hashtags for your hostel?
Definitely use your location in all of your posts: #sydney #paris #newyork
You may also make use of more general hashtags to increase your visibility: #travel #backpacker #hostel
A great tool to find the best suitable hashtags for your hostel is Hashtagify.
Hashtagify allows you to find the most popular hashtags for specific search terms and gives you additional valuable insights around the topic.
Example: "vacation"
As you can see in the image above, #vacation is a pretty popular search term. It might also be clever to include some of the related hashtags in your post: #travel #holiday #traveling #tourism #beach #summer #trip
On Instagram, you can use up to 30 hashtags per post. That said, I perceive people who use 6 lines full of hashtags as needy. Hence, I'd still recommend you stick to fewer hashtags that are closely linked to your post. This way you specify your target group and appear more relevant to the people you want to attract.
But hey, it's your profile and your choice only. Do what works best for you and your hostel!
Lastly, if you belong to the super creative crowd, you can create your own hashtags. Just make sure you double-check them to prevent something like that: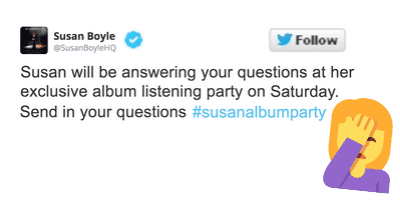 Apparently, only men understand this hashtag "right". I had to explain it to my sister and she still thinks it's not funny 😂
Here's a collection of additional tips that will help you get the most out of social media.
Turn on notifications for messages
People expect a much faster answer on social media than via email. Your speed can often be the difference between a booking… or none.
Conduct surveys
You're unsure if your guests will appreciate a new pool table? – Just ask them!
Bulk-create pictures
Save time by preparing a ton of pictures and descriptions at once instead of thinking about it every week.
Repeat old posts
Remember: Every second you spend on social media is a second you renovate somebody else's house. Therefore, save yourself time and money by repeating old posts. One year is a good starting point to repeat your content.
Use as many videos as possible
Even 4-5 sec videos are more powerful than pictures. And pictures are a thousand times more powerful than plain text.
Skip paid ads
No matter what other social media gurus want to sell you – most likely it's not worth it for hostel marketing unless you're a huge chain. Period.
Use testimonials
Example: Ask a guest if you can take a video of them while they tell you 3 things they like most about your hostel. Super powerful.
#9 Assess Your Training Success
How many "pizza-days" should you celebrate at least per year? 😜
If you don't know the answer, you might want to reread #2.
STOP! 🤚
Before you leave: Answer this quick question and help our community.
What's the biggest pet peeve you ever came across on social media?
Share your opinion in the comment section below!