Have you ever wondered what the best hostel policies look like? If so, I've got your back. I've analyzed the top 30 hostels worldwide and was surprised by how similar their policies are.
The top 30 hostels worldwide share an average score of 9.5 stars across all common online travel agencies for hostels. In total, they have an average of 6,466 online reviews.
Click here to get free access to the list of the top 30 hostels worldwide.
TheHostelHelper is all about using proven concepts rather than reinventing the wheel. Hence, why not use the same policies that the greatest hostels worldwide have in place?
In this analysis, I'm going to let statistics do the talking. At the very end, you get additional tips on how to write your policies including templates that you can download FOR FREE!
Let's dive in!
Hostel Cancellation Policy
As a matter of fact, 50% of the top 30 hostels use a 2-day cancellation policy:
If a guest doesn't give notice 48 hours prior to the reservation, they charge the first night.
If a guest cancels earlier, 77% refund all the money and 23% keep a non-refundable deposit.
Here are the other stats:
23% of the top 30 hostels use a 3-day cancellation policy,
20% have a 1-day cancellation policy, and
7% apply a one-week policy.
All hostels except one only charge for the first night.
From what I've heard from other hostel owners and travelers, most guests understand that hostels charge for one night if they cancel too late and will bite the bullet.
In order to be able to charge these people as well as no-shows, it's important that you consult your credit card processing company ahead of time. Ask them what you need to charge guests for no-shows, cancellations, damages, and other fees.
Online travel agencies take no responsibility for any charges other than their own commission. Hence, it's your job to make sure you have the ability to charge them.
The issue is that most banks will NOT allow you to charge a card without the CVV / CVC number. And some online travel agencies can't give away that number due to privacy laws (e.g. Hostelworld).
In case you're wondering: the CVV / CVC number is the 3- or 4-digit code on the back of a credit card that is needed for most payments online.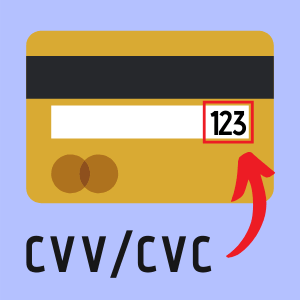 That's the reason why some hostel owners switched to PayPal and Stripe or use a Point Of Sale (POS) that doesn't ask for the CVV / CVC.
However, NEVER ask your guests to send you this number via email. That's a practice that can come with heavy fines since you're not allowed to electronically store this data.
As a consequence, some hostels increase their overall availability up to 110% to force overbookings that come up for the potential loss in revenue due to no-shows. However, that's a practice I do not recommend.
Click here to download a free and bulletproof template for your cancellation policy.
By the way: Here's a great example of how you can use your cancellation policy as a competitive edge. You can visit the website here.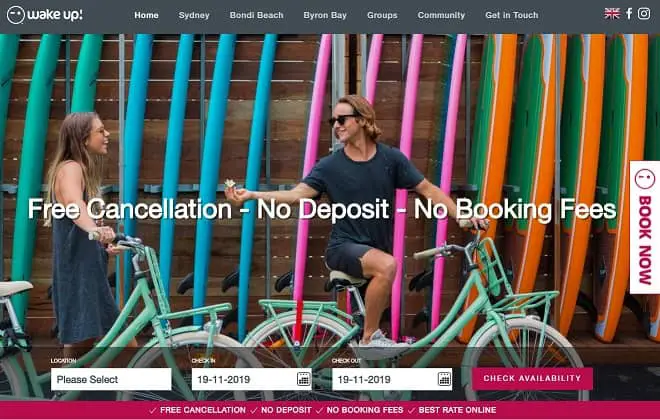 In my opinion, that's genius.
It's not about the promise itself but rather about what it represents: A hostel that is considerate, shows respect and cares about the fast-changing backpacker life.
Bottom line: A 2-day cancellation policy that charges only for the first night seems to be the sweet spot among the most successful hostels worldwide.
Check-In / Check-Out Times
50% of the top 30 hostels worldwide allow to check-in at 3 pm. Followed by 37% who start their check-in at 2 pm.
Interestingly, none of the hostels offer a later check-in than 3 pm.
When it comes to check-out times, it's a similar picture:
50% of the top 30 hostels worldwide allow check-out till 11 am
23% extend it to 12 pm
If you follow their footsteps with 3 pm check-in and 11 am check-out, you'll have a full 4 hours to clean the rooms. This should be enough without having to hustle.
When it comes to check-in and check-out times, there are three major challenges hostels face:
#1 How to deal with super late arrivals?
For most small to medium-sized hostels, a 24-hour reception is not financially viable. So how do you organize the check-in for guests who arrive after reception hours?
There are two commonly used methods:
A) Ask for the arrival time and wait for them
This practice in combination with its little brother "call this number to check-in" is for sure the less professional way to go. You may end up sitting and waiting for your guests who either show up at a different time or not at all.
As the name implies, a keypad entry system works with a predetermined access code that people punch into the keypad. It typically costs around $250.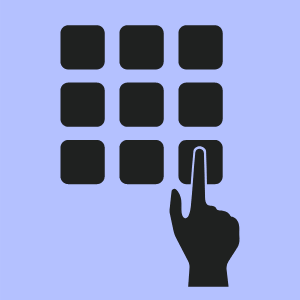 If someone arrives later than your reception hours, you simply send them an email with the code and instructions on how to find the room key. Ideally, the room key is in an envelope with a 1-page instruction about the most important aspects of your hostel.
You can download a free template for the instructions here.
It will make late arrivals a breeze.
#2 How to deal with super early arrivals?
If you're located near an airport, you might have to deal with people who arrive in the middle of the night or super early in the morning. But how should you deal with them?
1) Offer free luggage storage
2) Offer your common area to rest
3) Let them check-in earlier
The thing is, most people who've just arrived by plane are not in the mood for exploring the city.
The only thing they want is to rest and take a shower or a nap. If their bed is already available, you can let them check-in ahead of time. Most travelers will greatly appreciate that.
However, never let them wait due to your policy if your bed is free. For god's sake! You're in the hospitality industry which is a technical term for "love". There's no need for stiff rules.
Always be understanding, warm, and welcoming.
#3 Guests who don't check-out in time
Well, there are two common practices:
A) Mention the check-out times several times during their stay and hope for the best
B) Charge a late check-out fee
If you opt for the latter, I highly recommend a laminated sign at the inner side of the dorm room that states this fee. Otherwise, you'll have to make up some extra time for arguing with the "no one told me"-people who find excuses.
To design such signs, I recommend the free online tool Canva. It allows you to create awesome-looking signs within seconds.
For more helpful tools, visit my resources page.
Bottom line: The most successful hostels have their check-in after 3 pm and check-out before 11 am.
For pet lovers, this is a hard one: Should you accommodate them?
Let's first have a look at the stats before we cover the pros and cons: Only 10% of the top 30 hostels are "pet-friendly".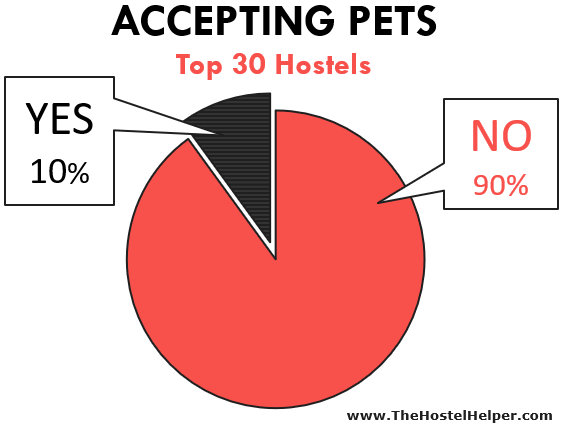 Most hostel guests who travel with their pets either have a dog (more likely) or a cat (less likely). Hence, when I speak of pets I'm referring mainly to dogs and cats.
The only exception is service dogs. By law, you're obligated to accommodate service animals that accompany a guest – even if you have a "no pets" policy.
That said, service animals are typically well cared for, healthy, and under full control of the owner. You couldn't ask for a better exception for the "no pets" rule.
Let's have a look at the advantages of accommodating pets:
Additional guests & revenue
Some guests love animals → can contribute to the atmosphere
Many guests miss their pets and love to have some around
Since only a few lodging facilities accept pets, the biggest advantage is that you can increase your occupancy rate by accepting animals. The owners are typically extremely grateful for such an opportunity.
Now to the drawbacks:
Some guests are allergic → about 10% of the people in the US are allergic to dogs and cats [Source]
Some guests are afraid of dogs or have a dog phobia
It might make business more complicated since you have to mention this policy everywhere
Shedding (fur) → extra cleaning needed
Pets are often considered "unclean"
Gnawed furniture
Lingering smells that they leave → especially when they get wet
Legal liability → an extra document has to be signed to make the owner liable for the pet
Barking noises → especially if there are other dogs around
As you can see, the list of potential drawbacks is significantly longer than the list of advantages. Hence, my recommendation is to have a "no pets"-policy.
And let me set the record straight: This recommendation comes from the biggest dog lover EVER! Just have a look at all my blog images…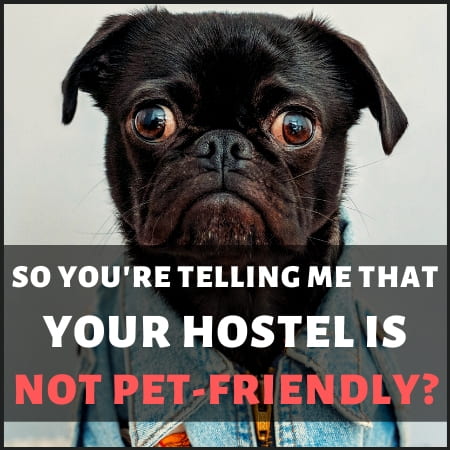 However, the truth is that even a puppy – a furry little bundle of love – terrifies some people and can trigger negative emotions. And the cost of potential negative reviews is WAY higher than the additional revenue you can get by accommodating pets.
While my inner child would LOVE to allow dogs, from a business perspective it's too much of a hassle.
That said, the beauty of owning a business is that you can make your own rules. And if it breaks your heart to reject pets, you might feel better to operate a pet-friendly hostel.
If so, here's what I recommend to do:
Only permit pets in private room, not dorms
Let the owner sign a legally bulletproof agreement that he or she is 100% liable for the pet and all the damages it might cause
Make the owner responsible for cleaning up after their pet in all shit-uations
The owner has to ensure the pet does not disturb other guests by noise (e.g. barking) or disruptive behavior
The pet is not allowed to be left alone in the bedroom for periods longer than 1 hour (e.g. during shower, cooking, etc.)
The owner is not allowed to leave the premises without his pet
The owner needs to bring his own equipment (bowls, bed, leash, poop bags, etc.)
If it's a dog, it has to be leashed and supervised at all the times
Charge an extra fee of $10 per pet and night
Make your hostel "pet-proof" to handle the presence of animals with a minimum of wear and tear: Tiled floors instead of wood, metal bunk beds, etc.
Mention your pet-policy in every marketing material!
Fun fact: Some hostel owners claim that it's easier to accommodate pets than kids! 😅
Last but not least: If you refuse walk-ins that want to check-in with their furry friend, don't allow them to leave their pet in the car while staying in your hostel!
Apropos, here are some general stats about a short-term rental in the US that I found interesting: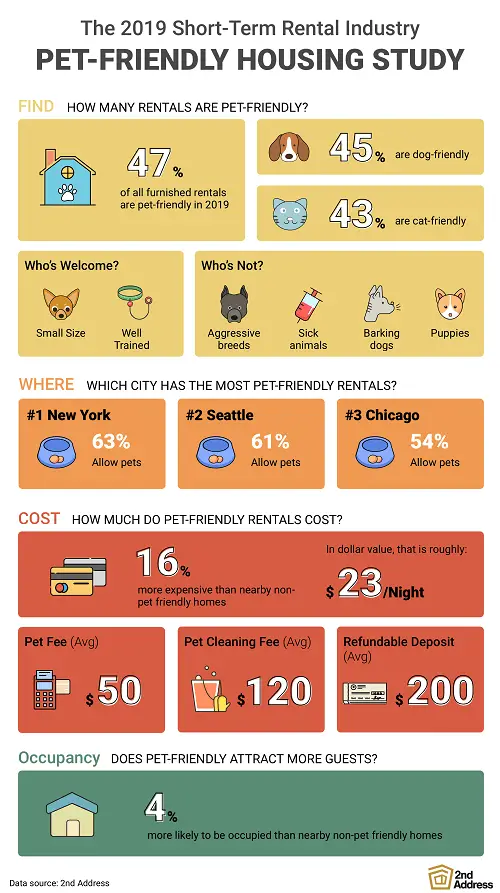 The key learnings:
The costs of pet-friendly rentals are on average 16% higher than others
It's likely to raise the occupancy rate by around 4%
Bottom line: Accommodating pets is NOT the standard among the most successful hostels worldwide.
Download Your Free Hostel Policy Templates!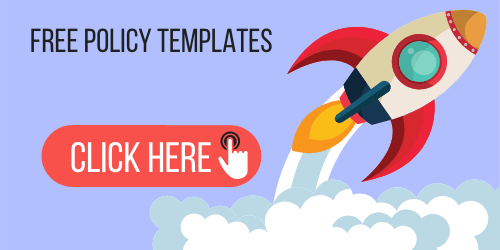 Minimum Age / Maximum Age Policy
About ⅔ of the top 30 hostels worldwide have age restrictions when it comes to the minimum age. In point of fact, 43% of hostels don't allow guests under 18 years to stay at their hostel.
Only 37% of the hostels have no minimum age restriction.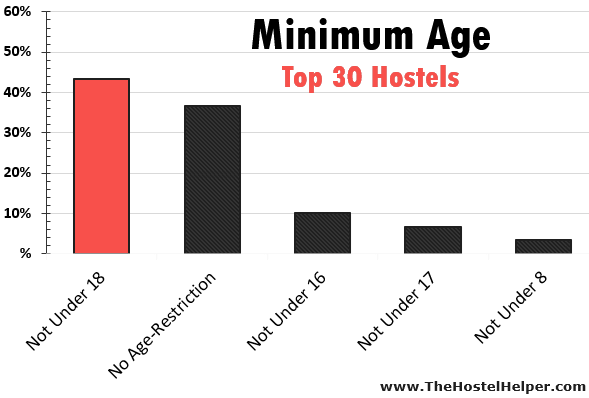 Some of the remaining 20% have even more sophisticated policies:
The minimum age for dorms is 18 but no restrictions for private rooms
Families are welcome but have to book an entire room for themselves
However, when it comes to the maximum age, the picture is clearer: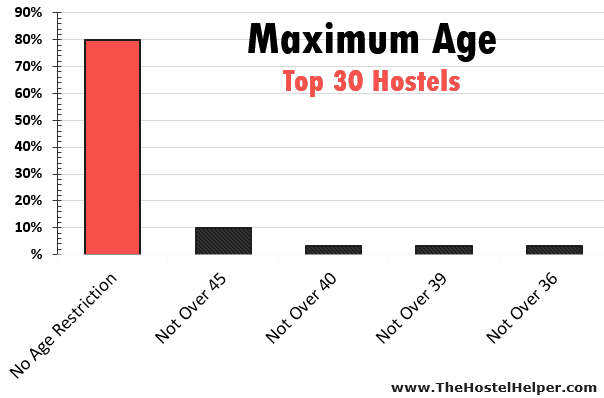 80% of the top 30 hostels worldwide do not have any policies that restrict older people to visit their hostel. The remaining 20% don't allow guests older than 36-45.
In my opinion, a minimum age restriction is a must-have for hostels that focus on backpackers and solo travelers. This ensures the best atmosphere for like-minded people to connect to each other.
When it comes to the maximum age, I personally wouldn't use a policy. In my experience, older hostel travelers are typically the coolest guys ever. They tell one story after another and many young travelers love sitting around them to listen to their adventures.
Bottom line: Most successful hostels don't allow guests under 18 years to stay at their hostels but have no maximum age limit.
Minimum Stay / Maximum Stay Policy
The idea behind a minimum stay restriction is to lower the costs associated with each guest. Single night bookings typically cause the highest costs since the check-in time remains the same as well as the cleaning demand.
Hence, why not set a minimum stay requirement for a few days as a policy, right?
Well, 93% of the top 30 hostels worldwide do not have such a policy. The remaining 7% require at least 2 nights.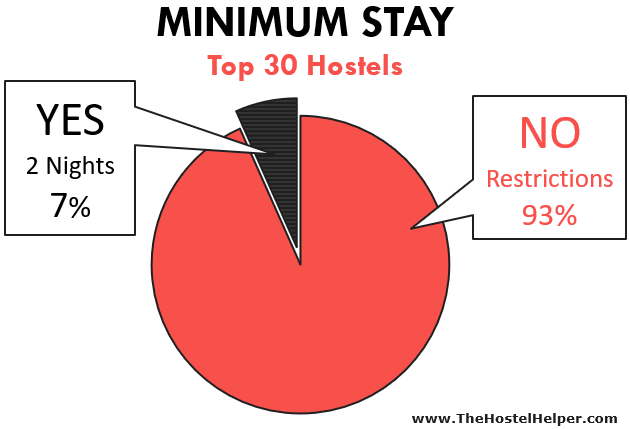 That said, 15% of the top 30 hostels have minimum stay restrictions around New Year's (between 2-4 days).
The advantages of this method are twofold:
a) It reduces the costs associated with each guest
b) It can bolster the atmosphere because travelers who stick around longer get to know each other better
However, it also comes with drawbacks:
a) It can reduce your occupancy rate if the demand is not high enough
b) Turns away people who tend to book single nights only and extend their stay after arrival
Hence, I only recommend this strategy to hostels that are fully booked in order to max out profits.
Surprisingly, the picture changes when it comes to maximum stay requirements. A total of 23% doesn't allow travelers to stay longer than 2 weeks, 7% restrict the length of stay to 10 days.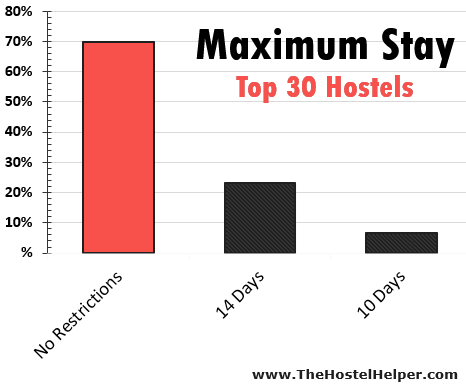 The idea behind a maximum length policy is that travelers who stay "too long" at one place typically build their own group and aren't really interested in connecting with other guests anymore.
They also tend to feel "too much" at home and leave their rooms messier than short-term travelers.
Bottom line: Most of the top 30 hostels neither use a minimum nor a maximum stay policy.
A total of 80% of hostels don't have restrictions when it comes to group reservations.
The remaining 20% consists of:
10% allow for groups up to 6 people
3% allow for groups of max. 3, 4, and 8 travelers
The idea behind such a policy is to enable a better atmosphere in the hostel. Travelers who arrive in bigger groups typically stay in their group and aren't interested in connecting with other guests.
Furthermore, they often tend to disrespect the house rules more than your standard traveler.
If you allow for bigger groups, I recommend using stricter policies since they are typically harder to deal with: Many groups simply can't get organized and feel more powerful to the point that they think they can make their own rules.
An appropriate policy to be safe is to take 25% of the complete booking costs upfront and within 7 days after the reservation (non-refundable). If they don't pay, you send them a reminder and release the beds.
Click here to download a free template of such a policy.
Here's a list of additional policies that I came across in my analysis.
To my surprise, a total of 57% of the top 30 hostels doesn't allow smoking on their premises.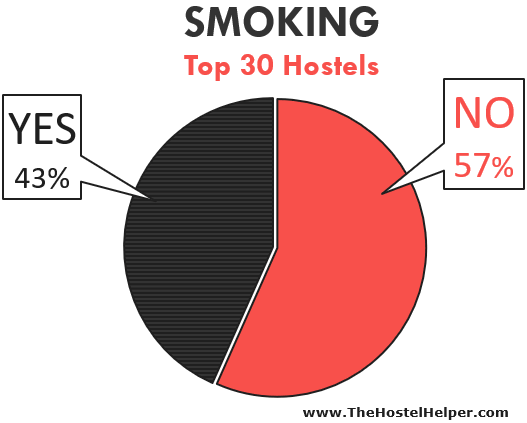 As a non-smoker myself, I love this trend towards non-smoking hostels.
I've experienced it too often that the common areas – where I'm supposed to eat and relax – are littered with smokers 😓
I was shocked to notice that 17% of the top 30 hostels don't accept credit cards!
Phew!
I never travel with cash. That's really an issue – especially when there's no ATM nearby.
Decades ago, it was not uncommon for hostels to have a curfew, i.e. a fixed period of time in which you are allowed to enter the hostel. The rule was simple: If you come home too late, you will be left out on the street.
Thank god. These days are gone – even though this myth is around…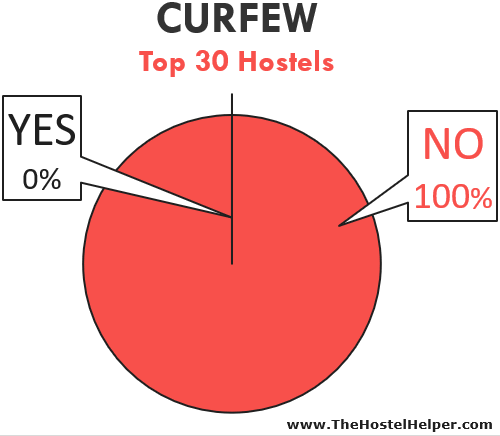 Taxes Included In The Rates
63% of the top 30 hostels include taxes in their rates instead of adding them on top.
This is a two-handed sword: On the one side, it's easier to compete with other hostels if they offer a lower price. On the other side, it leaves a bad taste for guests who're asked to pay additional money on top and are not used to it.
However, other industries do the same. Hence, I don't think there's a right or wrong when it comes to including taxes in the rates.
Merchant Fees Included In the Rates
Merchant fees are the money charged by a merchant service for processing credit card transactions. It's typically a percentage between 1-4% of the amount.
A total of 87% of the top 30 hostels include merchant fees in their rates.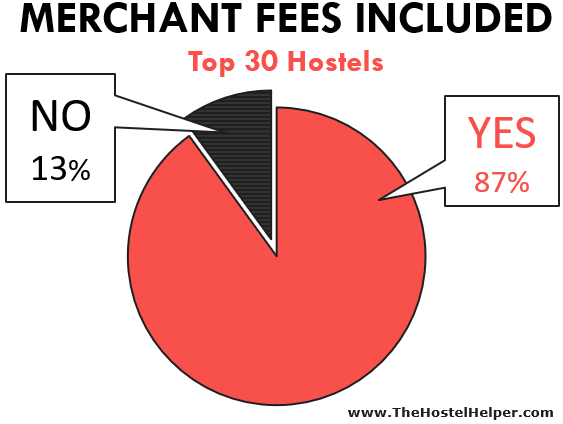 In my opinion, charging for merchant fees is a no-go. While I do understand the issue with taxes, I personally think that merchant fees belong to the category of costs that should be covered in your rates.
Have you ever been in a hostel in which you had to pay extra for linen and were not allowed to use your own sleeping bag?
That's the way I feel about merchant fees…
6 Key Rules To Create Hostel Policies
Follow these few principles to create your own unique policies and you will be safe.
#1 Make them simple, clear and concise
In other words: Don't leave room for interpretations.
Example:
WRONG: "No kids & no elderly people"
RIGHT: "We warmly welcome guests above 18 years of age up to the age of 45"
If needed, give an example of your policy.
#2 Use as many as needed, as few as possible
The hostel culture is all about creating a chilled and cozy atmosphere.
Hence, apply the same rules as we explored in my article on hostel insurances and go for "as many as needed and as few as possible".
#3 Bend some rules but stand your ground
Bending a rule is fine when it comes to check-in times for example. Don't just follow the rules for the rule's sake!
However, some guests might have chosen your hostel because of the "no kids" policy. Hence, breaking your own rule is not a good idea in this case. Always have the needs of your other guests in mind.
#4 Only use policies you feel good about
If a 7-day cancellation policy doesn't feel right to you, you will struggle to follow through with it.
Hence, go with the ones that fit your values.
#5 Let a lawyer look over your policies
This serves two purposes:
a) Making sure they are 100% legally bulletproof
b) Avoiding legal issues like discriminating individuals or groups
#6 Always send your entire policies along in your confirmation email
This can save a lot of "he-said-she-said"-arguing with pesky guests.
Download Free Hostel Policy Templates
Save time and effort by downloading my free templates
It includes bulletproof policies for:
Cancellation
Check-in / check-out time
Pets
Minimum age / maximum age
Minimum stay / maximum stay
Groups
Non-smoking
Simply copy-paste them and you're ready to go!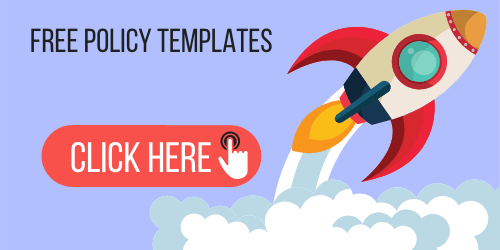 STOP! 🤚
Before you leave: Answer this quick question and help our community.
How do YOU charge for no-shows in YOUR hostel?
Share your opinion in the comment section below!