How to deal with online reviews? Should you really respond to them? And what about fake reviews?
According to other hostel managers, between 12 and 24% of guests that book via Hostelworld leave an online review. However, a study from Siteminder shows that 40% of innkeepers have negative or mixed feelings when it comes to managing their online reviews. [Source]
If you ask me, that's 40% too many.
In this blog I want to share with you why responding to reviews should be a regular part of your business activities, how to do it right (incl. template) and how to deal with fake reviews.
Let's dive in.
Why Responding To Online Reviews Is Crucial
A study from Siteminder shows that 20% of innkeepers never respond to online reviews. [Source]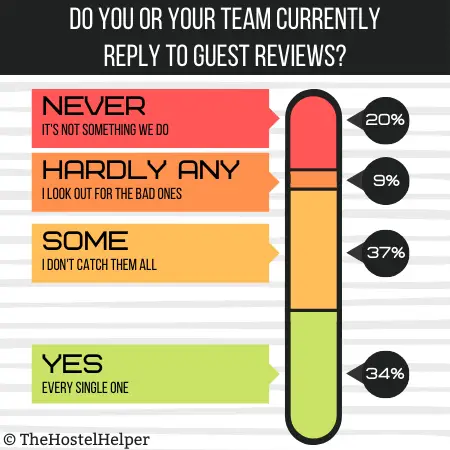 In contrast, 34% of innkeepers reply to every single one of them. The question is, what's the secret motivation that drives one-third of innkeepers to respond to every online review? Is it their abundance of time? I doubt it.
Let's start with the obvious: A personal response shows that you care about your guests' satisfaction.
Let's talk some numbers.
34% of guests will delete their original negative review after hearing back from your business. [Source] This is especially important because 82% of consumers actively seek out negative reviews. [Source]
Just think about your last orders on Amazon. Most likely you've glanced at the overall rating and wondered if there are legit reasons for the 1-star reviews, right? This is our fear of making bad decisions at work – completely normal and human.
By responding to reviews however, you lose the image of a faceless cooperation. It shows that there are actual humans involved and people love to do business with people.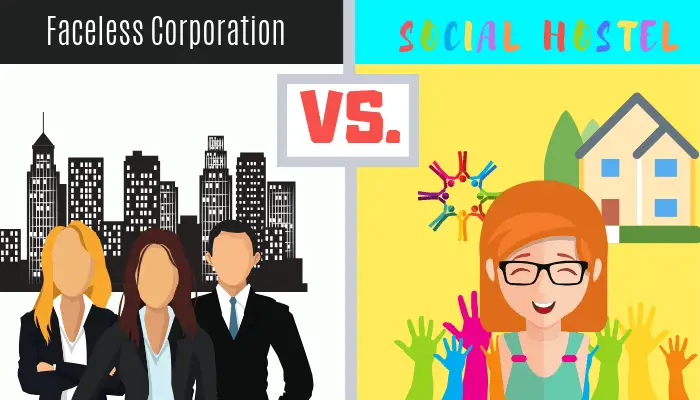 Let's take the small mom-and-pop store around the corner as an example. The old owner has built it up from scratch and has been running it for decades. Even if you didn't find what you were looking for and he couldn't help you out, you still wouldn't leave a bad review for his store, would you?
It's because you personally have a connection to a REAL person in the business. Now compare this to your internet provider at home. Your Wi-Fi doesn't work properly for a few days and the service team didn't respond to your email yet. How likely is it that you'll leave a bad review here?
What sounds preposterous and illogical is actually true: we do not think of big companies as real humans. It's rather a "thing". By responding, you show them that you are a human being who cares about them. And people love that.
In fact, 85% of TripAdvisor users agree that a thoughtful response to a negative review will improve their impression of the property. [Source] And this even leads to more bookings, since 65% agree that they're more likely to book an accommodation that responds to reviews. [Source]
Remember: being personal and having a thriving community are the top 2 wild cards you have as a hostel owner compared to other accommodation types!
It's what separates you from all others – your USP – and the reason why travelers are specifically searching for your hostel rather than a big hotel chain. And a personal response will contribute to exactly this.
The thing is, not all online reviews are equal. That's the reason why 29% of innkeepers agree that finding the best responses to each review is a big challenge. [Source]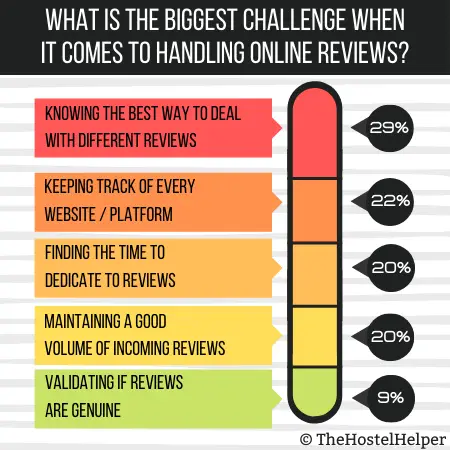 To fix that, I thought it would be a great idea to analyze the top hostels worldwide. After all, copying successful and proven principles rather than reinventing the wheel is what TheHostelHelper is all about.
It turned out that my idea was a bit naive. I thought I'd get some outstanding wordings to create templates for negative reviews by analyzing the top players. Well, what I didn't take into account was that there's a reason they're the greatest hostels worldwide.
Just to give you an impression of how the reviews look like at the top 3 hostels worldwide:
Boom.
I had two "aha"-moments while analyzing the top 20 hostels worldwide:
#1 The better you serve your guests, the less work you'll have protecting your reputation!
This might sound trivial, but the underlying message is the KEY to your success: make serving your guests your #1 priority! In my previous blog posts, we've already discovered that better reviews lead to more bookings and enable you to raise your prices without lowering your occupancy.
Furthermore, not all websites let you manage or respond to your online reviews. Facebook, for example, doesn't accept any responsibility for user content. Hence, prevention is king.
"Treat the cause, not the symptom."

#2 You can't be everything for everyone
The top 3 hostels worldwide have an overall rating of 9.83 to 9.89 stars across ALL websites. Even at that level of excellence, they still can't please 100% of people.
In other words: receiving a negative review even though you're going above and beyond is completely normal. Expect this to happen and there won't be any unpleasant surprises.
This also means you'll have to know how to handle them properly. Let's get to the meat.
How To Deal With Online Reviews
I've created an easy step-by-step infographic that will help you and your staff to deal with your online reviews. Feel free to include it in your staff's manual if they're the ones who are responsible for managing your reviews.
Credit: While I've created the infographic on my own, I've used Reputation Defender's content as an inspiration.
If you still think the reviewer's post is inappropriate, you can "flag" it. This will typically bring the review to the attention of the site's editors. However, don't expect an instant deletion by doing so. Websites aren't liable for the content users post. Hence, their "motivation" to supervise single reviews is pretty low.
The infographic only addresses negative reviews… but what about the positive ones?
Should You Respond To Positive Online Reviews?
Reading through the forums on Hostelmanagement made me believe that there's a disparity of opinions about whether to respond to each and every review or not.
However, this is where my plan to analyze the top 20 hostels worldwide paid off because they received tons of positive online reviews. But how many actually respond to them?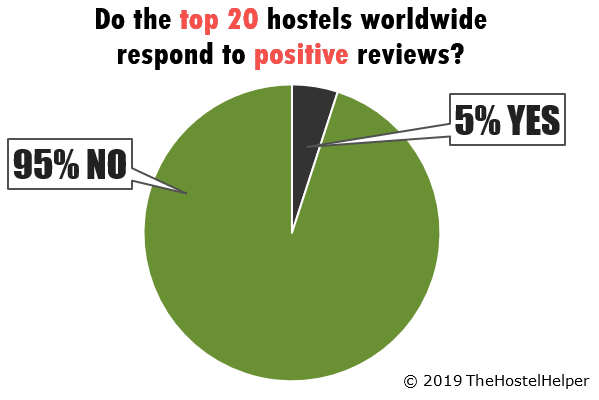 The top 20 hostels have an overall score across all online travel agencies ranging from 9.44 to 9.89 stars. That's incredible. However, the result of this analysis really surprised me, to be honest.
I thought they are the ones who go above and beyond in EVERYTHING they do. But why don't they respond to every review?!
So I dug deeper, made additional research and interviewed some of the most successful hostel managers.
It seems like most hostel owners don't see how a response to a positive review can lead to higher profits. And this seems to be logical because people tend to only filter for the worst reviews.
So if a 5-star review contains some negative aspects, they might get seen by some people who are booking shortly after. But as time passes, it will disappear in the sheer mass of other reviews.
Hence, I recommend you copy what 95% of the top 20 hostels do and leave positive reviews untouched. That frees up a massive amount of time that you can invest elsewhere.
The only question left is, how should you respond to negative reviews?
Guideline To Write A Response To Negative Online Reviews
Before we dive into all things you want to look for, be sure to follow the infographic above to see if a response is necessary at all. Chances are, there are other ways to get rid of it.
Let's start this guideline with a negative example.
Example Of How NOT To Respond To Online Reviews
A Georgian hotel manager called Giovanni became "famous" with the replies he published on TripAdvisor.
Here are a few examples:

Guest: "Would I use this place again? Only if the horses from hell dragged me there." 
Giovanni: "Thanks for your money, sucker. Long may the idiot line continue."

Guest: "…then given a twin room instead of the double booked. The room in the ­basement did not have any windows, they were blocked by shutters which I could not open."
Giovanni: "What do you expect? You pay little, you get cheap. We are a budget hotel. Get real."

Guest about his provided breakfast: "Cheap, horrible and horrid."
Giovanni: "If you want a good breakfast, go to the Hilton and pay £100 a night. You pay little, you get little."
[Source]
It's not a question who's right or wrong. You're in the hospitality industry and this is not an appropriate answer, no matter how offensive a review is. Period. 
"Never argue with stupid people, they will drag you down and then beat you with experience."


- Mark Twain
In case you're wondering…. yes, Giovanni was sacked shortly after.
The 5 Dont's For Responding To Online Reviews
#1 Never Lose Your Coolness
Having lead a financial consulting business myself, I know how hard it can be to deal with negative reviews. This is especially the case when they don't blame what you do but who you are. Do not answer when you're emotional and not able to write a diplomatic, purely objective, and professional response.
Let's talk plain English: Don't insult or attack the reviewer – neither direct nor implicit. Ever. Do not accuse them of being dishonest or wrong. Instead, swallow the pill.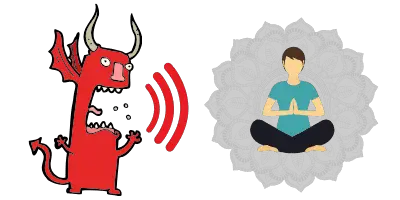 A strategy that Vikki Matsis, manager of the NotSo Hostel in Charleston, USA, and author of "Inside an American Hostel" (recommended read), uses, is to simply wait for a few days until you respond.
You can also ask your staff or other people who're less involved in the business to do the job. If you belong to the kind of person who really gets hurt by such reviews – don't worry. We'll cover this topic further down.
No matter what you do,…
#2 Never Ignore A Negative Review
Even if you have nothing to say, acknowledge the feedback and see it as a reminder that there's still room for improvement. That said, you really do not want to bury your head in the sand and ignore it. Thousands of people are probably going to read this review during the lifetime of your business. Investing a few minutes to answer it will pay off.
#3 Don't Look For Excuses
The truth is, people don't give a shit for the reason why something happened; they don't want to hear any excuses. Instead, they want to have the feeling that you acknowledge and care about their issue.
Remember, you're dealing with humans: big bags of emotions.
#4 Don't Offer Compensation Publicly
In case the negative feedback is legit, you might want to offer a refund. However, don't do this publicly! This could encourage other dishonest people to leave a bad review just for the sake of getting their money back.
#5 Don't Use The Cookie-Cutter Approach
Just imagine you filter for the worst reviews and notice that the management copy-pastes its answers under the reviews. What would you think about them?
Remember, you want to get as far away as possible from the image of a faceless corporation that places profit over serving. Hence, take some extra time to compose an individual response.
That said, there's nothing wrong with having a fixed beginning, ending and general structure! More on that shortly.
Okay, let's jump right into what makes a great response.
The 5 Do's For Responding To Online Reviews
Depending upon how big your hostel is, you'll get up to hundreds of new bookings every single day. And an even greater pool of travelers looked at your reviews before making a decision.
Hence, waiting too long directly impacts your revenue. In fact, 40% of consumers only take into account reviews written within the past 14 days [Source]
A common rule of thumb says you should respond within 36 hours (max. 72 hours).
This is by far the BIGGEST mistake hostel managers make when it comes to responding. Now, don't get me wrong. Yes, you should reply using the reviewer's name (if available) but the content should be directed to your future guests.
Read the review and try to imagine what your future guest would like to hear when they read this review. Of course, they will want to hear what actions you took to prevent this issue from happening when they're staying at your hostel.
Hence, rather than finding excuses, create a list with the corrective action you took. The #1 benefit you have in most review systems is that you are the one with the last word! So use it wisely.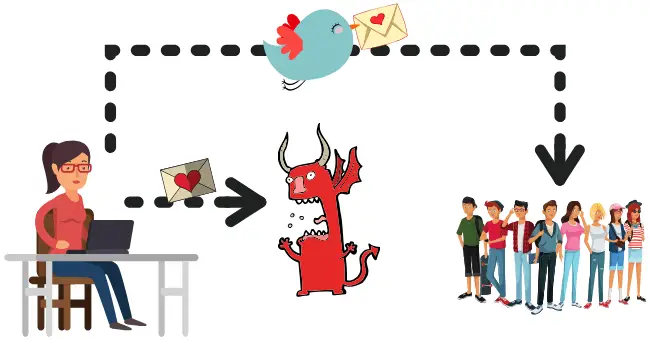 I like to think of negative reviews as "repair work". You're fixing something with your response. This advice goes hand-in-hand with the following…
#3 Take It Seriously And Apologize
Again, people want to feel that you take them seriously and care about them. Show them that you understand and that you would feel the same if you were in their shoes.
The best way is to express a sincere apology that they've had an issue. Even if the review is slanderous or a bare-faced lie. "Just do it" – listen and act according to Nike's slogan.
By saying sorry, you also take responsibility for the problem. Simply put, you switch from being the culprit to being a victim in the eyes of the readers. Potential guests will be able to relate to you more and might even go as far as to defend your position!
I mean, we're always standing up for the disadvantaged. right?
Lastly, don't confuse taking responsibility with agreeing or confirming their complaint. That's quite another cup of tea.
#4 Reinforce The Positive
If there's anything positive in their review about your hostel, be sure to reinforce it with your own words!
Guest: "The staff was nice though." 
You: "Thanks for your compliment regarding our staff. I agree that we have the most wonderful, weird, and kind-hearted staff in the world." 
Remember, 34% of guests will delete their original negative review after hearing from your business. [Source] By being personal you're able to increase this rate significantly.
Let me introduce the two most powerful words in our language (besides "cancer"):
1) You
2) [First name] -> e.g. Michael, Sarah, …
People love to hear their name. It's just true. If I learned one key lesson from cold calling for weeks it's that starting with the first name and mentioning it (too) often is absolutely crucial to get people's attention.
Most importantly, do NOT put your hostel name underneath your review or answer with "we". Don't you dare!
Use "I" and your first name. Make it as if the reviewer is communicating with an individual person. You can emphasize this by using conversational vocabulary that you don't find on Wikipedia.
"I'm so thrilled about…" 
"You made my day!"
"Wow!"
"I was surprised that…"
"I had to sit down when I read through your review the first time…"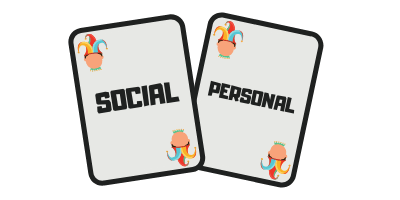 Bringing it all together, here's how a proper response could look like.
Template For Responding To Negative Online Reviews
Hi [reviewer name],
Thank you for your feedback.
I appreciate that you took the time to let us know how we can further improve our hostel.
I sincerely apologize that you had problems with [the problem].
I was surprised when I read your review as this issue is unique.
Hence, I've already arranged a meeting with all staff members to make sure [the problem] will never happen again.
We would have happily moved you into another room if you had expressed this concern while you were staying with us. We sincerely aim for all of our guests to be as comfortable as possible.
Please feel free to reach out to me directly at [email or phone number] if you have additional information to share.
I hope you overall enjoyed your stay with us, as we truly enjoyed your company.
Safe travels,
[your first name]
Manager of [hostel name]
Now imagine you're looking for an accommodation and you see a manager who cares this much about a review. It makes something with you, right?
Also, notice the sentence "this issue is unique". How likely is it going to happen again in your mind when something is called "unique"? 
I encourage you to take the time to write 3-5x own templates and save them as shortcuts using Autotext.
This free tool allows you to create shortcuts that will be automatically replaced by your text. This is an absolute must-have tool for every hostel owner. Especially if you're writing many similar emails. 
Example:
How To Deal With Online Reviews Emotionally
"Just don't take it personally" was the sentence I heard over and over again back when I was running a financial consulting business.
Other rational arguments were that negative reviews make you more credible because it shows that you're not trying to disguise anything. In fact, 95% of consumers get suspicious of fake reviews if there are no bad scores. [Source]
Another study from TripAdvisor showed that 39% of their users ignore extreme comments. [Source] So it seems that it doesn't really matter too much, right?
Nope, that's not quite right.
That's just not how humans and their emotions work. It still hurt when someone left a negative review, no matter how much I tried to "not take it personally"… until I had a complete shift in my mindset as I heard the following sentence: 
No, it's not a typo. People who got hurt are the ones who hurt others.
Hence, when someone leaves you a slanderous review, accuses you of being the unfriendliest person on this goddamn earth in the dirtiest shit hole of a hostel, breathe and remind yourself: Hurt people hurt.
Ask yourself: What might have happened in this person's life that he or she carries so much negativity and anger although 95% of other guests are absolutely delighted by your service?
Perhaps he/she lost a loved one a few days ago? 
Maybe his or her dog was put down that day?
Perhaps his girlfriend/her boyfriend broke up with him/her?
… or he was diagnosed with cancer?
We never know. So who are we to judge?
This poor person might have gone through hell on that particular day.
It was when I heard this short sentence when it clicked for me. And as soon as it pops up, I instantly feel deeply sorry for that person. I mean truly and wholeheartedly sorry.
Writing a sincere and authentic review – with this in mind – will make it a lot easier. Just give it a shot.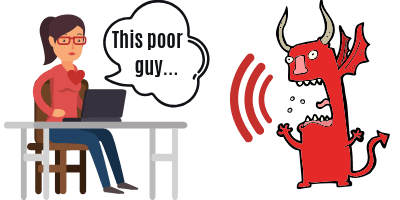 Lastly, let's cover the most nasty category of online reviews.
How To Deal With Fake Online Reviews?
An internal survey among hostel owners revealed the following about whether hostel owners are cheating on online reviews or not. [Source]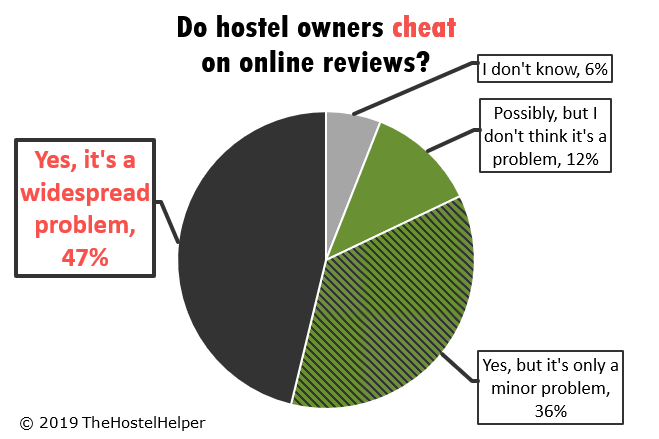 Let's first start by differentiating the two types of fake reviews:
#1 Your competition publishes bad 1-star ratings on your online profile
#2 You cheat by posting awesome fake reviews yourself
Both is not just unethical, it's also illegal.
Not only can it lead to all your reviews being removed, but you're also at risk of facing lawsuits by the companies who provide the review service. There are some famous stories where people went to jail because they've engaged in unfair competition and defamation.
No, I shit you not.
If your competition publishes fake reviews on your profile and you have proof for it, you can take legal action against them. That said, I'd always start by personally talking with them first.
You can also use the tool Review Skeptic to get an indication of whether a review is actually real or fake. This tool is based on research at Cornell University (NY, USA) and can identify fake reviews with nearly 90% accuracy.
However, it's by no means absolute as you can see in this fake review that I've written.

But what should you do when your competition cheats on their own reviews?
In a word: Nothing.
First and foremost, your focus should always be your hostel and how YOU can get better. The ONLY real reason to investigate your competition is to find out how you can differentiate your hostel further. That's it.
There's really no reason to bother about fake reviews since they are only effective in the short run. Yes, they can help to boost a hostel that has no previous reviews but as soon as a hostel has regular guests, it's just not economical to rely on buying fake reviews.
Furthermore, guests are not stupid. We've already seen in my previous blog post about how to get better online reviews that a rating directly affects the expectations of guests. Hence, fake reviews inevitably lead to more disappointed guests who will let the hostel know how they feel about their stay.
But hey, test it yourself! Grab my free review calculator and do the math yourself by playing with the numbers. You'll be surprised by how many fake reviews someone needs to buy in order to improve his score at a certain level.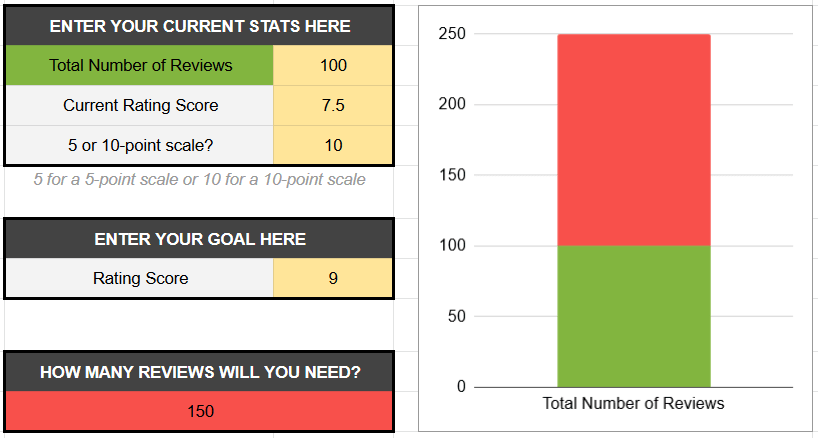 For further information about the free calculator, visit my blog about how to get more online reviews.
Finally, as soon as one guest complains about fake reviews, be assured that the review website will take notice and action. They will never risk losing credibility and would rather ban a hostel than allowing further fake reviews.
In fact, TripAdvisor went as far as to post red badges on abusers' profiles to warn travelers about the property. [Source]
Karma, baby.
STOP! 🤚
Before you leave: Answer this quick question and help our community.
Are fake reviews a big problem in your area?
Share your opinion in the comment section below!
P.S. here are my top requested blog articles about online reviews if you wish to take things to the next level: