The two most-used property management software (PMS) among hostels are Cloudbeds and BananaDesk. But which of them is the better choice?
One of the major reasons for this in-depth comparison between Cloudbeds' and BananaDesk's PMS is one of my survey results:
Cloudbeds is by far the most used PMS among hostels, followed by BananaDesk, Backpack Online, Frontdesk Master, and Beds24.
TheHostelHelper is all about using proven and successful concepts rather than reinventing the wheel. That's why I decided to go the extra mile to enable you to make the right decision without spending weeks testing all the software yourself.
Both PMS are cloud-based solutions, which is the leading technology in this field. That allows you to access your system from your browser – anywhere and anytime – without having to install additional software.
The purpose of this article is to enable you to make your own educated decision on what PMS to use. I will lay out the facts for you and I am not going to mince matters. I was surprised at the results myself after finishing my research.
Lastly, there's no right or wrong when it comes to PMS for your hostel. The question is rather which one fits you and your hostel better.
Without further ado, let's find out!
Before we get into all the features of both solutions, I'd like to introduce both companies to you since their stories are quite different.
Cloudbeds was founded in 2012 by Adam Harris and Richard Castle and is headquartered in San Diego, California. It's one of the fastest growing travel tech companies worldwide of 2020 which explains why they're already employing 213 employees who are spread across 24 countries. 
Their software/products are most popular in the USA and Brazil and they have clients across 135 countries.
According to their market manager, their vision is to improve their current software features as well as adding additional ones. However, their goal is not to develop every aspect of their software by themselves but rather to integrate complementary systems.
Almost 50% of Cloudbeds employees are developers. That means we're talking about more than 100 people who're working full-time to improve their provided solution. I don't know any other company in this space that puts such an intense focus on development.
When interviewing their market manager, he pointed out that their unique selling proposition (USP) is their level of automation and the spectrum of features they offer for such a low price.
You can watch their introductory video here:
BananaDesk was founded by Tim Zenderman, Ezequiel Moljo, and Scott Kosch shortly before Cloudbeds. In total, 7 people are working at BananaDesk (1/30 of Cloudbeds). Four of them are responsible for customer service and development.
Their "stronghold" of clients in mainly located in South and Central America where they are headquartered.
When it comes to their PMS, their vision is to improve their current features rather than making their system more complex by adding additional ones.
Tim Zenderman, the CEO of the company, bluntly admitted that they don't have the money to develop such a thorough software like the one Cloudbeds offers. He continued, "but even if we had, we wouldn't do it." And there's a reason for that.
They see their USP in offering an easy and intuitive solution. The goal is to make the transition to their PMS as simple as possible. To achieve this, they intentionally limit their features to a "sufficient minimum".
You can watch their introductory video here:
Compared to BananaDesk, Cloudbeds is a giant. Both companies have very different visions and unique selling propositions. That's why I believe a plain old cookie-cutter comparison of their features won't quite cut it in order to make the right decision.
For this reason, let's take a closer look and scope out all the different aspects of their software.
"Setup" is the entire process you have to go through until you're able to actually use the system in your hostel.
It's also something that seems to hold back many hostel owners from using a property management software. Hence, I want to start by giving you deeper insights into both setups since they work quite differently.
If you opt for Cloudbeds' PMS, you'll get a free 1-month demo version of their software as well a one-hour coaching session with a personal coach.
Their coach is there to make sure Cloudbeds is the right fit for you and will answer all the questions you have around the system. However, he will not do any work for you when it comes to the actual setup – that's still your job.
The demo version includes plenty of dummy data and allows you to test all the available features. It also includes a series of quick tutorials that explain the main functionalities of all pages. Here's what it looks like:
That said, you won't be able to set up your hostel without committing to a paid version.
As soon as you switch to their paid version, all the demo data is erased and you'll enter the "Setup Wizard" that goes through all the features step-by-step. The sole purpose of this separate interface is to make sure you already know how all the basics work before you switch to their system.
In other words: It's there to make the transition an easy one. 
This is what it looks like:
Some say the most painful part of the transition to a property management software is to create existing reservations. I personally think it is hugely beneficial in order to have hands-on training on the system and become familiar with your new interface.
Now the good news: If you've already been using their channel manager "MyAllocator", you can pull all your reservations within seconds!
There are several other options to integrate your bookings and you could also go for the option to pay a fee to Cloudbeds and let them do the job for you. However, this is optional.
Once this is done, you simply connect your channels and you're ready to go. 🙂
The setup itself can be done in a matter of a single day. However, getting really familiar with the new interface takes on average about one week according to Cloudbeds market manager.
All in all, the setup is super easy and intuitive. However, there's still work involved and this will never change – no matter how sophisticated PMS' become.
For further information about the general setup process, click here.
BananaDesk's setup is super straightforward. If you decide in favor of their PMS, you get a free 14-day trial which also starts with a separate setup interface:
After this initial setup guide, you'll get to the main system. From here on, the motto is: figure it out yourself. There are no additional tips, training videos or explanations. And the truth is: you won't need it.
When I went through literally all aspects of their system, it took me about 30 min to pretty much get to know all the features they provide. It's super intuitive.
Also, note that their free trial is a full version of their software – there are no restrictions. Hence, you could completely set up and run your hostel with their trial version.
The most time-consuming part of the setup is to create your existing reservations. However, you can pull existing data from your channel manager "MyAllocator", if you have used this before.
The setup procedures of both property management software are top-notch and built with the intention to make it an easy transition. Even if you don't have any prior experience with PMS, you'll quickly get the hang of it.
It's like driving a car. It takes some time until you're able to drive blindfolded while texting a friend and eating a hamburger 😉 
#3 Reservation Management
The main purpose of a property management system (PMS) is to help you manage your reservations. Full stop.
Hence, let's take a closer look at how both software solutions help you achieve this goal by starting with their similarities.
Both providers come with a drag and drop calendar. This allows you to easily create, edit, extend, or switch reservations. They also use color codes to symbolize the status of your reservation (e.g. blue for checked-in guests and red for the ones that are already checked-out).
This alone is a top-tier feature. In fact, I can't think of an easier way to manage reservations.
Yet, both calendars have their own idiosyncrasies. Let's explore what they are.
This is what Cloudbeds' calendar looks like: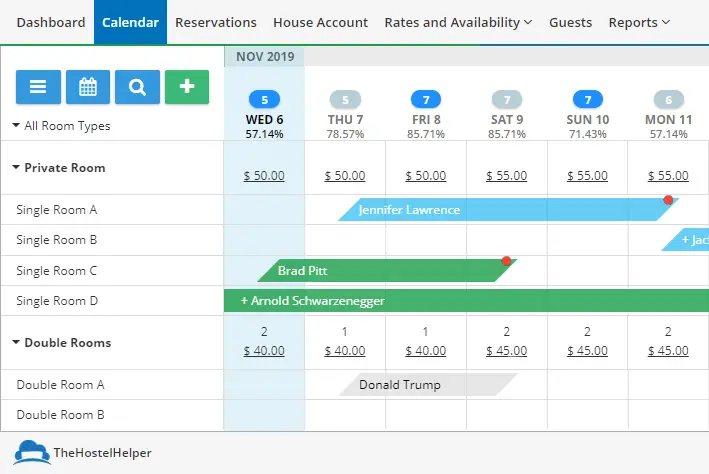 Compared to other calendars, 4 things are special about it:
#1 You can see an open balance at first sight
If a guest hasn't paid his bill yet, it will show a red dot on the top right corner of the reservation. This is an additional reminder to make sure that you'll never forget to charge your guests.
#2 You can see your occupancy rate and are able to adjust your rates in your calendar
This is the part that I love about their calendar. Not only do you get instant feedback by looking into it, but you are also just two clicks away from taking measures.
Example: Let's say your occupancy rate for the day after tomorrow is way below average. To fix that, you can just click on the rate, enter a lower price and confirm your entry. Easy as that!
In fact, this is a game changer feature that I've never seen in other property management systems before, though I've already tested quite the spectrum of solutions out there.
This is probably one of the very few additional features that can have a noticeable positive effect on your overall revenue.
To make the same change in BananaDesk's PMS, you have to leave your calendar and visit two different pages to view your occupancy rate and then change your rates. While this is absolutely doable in theory, I doubt that many hostels will implement this process as a daily routine. 
#3 Built-in extra steps to minimize human errors 
Cloudbeds consciously put a lot of effort into reducing and preventing human errors. If it's not possible to prevent it altogether, they often included an extra step (e.g. a confirmation) in order to make changes.
The math and logic are simple: Let's say 1 out of 100 reservations in your hostel get screwed up for whatever reason (human error rate = 1%). By adding an additional step, you literally can lower your failure rate to 0.01% (1% x 1%). 
Here's an example of the actual implementation: If you drag and drop a reservation from a dorm room to a private room, a pop up will appear and you will have to confirm the "upgrade". It also shows the financial consequences of your alteration.
Now, in my opinion, this feature is a double-edged sword. On the one hand, it clearly lowers the number of mistakes you and your staff will make.
On the other hand, it will take a bit longer to make adjustments. In fact, I even caught myself just clicking "confirm" without reading the actual message after one week of using it.
If you have a high staff turnover rate and many inexperienced users, this is gold – no question. However, for someone who has been using the software for years and has become blind to its extra confirmations, it barely provides an additional benefit in my opinion.
This is what their calendar looks like:
By the way: I hope President Trump is happy to have Justin Bieber booked into his dorm 😅
Jokes aside. BananaDesk's calendar is designed with simplicity and intuitiveness in mind.
There's little to nothing that detracts you from your reservations. To switch a reservation, you simply drag and drop them in between your calendar. Since there's no confirmation needed, it literally is a matter of seconds.
There are two things I really like about their calendar:
#1 You can create reservations by marking a time span across several beds
After you've marked the area, the reservation window will automatically pop up. This feature makes group bookings a breeze.

To achieve the same effect in Cloudbeds' PMS, you have to click on the date of arrival and then on the check-out day. In the reservation window, you then enter the number of beds. All in all, it takes a bit longer and appears less intuitive to me personally.
#2 You see your upcoming check-ins and check-outs at first sight
BananaDesk uses symbols in the header of their system that immediately shows you what's going on in your hostel.
In Cloudbeds' PMS, you'll have to click on their separate dashboard in order to see the upcoming check-ins and check-outs.
Hands down. Both solutions are absolutely world-class when it comes to managing reservations. They will both greatly facilitate all the admin on your side – no questions asked.
If you're looking for maximum intuitiveness and speed, you'll be better off with BananaDesk's calendar. If you prefer to have more options and sophisticated features, you'll probably be happier with Cloudbeds's calendar.
No doubt, price is probably one of the first key metrics you as a hostel owner are interested in when it comes to hostel software.
Comparing prices seems simple: Just visit both websites, click on pricing and compare the numbers, right? – After all, that's what comparison-websites like Capterra do – they pull the prices from their websites and compare them as equals.
Well, if that were the right way to go, then here's your clear answer: BananaDesk is cheaper! Case closed.
However, in my opinion, that's like comparing apples to oranges because both solutions offer a different range of features which explain the different prices. 
If you opt for Cloudbeds' PMS, it comes with their integrated channel manager called "MyAllocator" and a commission-free booking engine. Both aspects are a must-have for hostels. In fact, I can't think of any realistic example in which a hostel wouldn't benefit from using these tools.
If you don't agree with that, you might want to read my in-depth articles about both topics:
If you decide in favor of BananaDesk instead, you'll have to pay for the channel manager "MyAllocator" in addition. Furthermore, their provided booking engine comes with a 4% booking fee.
Hence, to compare both prices more accurately, we'll have to add the additional costs and fees to our calculations.
Price for Cloudbeds' PMS
VS.
Price for BananaDesk's PMS
+ Price for Additional Channel Manager
+ Booking Fees from Booking Engine
For this purpose, I won't take all the additional features of Cloudbeds' PMS (e.g. cash drawer management, etc.) into account, because they are mostly "nice-to-have" and not absolute must-have features if you ask me.
Let's start at the top and work our way down.
The pricing of Cloudbeds property management software is not only determined by your total number of beds but also by the number of rooms.
Hence, I made the assumption that 30% of beds are private rooms and 70% are dorm beds. You can calculate your exact prices here.
The following graph shows the costs of their software package "Essentials" which is the one that you can most equally compare to BananaDesk.
The starting price for 10 beds, consisting of 3 private rooms and 7 dorm beds is $110 and goes up to $218 USD per month. I further chose an annual payment instead of monthly which saves 8% overall.
As you can see in the chart above, the price doesn't increase anymore after 110 beds. This is where "economies of scale" sets in. Simply put: bigger hostels have an advantage compared to smaller hostels.
Example: A hostel with 10 beds pays 110$, yet a hostel with 10x times the number of beds only pays about double the amount for the same software.
Compared to other property management software, Cloudbeds' PMS starts at a relatively high price. This is mostly due to their high level of customer service. More on that shortly.
What I found interesting is that Cloudbeds market manager bluntly admitted that they are not the cheapest PMS out there: "However", he continued, "we are indeed the cheapest for all the features we offer."
Cloudbeds' "Plus" package can be the better choice if you're selling additional services. In my opinion, though, their "Essentials" will do the job for most hostels.
Let's have a look at the other side of the equation.
Price For BananaDesk's PMS
BananaDesk's pricing is pretty straightforward: Enter your maximum capacity here and it'll directly show you their prices.
Again, I've chosen the payment on an annual basis which saves almost 17% in total costs. Their price starts at $24 and goes up to $108 USD per month.
Economies of scale apply again: The price doesn't increase further once you've crossed the 90-bed size.
BananaDesk doesn't come with an integrated channel manager. However, you can seamlessly integrate Cloudbeds "MyAllocator" into their software.
+ Price For Additional Channel Manager
MyAllocator calculates its costs on the same basis as Cloudbeds does. Hence, I used the same numbers as I did in the above example to calculate the costs: 30% private rooms and 70% dorm beds.
To calculate your individual costs, click here.
The costs of MyAllocator start at $37.72 and go as high as $100.28 USD per month. I chose the annual billing which saves a total of 8%.
In addition to these costs, we have to add booking fees on BananaDesk's side.
+ Booking Fees from Booking Engine
BananaDesk's booking engine charges 4% of the total reservation costs. Hence, if you receive a booking worth $100 on your hostel website, only $96 will land in your wallet.
As a former Engineer and financial consultant, literally all my alarm bells rang when I read about the percentage composition of their costs. I've just experienced (too) often how massively they can influence the end result in the long-run.
To calculate the actual costs, I had to make further assumptions:
5% of all your bookings come from your website or Facebook, i.e. your booking engine

Your average occupancy is 56% (which is the worldwide average) [

Source

]

Your average rate is $25
Here are the results: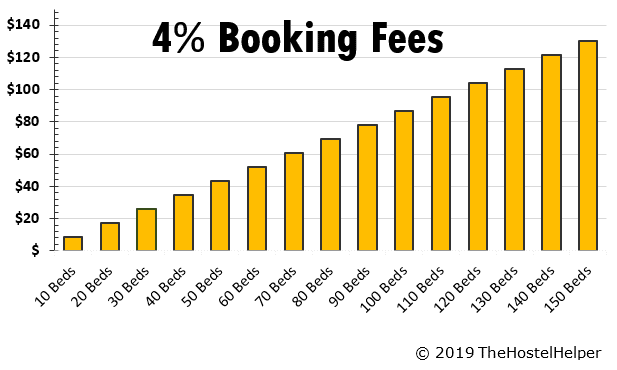 With the assumptions I made, the booking fees start at $8.4 and go up to $126 USD per month. Yes, you read that right. A seemingly low booking fee can cause higher costs than the actual property management software altogether.
That said, the costs will vary widely depending on your actual stats. Hence, I've coded a calculator so that you can quickly do the math yourself. It's 100% free.
Okay, let's get to the meat and bring all the previous work together.
Accurate Pricing Comparison
Saying that the results surprised me is an understatement. I thought Cloudbeds' PMS would be more expensive no matter how big the hostel gets. Well, another case of "numbers tell you the truth".
In point of fact, with the assumptions I made, you'll save money by opting for Cloudbeds' PMS if you have a higher capacity than 55 beds. 
For the most part, BananaDesk's property management software is cheaper if you're operating a hostel smaller than 55 beds.
Putting Costs Into Perspective
No doubt, costs are an important factor when choosing your property management software. However, they should not ultimately determine your decision. And here's why:
If you're able to increase your occupancy rate by 1% due to the use of a PMS, you break even!
Let's apply cowboy math: If you're operating a hostel with 100 beds, an increase of 1% in your occupancy means you'll receive one more booking every single day. That's 365 additional bookings per year.
Let's say your average room brings in $25 in revenue: that's $9,125 additional revenue per year! And we're just talking about ONE single percent increase!!
Your hostel has "only" 40 beds? —> $9,125 x 0.4 = $3,650
That's still more than double the amount of turnover compared to the costs of the more expensive PMS (Cloudbeds' PMS at $1,680)!
Both software solutions have comparable prices and are MORE than worth their money. In fact, I can't think of any smarter investment than getting a PMS when it comes to running a hostel.
That said, BananaDesk tends to be the cheaper option for small to medium hostels up to 55 beds. The larger your hostel is or the more bookings you get via your website, the more you'll profit from Cloudbeds' PMS.
P.S. Click here if you're interested in saving additional money.
Let's start at Cloudbeds before we go over to BananaDesk.
When it comes to support, the sheer size of Cloudbeds becomes clear.
On their website they claim "we are crazy about our customer support" and I personally experienced it to be true. They offer an award-winning 24/7 support in English, Spanish and Portuguese – even on weekends.
Besides that, they have literally dozens of short tutorials on each webpage that explain all necessary functions.
Now, let me set the record straight: I usually NEVER watch tutorials because most videos I watched are typically a complete waste of time and it's much faster to figure it out yourself… at least for me.
Well, Cloudbeds is an exception. The videos are short and tell you precisely and in plain English what you need to know – no more, no less. In fact, it's the very first time I actually enjoyed watching tutorials because they are well-made and efficient in their message.
If you can't find the solution to your problem in the provided tutorials, chances are high that you'll come upon an answer in their in-depth documentations. You can either search by clicking on the different categories or use the search bar.
Just to give you an idea of how comprehensive their knowledge base is: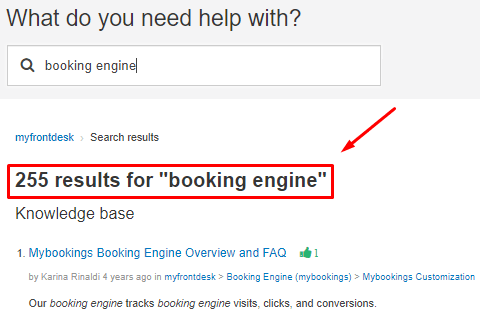 However, different people prefer different support systems. Hence, you can also contact their support directly if that's your preference.
BananaDesk's Support consists of mainly 2 people who work business hours in Argentinian time: 7 am – 5 pm. This time frame might be an issue if you're not located in South America since you'll have to wait until business hours to get your problem fixed. 
However, what I really love about BananaDesk's support system is that it's integrated via a chat at the bottom right of each page… I can't think of a more convenient way to contact the support.
Furthermore, their chat clearly shows one aspect Cloudbeds can't compete with: Their level of personality. Looking at their chat window reminds me of writing a message to a friend. 
I've used this chat several times while testing all the available features. The quality of the answers I received was excellent and I typically received an answer within 5 minutes during their business times.
Furthermore, you can upload documents and use emojis. This might sound irrelevant, but it all contributes to making the process of contacting the support easy and fun which represents the hostel culture. 
Besides this chat, BananaDesk doesn't offer any documentation or tutorials.
That said, most of their features don't really require further explanation in my opinion. Their software is so basic and they've put so much effort into an easy-to-use interface, that it's simply unnecessary.
Cloudbeds' PMS comes with a huge spectrum of support systems that you can choose from. The quality of service is top-notch. Seriously. That's something you rarely hear me say.
BananaDesk's support is less sophisticated, yet more personal and convenient. Their system simply doesn't require that much support when it comes to its user interface.
A channel manager is a tool that allows you to automatically synchronize available beds and rates across all your distribution channels. If this concept is new for you, I highly recommend reading my guide on channel managers for hostels.
Both Cloudbeds and BananaDesk are compatible with the channel manager called "MyAllocator".
The only difference is that Cloudbeds' PMS has its own channel manager already integrated. That means you will never have to deal with the interface of MyAllocator.
If you opt for BananaDesk, you'll have to purchase their channel manager in addition. While they also offer two direct connections to Hostelworld and Booking.com, I highly recommend using a channel manager for various reasons.
The channel manager "MyAllocator" is one of Cloudbeds products. While I don't think there's THE best PMS for hostels, I do think that this is true when it comes to channel managers.
In one of my surveys, I asked hostel owners which channel manager they use. Here's the result: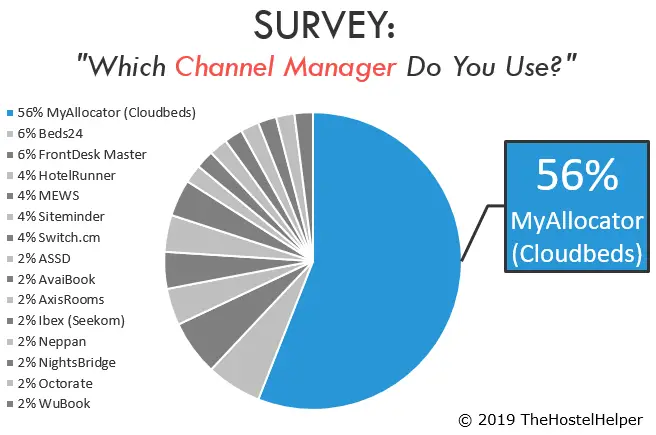 TheHostelHelper is all about using proven methods and tools rather than reinventing the wheel. This result in combination with hundreds of available channels, additional support, and reasonable pricing, makes it THE best channel manager for hostels in my opinion.
A booking engine is a tool that allows travelers to book your hostel directly via your website or Facebook.
It's literally the heart of your website. Your entire web design should be built around maximizing your conversions, i.e. getting people to use your booking engine.
If you want to learn more about how it works and what its advantages are, check out my guide about booking engines for hostels.
Let's take a closer look at the provided booking engines:
Cloudbeds' Booking Engine
This is what their booking engine looks like:
There are 3 things that are note-worthy about their booking engine:
#1 Commission-free AND free of charge
You don't have to pay any extra money when using their booking engine.
As a general rule: the more pages your guests have to click through in order to make a reservation, the lower your conversion rate. With only two pages, Cloudbeds makes this process incredibly easy.

#3 Offers 26 languages and heaps of available currencies
Guests are able to choose their favorite language and a currency they know and trust. The main benefit is that it leads to a more comfortable booking process for your guests which increases your overall bookings.
Furthermore, setting up your booking engine on your hostel website is a matter of (very few) clicks.
BananaDesk's Booking Engine
Here's what BananaDesk's booking engine looks like: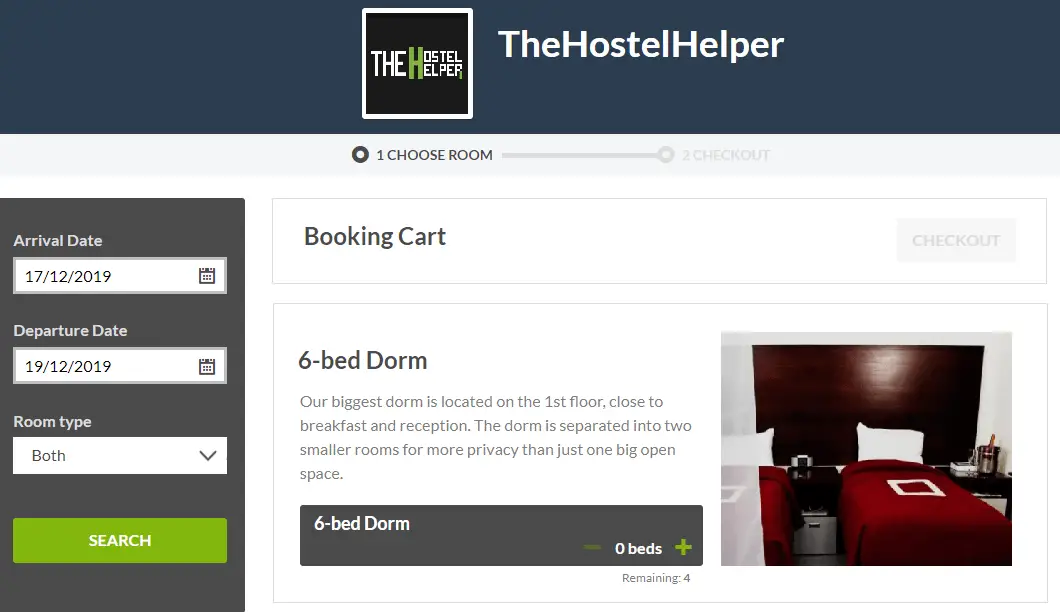 We've already broached the topic when we went through the pricing. The major disadvantage of their booking engine is that it charges a booking fee of 4% on your side.
That said, this is still WAY better than having no booking engine at all and having to link to an online travel agency from your website. Yep, you read that right. Some hostels consciously convert potential direct bookings into OTA-bookings that charge a juicy commission of 10-20%.
Paying for an additional external booking engine that might be cheaper is an alternative I do not recommend. The more software pieces you combine, the higher the risk of experiencing issues between them.
One alternative could be to use the free booking widget that comes with your channel manager "MyAllocator". However, it only offers the absolute basics and doesn't look so nice. Just have a look yourself.
That all said, there are three things I like about their booking engine:
There's little to nothing that detracts from making a reservation.
#2 Their 2-step booking process
Like Cloudbeds, they also provide a super straightforward booking engine.
#3 Enabled & disabled in just one click
The following pictures perfectly illustrate BananaDesk's focus on intuitiveness: Activating your booking engine is a one-click matter.

When it comes to booking engines, Cloudbeds' solution is superior due to the fact that it's commission-free.
However, besides BananaDesk's booking fee, both booking engines are solid solutions that will do the job for you!
Reporting systems have two purposes:
1) Show your

present

data in order to improve the future

2) Show you

past

data in order to improve the future
The former is something that's relevant from the very start of running a hostel when it's all about building a profitable business model.
The latter is something that will gain importance over time after having collected months or years of data. These insights are what enable you to make data-based improvements to further exhaust your occupancy rate and overall revenue.
Let's take a closer look at how both solutions will help you achieve this.  
Cloudbeds offers a total of 28 different reports.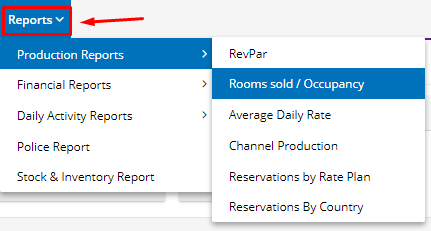 In my opinion, the most crucial key metrics are covered in their calendar – your current and near-future occupancy rate.
I'm an advocate of focusing on only a few numbers rather than chasing too many goals and getting lost in the clutter. Accordingly, here's a list of their 4 most useful reports for hostel owners:
#1 Occupancy for different time periods: for monthly / yearly comparison

#2 Channel production: to see the effectiveness of each channel

#3 Tax reports: to facilitate your business duties

#4 Reservations by country: to see where your reservations come from
"Channel production" (#2) can be a helpful tool when you're optimizing your web presence or start to drive more direct bookings through a blog.
"Reservations by country" (#4) gives you feedback where your bookings are coming from. That's particularly useful when choosing your channels. 
Example: When your report shows that 35% of your bookings come from Italy, it might be worth investigating if there's a country-specific OTA that Italians like to use.
Here's what it looks like:
Most other reports are – in my humble opinion – more "nice-to-have"-features: Definitely an interesting read, but I can't see a direct link to higher profitability which should be your #1 goal in business.
The reporting system of BananaDesk is comparably less comprehensive with a total of 7 different reports. While it definitely gives you fewer insights, it's also easier to digest.
You can pretty much find all the crucial metrics in BananaDesk's reports. However, the one thing I find impractical for your day-to-day operations is that in order to see your current occupancy rate, you need to filter for every single day.
I imagine that this inconvenience could lead to making me skip this task though I think that's by far the most important thing to monitor for a hostel owner – even in the early stages.
In comparison: Cloudbeds does this job in your calendar offhandedly. Hence, you get feedback no matter if you like it or not.
In my conversation with Tim, the CEO of BananaDesk, he admitted that the reporting system is not yet on the level of excellence he wants it to be. He went on saying that this is definitely a part which they'll further improve in the near future.
Both reporting systems offer all the information you need in order to run your hostel successfully.
In the long run, Cloudbeds' more sophisticated and thorough reporting will give you more insights. This difference probably won't be noticeable in your first 2-3 years of running a hostel.
However, when you're in the later stage of squeezing all your remaining potential, this is something that can pay off.
"Additional features" are the ones that I think are rather "nice-to-have" since they typically don't directly correlate with higher revenue for your hostel. You can think of it as the sprinkles on your ice cream.
Most of them play a secondary role in the early stages of running a hostel. In the first two to three years, all your focus and effort should be on building a profitable and sustainable business model.
After "surviving" this critical stage, it's time to maximize profits. This is the moment additional tools can help you further exhaust your potential. 
Let's start with the ones that are comparable.
Since both systems are cloud-based, you can access them from anywhere and anytime with any device.
However, when it comes to mobile responsiveness you can see the sheer expertise of Cloudbeds' huge team of developers. Every single aspect of their software is designed to facilitate the navigation: Buttons are "thumb-friendly" and font sizes are adjusted. All in all, it makes using their software truly enjoyable.
BananaDesk, on the other hand, is not mobile responsive. When you log into their system on your phone, it will show the same desktop-version that you have on your computer. Hence, you need to zoom in to be able to read all the information.
That said, I actually prefer the desktop version for the calendar because it's more clear and overseeable.
Here's how both solutions look like on my phone: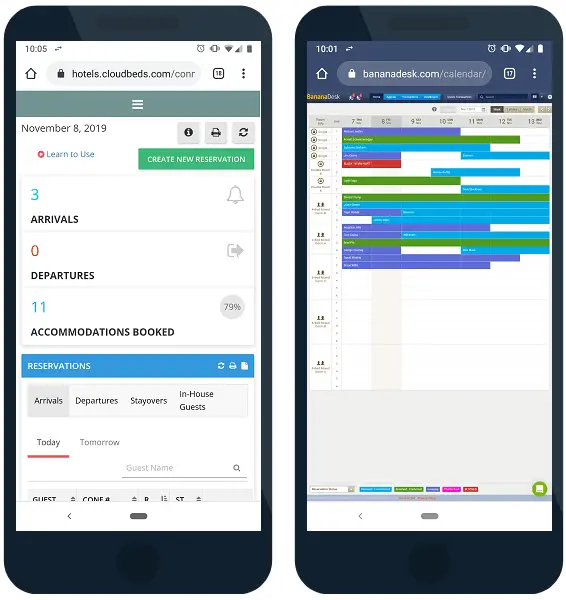 If you're a huge hostel, sending automated emails can literally save your staff several hours per week.
Cloudbeds' PMS already comes with a pre-existing list of email templates that you can easily customize the way you want.
Cloudbeds' level of customization knows no limits. You can even translate all your emails into different languages and set specific triggers (e.g. 2 days after checkout) for each email. This makes great guest service a snap.
To this day, BananaDesk only allows you to send manual emails. This can become an issue if you're a large hostel that gets dozens of new reservations each day. According to their support, this feature is contemplated for near-future developments.
Other Features Of Cloudbeds PMS
In the following, I want to share a few additional features of Cloudbeds' PMS. However, this list could literally be turned into a textbook. No joke.
Taking Microsoft Excel as an analogy: I feel like I've only shown you the "addition formula" though the tool can do sooo much more. I'm really only scratching the surface of its actual power.
In my opinion, not every additional feature is a useful investment of your time. However, if you want to, there's always something you could go deeper on. This allows you to determine the level of complexity yourself.
Literally, every activity you or your staff does in Cloudbeds can be investigated in a tracking log. Hence, if any mistakes occur or money is missing, you're just a few clicks away from knowing who's responsible.
According to their market manager, this is a common reason why some employees don't like their software since they can't pay themselves an extra bonus anymore without getting caught 😅
You can add a list of competitors in Cloudbeds' interface which enables you to see their real-time prices at a glance. Furthermore, you can set automatic rules that will adjust your prices accordingly.
Example: Alert me if my rate is the highest among my top 5 competitors.
You can also add certain functions that will adjust your prices automatically if your occupancy rate is at a certain level.
Example: If my occupancy is lower than 70%, lower my standard rates by 5$.
For further information, check out my guide about pricing strategies for hostels. It includes step-by-step instructions on how to use their genius pricing tools.
This feature makes your staff responsible for counting the cash in your drawer at the beginning and end of each shift. If there are any discrepancies between what should be and actually is in your register, the system will show an alert.
The system allows you to create different labels in order to screen your guests (e.g. blacklisted, VIP, etc.). Every time a new reservation is made with the same name, the system will make you aware of past labels.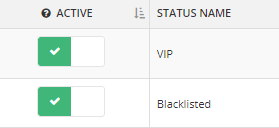 Cloudbeds PMS allows you to assign different rooms across all your housekeepers. As soon as one room is finished, they can change the status of the room on their phone and see at a glance which room they have to do next.
Before the status of the room is changed to "cleaned" the system won't allow for check-ins.
There are heaps of other services that can be integrated into Cloudbeds' PMS. You can see a full list here.
Again, this list is endless…
When it comes to additional features, there's no doubt which system is more powerful. Cloudbeds offers a myriad of additional extras that you can choose to use. 
In my humble opinion, most of them are only relevant in the later stages of running your hostel. However, once you're established, they can be very handy.
Okay, time to bring it all together.
If I had to rate both property management systems in all areas, this is what it would look like:
No doubt, we're comparing two champions here. Hands down. Both systems are world-class options to facilitate the operations in your hostel.
And both will give you an unfair advantage over your competition that tries to manage their reservations manually. That's for sure.
If you haven't used other property management software before, you probably don't have a contrast to see how exceptionally well both Cloudbeds and BananaDesk do their job. Seriously.
Both systems have a different focus though: 
Cloudbeds' PMS has its strengths in its completeness and its spectrum of features.

BananaDesk's PMS, on the other hand, convinces with its simplicity and intuitiveness.
The questions is… 
Which Property Management Software Should You Choose?
There's no right or wrong between both solutions. It's a clear case of what fits best to YOU and YOUR hostel.
To cut right to the chase of the matter, these are the 4 main factors that can help you choose the right solution:
As a rule of thumb, the bigger your hostel is, the more you profit from a more complete software solution, i.e. Cloudbeds. It's hard to put this into numbers. That said, I would say the break-even is around 45 beds.
If you're bigger than that, you might profit more from using Cloudbeds due to its higher level of automation. If your capacity is lower, you might benefit more from using the more intuitive BananaDesk.
#2 Your current developmental stage
If you're just starting a new hostel and have little to no prior experience in the hospitality industry, you will definitely have an easier start with BananaDesk.
However, if you're already established and know the ins and outs of the business, you will probably benefit more from Cloudbeds' more thorough system.
If you belong to the category of people who struggle with generally operating a computer or has used the pen & paper model for decades, I recommend using BananaDesk.
However, if you're familiar with technology and are the kind of person who can figure things out quickly, you'll be able to master Cloudbeds within a few days.
If you're only employing volunteers at your front desk who come and go within a few weeks, I suggest using BananaDesk. It will greatly reduce the time to teach new staff how the software works.
However, if you have paid staff that typically stays for months or years, Cloudbeds' software will be manageable.
In recent blog posts, I received several comments asking for my personal opinion on different matters. My goal at TheHostelHelper is to enable you to make the right decision for yourself.
Nevertheless, I want to share what I would choose if I were to make a decision for my own hostel. Please don't confuse this with a recommendation. The following is based on my personal preferences and how I approach business.
Even though it's a close run, I would go with Cloudbeds' PMS. The three main reasons for me are:
1) Commission-free booking engine

2) Email automation

3) Displaying the occupancy rates in the calendar with the option to make adjustments
I can clearly see how these three functionalities will lead to higher profitability. However, if BananaDesk provided these options, I'd probably go with BananaDesk due to its simplicity and increased speed.
Exclusive TheHostelHelper Deal
Now the best part: no matter what you decide upon, I've negotiated an exclusive deal for you on both sides. That means you won't find this special offer anywhere else other than here.
$50 credit
+10% lifetime discount
30% discount for
the first 6 months
The links above are affiliate links. That means I will earn a commission, at no extra cost to you, if you use that link to make a purchase.
P.S. These bonuses won't be visible when signing up on their website. This is due to the fact that they are exclusive. However, you'll get a notification about your bonus as soon as you've completed the signup.

I want to personally thank Tim Zenderman (BananaDesk's CEO) and Ettore Zotarelli (Cloudbeds' market manager) for spending several hours explaining their PMS to me and answering all my questions. You both are awesome to work with!
STOP! 🤚
What questions do you have about their software?
I'm here to help.
Let me know in the comment section below!

DISCLAIMER: While I have taken every precaution to ensure that the content on this site is both current and accurate, errors can occur. TheHostelHelper assumes no responsibility or liability for any errors or omissions in the content of this site. The information contained in this site is provided on an "as is" basis with no guarantees of completeness, accuracy, usefulness, suitability, timelessness or validity and without any warranties of any kind whatsoever, expressed or implied. Read my full disclaimer here.