Board games are an excellent way to break the ice between hostel travelers. They can also greatly increase your online ratings. But… which ones should you have in your hostel?
Here's a list of the top 10 must-have board games for hostels rated by the following 3 factors: 
Fun Factor: How much do people enjoy playing it?
Beginner Friendly: How fast can your guests learn it?
Popularity: How well-known is the game among hostel travelers?
At the end of each recommendation, you can find the link to Amazon.
Without further ado, let's dive in!
#1 Cards Against Humanity
Fun Factor
 5/5
Easy To Learn
 5/5
Popularity
 5/5
Hands down, this is the most hilarious game EVER. Full stop.
If you're going with the minimalist approach and want to have no more than one game in stock, this is the one. No doubt.
The rules can be explained in a matter of seconds:
Each player gets 10 random white cards that contain answers
A question is asked with a black card and every player has to answer it with their funniest white card
One person decides upon which answer is the most hilarious one (=the winner)
Example:
Question card: "A romantic candle-light dinner would be incomplete without…"
Out of your 10 white cards, you'll have to choose the funniest:
1) Full frontal nudity
2) A PowerPoint presentation
3) Fiery poops
4) Watching 2 girls 1 cup
… 😂
I first saw this game in a hostel in New Zealand and I laughed myself to tears just watching it.
With more than 42,000 five-star reviews on Amazon, this game is almost guaranteed to be mentioned in your online reviews.
Just watch the following video and experience the black humor first-hand:
#2 Never Have I Ever
Fun Factor
 5/5
Easy To Learn
 5/5
Popularity
 4/5
On the hilarious scale of board games, this ranks right after "Cards Against Humanity".
In my opinion, this game is especially great for hostels because you learn jaw-dropping facts about all other players. Hence, you know all the people around you MUCH better after playing it.
In hostels, it's typically played as a drinking game – but there's no need to.
The rules are self-explanatory. Basically, the crazier your life is, the more likely you are to win the game.
Example:
"Never have I ever had diarrhea at a friends house"
If you're guilty, you drink and get the card to build your "wall of shame". 
The one with the most cards wins.
Just watch the following video and try not to laugh:
#3 Settlers Of Catan
Fun Factor
 4.5/5
Easy To Learn
 3.5/5
Popularity
 3.5/5
Settlers Of Catan is one of my all-time favorites. It is the kind of game I chose to play over my PlayStation as a Teenager.
After all, there's a reason why this game was awarded the "Game of the Year" in 1995.
It's a combination of randomness and strategy and takes about 20-60 minutes to play. Up to 4 people can play this addicting game.
It definitely takes more time to understand compared to the other two games above. However, that's a necessary evil that comes with every game involving a little bit of strategy.
It's one of the few games where it's useful if your staff knows the rules and actively initiates playing it! Your guests will love it.
Instead of reading the game rules, I recommend watching the following tutorial: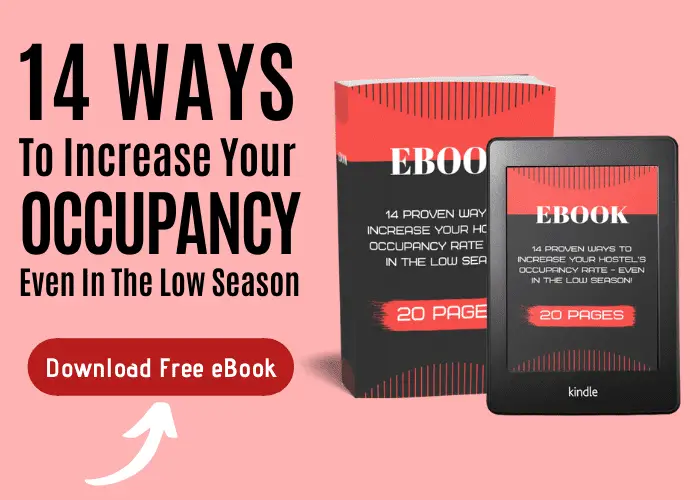 #4 Taboo
Fun Factor
 5/5
Easy To Learn
 4.5/5
Popularity
 3.4/5
The only reason Taboo didn't make it to the top is that it requires the players to explain words in English.
Hence, if you're accommodating many travelers who are not native English speakers, it might be too difficult for them.
The game is mostly known in and around Europe and can be explained within a minute:
You have to explain words without gestures or sounds to your other teammates. You're also not allowed to use the "taboo words".
Example:
The word you have to explain is "Steroids".
However, you're NOT allowed to use the following words:
Drug
Bodybuilding
Sports
Strong
Athletes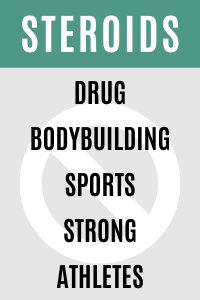 The game also includes a timer and a squeaker which greatly enhances the fun factor.
To get an idea of how it works, check out the following video:
#5 Jenga
Fun Factor
 4/5
Easy To Learn
 5/5
Popularity
 5/5
Well, there's not much to explain. Everyone knows it, right?
However, there's an important aspect to consider when buying your Jenga:
The bigger the better.
That's why I personally recommend the jumbo-sized game for extra fun.
#6 Chess
Fun Factor
 4/5
Easy To Learn
 1.5/5
Popularity
 5/5
Chess is known as the most popular board game worldwide.
I've seen plenty of people playing chess in hostels on rainy afternoons all over the world. That's why I think it's an absolute must-have board game – even though only two people can play it and it requires a lot of concentration!
However, it's typically not a game that you're going to explain to guests since it requires a lot of strategy and thinking. They either know how to play it or not.
If you have enough space and you're just starting a hostel, it can also become part of your unique selling proposition (USP) by using a giant chess.
The "Vienna Hostel Ruthensteiner" grasped the opportunity with their beautiful wooden chess: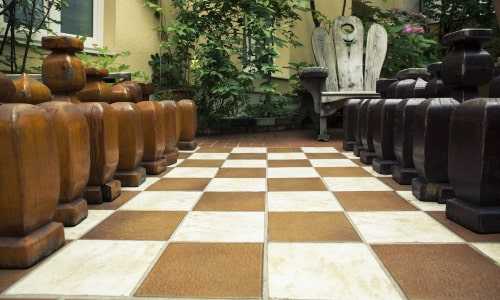 However, a standard-sized chess will do the job as well.
#7 Poker Chips
Fun Factor
 4/5
Easy To Learn
 4/5
Popularity
 4.5/5
Poker is another must-have board game in my opinion.
Almost everyone has seen poker on TV as it's super popular. However, it's also fairly easy to learn for the ones who haven't played it before.
Having a weekly poker night is a great and easy way to start social activities in your hostel – especially if there's something to win.
For around $40 you can get a full set including an aluminum case.
In combination with some funny sunglasses to create the "perfect" poker face, it's almost guaranteed for your guests to share your hostel on social media!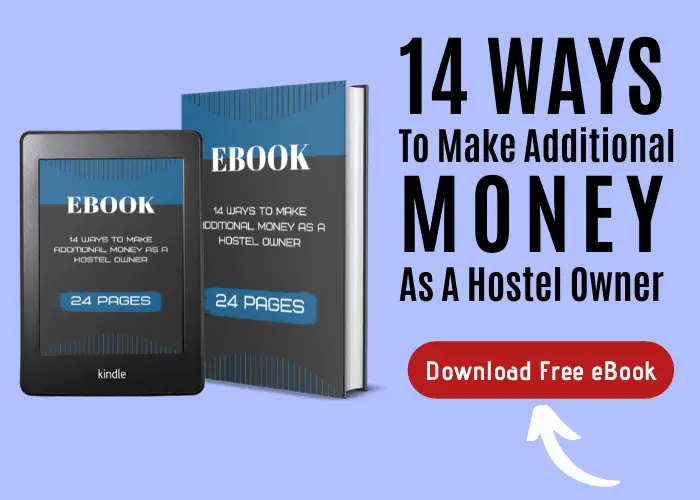 #8 UNO
Fun Factor
 4/5
Easy To Learn
 5/5
Popularity
 4/5
UNO is another classic board game that should be found in your hostel's collection.
The rules are super simple.
Each player gets 7 cards in the beginning. The goal is to get rid of all cards as fast as possible. It's called "UNO" because you'll have to warn others when you only have a single card left.
It can be played by 2-10 players.
Here's a quick tutorial on how to play it:
#9 Scrabble
Fun Factor
 4/5
Easy To Learn
 4/5
Popularity
 4/5
Similar to Poker, Scrabble became so popular that you now find hundreds of "professional Scrabble players" worldwide. No joke.
The game is relatively easy to understand and can be played by 2-4 people.
Players earn points by constructing words with letter tiles on the Scrabble board. However, each letter has different points depending on the difficulty of using them in a word.
The game ends when one player has used all of their tiles OR no one can build any more words.
Here's a tutorial that describes the entire game in 2 minutes.
#10 Deck Of Poker Cards
Fun Factor
N/A
Easy To Learn
N/A
Popularity
 5/5
This list wouldn't be complete without the obvious – a deck of poker cards!
There are a gazillion of games that you can play with these cards. Many countries even have their own specific games and rules.
Due to the fact that they are usually (but not exclusively) used for drinking games, it's not uncommon in hostels to lose a card or having to replace one.
That's why I recommend to buy a whole bunch of decks that are similar so that you can easily exchange any missing or damaged cards.
On Amazon, I found a pack of 12 decks for less than $12.
The Board Game Hostel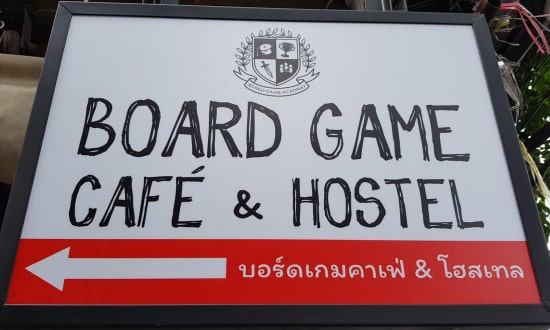 Did you know there's a hostel called "Board Game Hostel" in Bangkok, Thailand?
As you might have guessed, it's a mixture of a board game shop and a hostel.
I've been in contact with Songsit, the manager and expert of board games, and asked him for his top 3 recommendations specifically for hostels.
I personally haven't played any of his recommendations but the thousands of reviews on Amazon definitely look promising:
#1 Coup
Modern board game about bluffing
2-5 players
#2 Team 3
Modern & funny board game
3 or 6 players
#3 Splendor
Award-winning strategy game (which probably explains the thousands of 5-star reviews)
2-4 players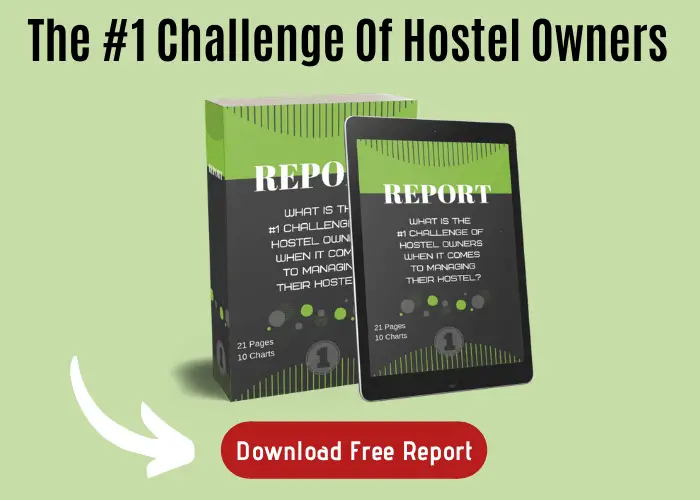 Additional Tips
Here's a collection of additional advice to get started:
Use a mixture of modern and classic games
The manager of the "Board Game Hostel" in Bangkok highly recommends modern board games instead of classic ones (Jenga, Chess, UNO, etc.). He thinks that they are "very boring compared to modern games nowadays."
However, classic games have the advantage of being well-known among all age-groups. Hence, they often don't have to be explained.
That's why I advocate a mixture of both, classic and modern board games for your hostel.
Get your staff to actively initiate playing games
A great way to improve the atmosphere and social aspect of your hostel is to make your staff able to play and explain all your games. I further recommend to actively initiate gaming if you find your common areas full of bored people.
Here's a personal story I'd like to share with you:
On New Year's Day, literally everyone who stayed at the same hostel as I in Queenstown, New Zealand, was resting and recovering from last night's party.
However, as soon as someone asked to play a board game, almost everyone joined in! Within minutes, the quiet and bored group of travelers turned into an enthusiastic community.
Prohibit drinks & greasy food around board games
Obviously, this excludes drinking games like a simple deck of poker cards. However, for all other games, I definitely recommend this rule to prolong the life of your games.
Pack them away as soon as possible
This greatly reduces the risk of missing items.
Store some games on demand
If you have games like Monopoly or Risk, it might be useful to ask for an ID in return for borrowing the game since there are many pieces that can get lost or damaged easily.
P.S. People who read this article were also interested in the 23 most shocking hostel statistics.
STOP! 🤚
Before you leave: Answer this quick question and help our community.
What's YOUR favorite board game?
Share your opinion in the comment section below!