Have you ever wondered what the greatest hostels in the world look like? And how do you define "greatness"?
Many hostel owners believe there's a difference between "the greatest" from a traveler's perspective and a property owner's point of view.
After all, travelers want the best value for their money and hostel owners desire the highest profitability – you can't be thriving in both areas, or can you?!
I strongly believe you CAN.
Throughout my career and personal life I've experienced it again and again: the more you give, the more you'll get in return. Maybe not immediately, but absolutely and definitely.
"We must give more in order to get more. It is the generous giving of ourselves that produces the generous harvest."

- Orison Swett Marden
Now, don't get me wrong. I don't advocate to randomly throw money at people with the intent to please every single person. In fact, it's impossible to be everything for everyone at all times.
We are talking about generating value for your guests. Successful givers are offering values that the unsuccessful ones don't. Plus, you will notice that hostels with 9 stars or more are very likely to stand on solid financial ground.
Therefore, my benchmark to determine "the greatest" hostel for travelers AND hostel owners is how well they serve their guests. And how can you measure that? Simple: Online reviews.
I've analyzed all reviews from the 22 most common online travel agencies.
Furthermore, I concentrated on Hostelworld's Hoscar winners in 2019. Hoscar winners for individual countries were neglected since they are already covered by the Hoscar winners for each continent.
And you can bet your ass this wasn't an easy task.
Did you know that…
So here it is. My hard-earned, elaborate and detailed review analysis.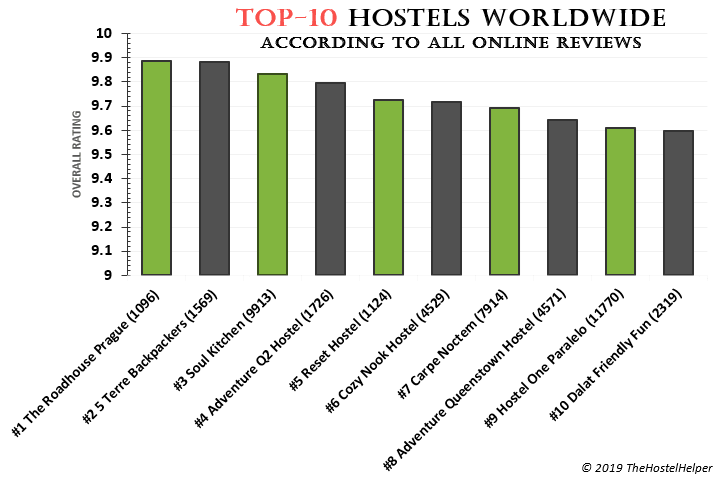 The number of total online reviews across all online travel agencies is in brackets. 
Notice that the rating scale begins at 9 stars! Since I wrote my master's thesis largely about the impact of customer satisfaction, let me tell you that 9 stars is not just a "very good" performance – this is OUTSTANDING EXCELLENCE!
In case you're not familiar with how to interpret a 1-10 rating scale: 
Clearly, the top 10 hostels have MASTERED the art of serving their guests!
Achieving an overall rating of more than 9 stars is stunning already! That's something to be proud of. But to go one better and achieving 9.5 stars (!) that's freaking amazing!!!!!
Sorry, sometimes I get a bit too excited. 😋
Let's take a closer look at the individual hostels.
The Top 10 Hostels Worldwide
Hoscar for #1 Best Hostels by Continent in 2019
Hoscar for #1 Solo Travelers in 2019
Hoscar for #1 Best Facilities in 2019
Hoscar for #1 Best Small Hostels (1-75 beds) in 2019
"After perusing your website, I'm guessing that you know as well as we do that there isn't some magical secret that anyone can use in order to instantly run a successful hostel.
The only thing I can tell you – as cliché as it sounds – is that everything we do comes from a genuine love of hostels and what we do. I think that (in 99% percent of cases, although I'm sure there are exceptions) guests can tell if a hostel is just there to be a business and make money, or if it comes from a real passion for the industry.
It's nothing particularly tangible (i.e. any hostel can run events or keep their facilities updated and clean), but more the underlying vibe that makes guests feel as though they're part of this special community of travelers. Oh, and staff. You've gotta have the staff, and we have the most wonderful, weird, and kind-hearted staff in the world."
– Jenny, Manager
Hoscar for #1 Best Atmosphere in 2019
Hoscar for #2 Best Small Hostels (1-75 beds) in 2019
Hoscar for #3 Best Hostels by Continent in 2019
Hoscar for #1 Best Medium Hostels (76-150 beds) in 2019
Hoscar for #2 Best Hostels by Continent in 2019
Hoscar for #2 Solo Travelers in 2019
"As for the success secret I would say it's people: The people who created Soul Kitchen, the people who ever worked or work here now and of course there are our guests – the people who stay at our hostel! Do everything with respect and care for the people is the key."
– Oksana, Manager
Hoscar for #1 Best Hostels by Continent in 2019
"I took special note of how you mention many hostels fail because owners don't look after the business side of things well enough – I find this to be very true.
Breaking down one thing that is our 'success secret'… well, you will know it's never one thing, but here is my standard answer when guests ask why we're so highly rated and successful: Most hostels pick one or two things that they concentrate on, whether it be activity nights or bike rentals, etc... We do everything.
We lend iPads, Go-Pros, bikes, frisbees, hairdryers & straighteners, offer a laundry service, PS4 & Netflix in the lounge, Spotify in the dining area, book exchange, USB chargers not just by every pillow (oh, two pillows for each bed) but in the lockers and the foot of the sofas as well.
We can arrange tours and activities in the town, run activity nights every day, rent ski gear in the winter, offer shower facilities to non-guests and added extras like hair towels in the girls-only room. We even give every guest a personal tour of the hostel at check-in. There is no single thing we do that is difficult, the difficult thing is doing so many extras and not letting any of them slip. And that's the key, don't let things slip.
Oh, and we look after our staff really well. Both my hostels have about 55 beds, but we run with just a small team of 4 staff members to operate reception and undertake all the cleaning. This would be the real success story: Streamline systems and processes so you are operating as efficiently as possible.
One tip I'd give to new hostel owners is to stop worrying about making money and worry about offering the best product you can to drive your ratings higher. If your ratings are high, you will probably make money (as long as you're being efficient)."
– Brett, Managing Director
Out of curiosity....
Do you get that same warm, fuzzy feeling while reading the individual success secrets? It's amazing to see how many good-natured people are out there. Spread across the world...
Hoscar for #3 Best Hostels by Continent in 2019
"There's no secret at all, we are the traveler and we just serve our guests with heart and care. Treat others the way you want to be treated."
– Oily, Manager
Hoscar for #1 Best Hostels by Continent in 2019
Hoscar for #3 Best Small Hostels (1-75 beds) in 2019
"We don't have any success secret. We simply consider the guest that stays at our place as part of the family, and you wouldn't treat your family badly, would you?"
– Management
Hoscar for #2 Solo Male Travelers in 2019
"I think our success secret comes down to how personal our approach is with guests. For starters, we sit down and have a tea or coffee with every guest on check in and run through the entire city with them.
We want all of our guests to fall in love with the city as much as we did, and offer them all of the best things to do based on each individual person. Our staff go above and beyond, not only as a service, but showing a genuine desire to get to know them and become friends with them.
We have mostly solo travelers, and guests become part of the family instantly when they arrive. We encourage this family vibe and instant friendships as everyone (guests and staff) sit together to have dinner in the common room each night before our nightly party activities.
All of our staff started at the hostel as guests, and have loved solo traveling and socializing. Our favorite part of the job is the people that we meet."
– Laura, Manager

Hoscar for #2 Best Hostels by Continent in 2019
Hoscar for #1 Best Location in 2019
The Adventure Queenstown Hostel (#8) and the Adventure Q2 Hostel (#4) are managed by the same person.
Hoscar for #1 Solo Male Travelers in 2019
Hoscar for #1 Best Value For Price in 2019
"'We don't make money, we make you happy' – that's the goal we always focus on."
– Trang, Manager

You're curious about the rating of all the other Hoscar winners?
You want to know which hostel received how many reviews across 22 OTAs?
No worries, you're just a click away from getting your stats.
Key-Learnings For Aspiring Hostel Owners
At TheHostelHelper, I believe in copying successful concepts rather than reinventing the wheel. Hence, here's a list of the most important principles for your hostel.
#1 Stop looking for shortcuts
There's no silver bullet to success. Running a successful hostel is a journey where you constantly improve your business based on the feedback you get. So, open your eyes, take responsibility, and look for solutions for your problems proactively.
#2 Do not focus primarily on money-making
Your guests have a fairly good sense for places that are genuinely interested in their well-being. They are quick at making out the difference between a money-driven and a value-driven business. Which brings me to my next point…
#3 Take care of your guests and they'll take care of your bank account
The main focus of your hostel should be your guests and their satisfaction. So, care about them, be personal and treat them like your family. They will notice – trust me.
If you consistently work on improving your ratings, a higher profit is just the natural consequence. Keep in mind: Givers get.
Your staff has a massive influence on the overall satisfaction of your guests. Hence, make sure your staff is superb. Be a role model, educate them, make them grow and lead them with respect. Everything else will fall into place.
Brett from New Zealand who manages the Adventure Q2 Hostel (#4) and the Adventure Queenstown Hostel (#8) is the perfect example for this.
His achievement reminds me of a quote from one of my favorite authors.
Jim Rohn, a legendary American entrepreneur, used to say that "[X] is a natural consequence of consistently applying the fundamentals of [X]".
Examples:
Health is a natural consequence of consistently applying the fundamentals of health
Wealth is a natural consequence of consistently applying the fundamentals of wealth
And guess what….
"Hostel success is a natural consequence of consistently applying the fundamentals of hostel success."
Dedication:
I want to thank all the hostel managers from the top 10 list for giving me permission to use their pictures, sharing their wisdom and being so helpful. Thank you for inspiring me. You're the reason why this website exists.
STOP! 🤚
Before you leave: Answer this quick question and help our community.
What's your #1 advice you'd give to a new hostel owner?

Share your opinion in the comment section below!